---
It was one of the most amazing things I've ever experienced.
We were meeting in our weekly Moms in Touch Prayer Group to pray for our elementary aged children. Our kids were all in the same school and close in age.
For weeks, we'd been praying for my son and a little girl in his class who'd been especially unkind and cruel to him. She was a beautiful child, but she was mean. And, most of her meanness was taken out on my son.
Finally, we all got weary with her treatment of him. And, we especially focused our prayers on this little bully's actions.
One of the moms was quite perturbed about the whole situation.
She found a Bible verse to pray and she called down heaven.
The verse was from Psalm 31:18, which simply reads,
"Let lying lips be quieted; they speak arrogantly against the righteous with pride and contempt."
That day, this sweet momma prayed that the bully's lips would be silenced and that she would not taunt or tease my son. She asked God to close the mouth of the bully.
That afternoon, when my son got home from school, I asked how his day went. I asked about the girl who bullied him all the time.
He smiled and said, "She had laryngitis today. She wasn't able to speak all day long at school. So, she only could make faces at me."
I had to smile as I thought about the prayers of my friend.
God had answered her pleas and silenced a bully for an entire day!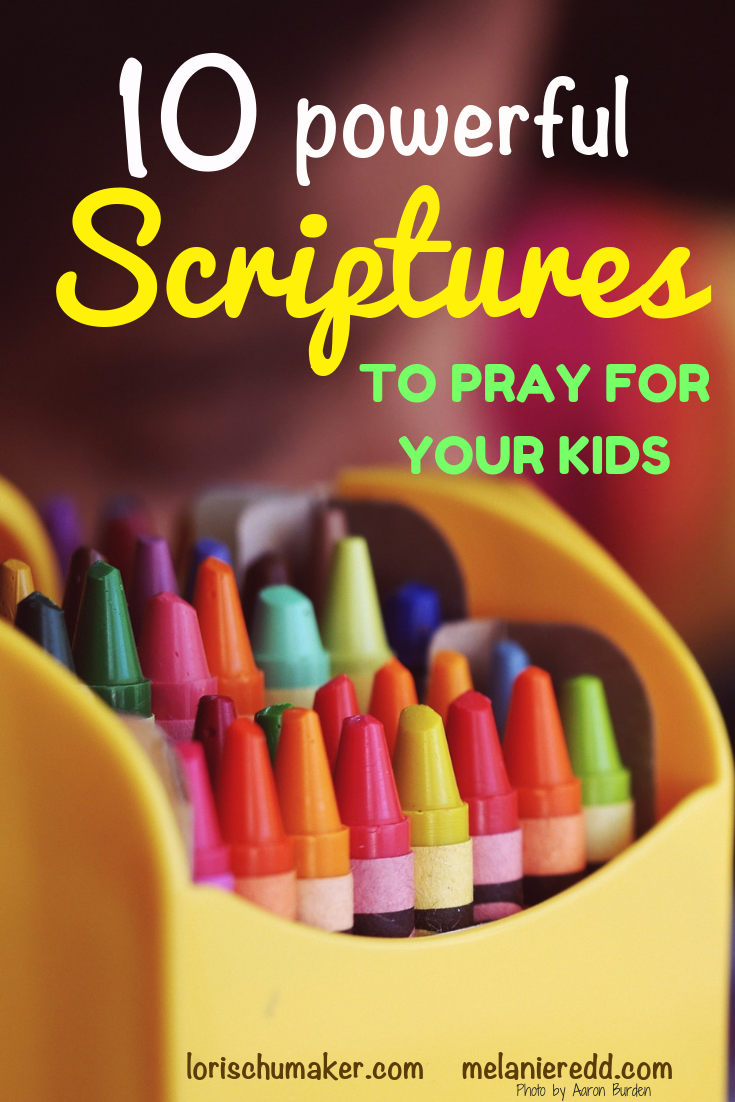 10 powerful scriptures to pray for your kids
Why do we pray using scripture verses?
Why use the Bible as a regular part of our prayer routine?
And, why pray Bible verses for our children, family members, friends, and others?
First, we pray using the Bible because praying scripture is powerful.
The Bible is God-breathed and the words of the Lord Himself. When we pray scripture, we are praying God's words back to Him.
He takes this seriously and answers powerfully. These are His promises, His decrees, and His truths that we are lifting back up to Him.
Praying scripture is similar to us making a promise to our children. They don't forget, and they remind us of what we have said to them. "But, you said…"
When we pray scripture, we remind God of what He has said to us and pledged to us. It's powerful!
To read the rest of this post, join me at my friend Lori Schumaker's place.
You can get to her website HERE.
.
---
Could you use more encouragement in your parenting?
You may want to check out our positive parenting resource – "How to Win Your Child's Heart for Life: 8 Proven Strategies for Parents."
Parenting is a challenge! And, often along the journey, well-meaning parents lose the hearts of their children. It usually happens somewhere between the time they get their braces and their high school graduation.
Find out how you can win and keep your children's hearts for life with these eight tried and proven parenting strategies. Each chapter includes practical instruction, tips, suggestions, advice, principles from the Bible, and questions for reflection and discussion.
Learn more about the book HERE.
---
---
Want more on praying for your kids?
---
---
Encouraged by what you read?
Would you share this article with a friend, co-worker, or family member?
Or, maybe you can send it to a friend or family member?
This blog occasionally uses affiliate links and may contain affiliate links. Additionally, Melanie Redd is a participant in the Amazon Services LLC Associates Program, an affiliate advertising program designed to provide a means for sites to earn advertising fees by advertising and linking to amazon.com. Also, for more on my disclosure policy, click HERE.
© Melanie Redd and Ministry of Hope, 2018. Unauthorized use and/or duplication of this material without express and written permission from this blog's author and/or owner are strictly prohibited. Further, excerpts and links may be used, provided that full and clear credit is given to Melanie Redd and Ministry of Hope with appropriate and specific direction to the original content.
---