---
---
I've sent up more than a few frantic, "help!" prayers in my lifetime. 
There have been times when I just didn't know what to say how to pray.  There have also been times when I've prayed those quick prayers and experienced what I can only describe as a supernatural power shortly afterward.  My faith has been strengthened by these events and I want to give full credit to where that power came from the Holy Spirit.  
One example is the time I stood in a college registrar's office trying to hold back tears as I argued my case for why I should be allowed to start school in the next week.   
Long story, short, the college was missing some paperwork from my high school.  The high school's office was closed for the summer and nobody would be there to get the needed papers to the college before the semester started.   
There was no backup plan. 
At that time, I was financially independent, living in a new town far from home, I'd spent every last penny just to be there, and I was depending on a job that was contingent upon me being a student.  I was trying not to panic.  
I thought I was sure that God had directed my steps to this school.  But those plans seemed to be crashing down around me- all because of one missing transcript.  I knew I had requested that paperwork months ago. But now it was missing.   
I could tell the lady at the desk was tired of me standing there. 
She wasn't interested in helping me.  That's when I sent up one of those "help!" prayers.  And that's when I heard myself say the words that I hadn't even thought of come out of my mouth, 
"Can you please see if my name was misspelled?  Can you check if it was filed somewhere else?" 
I offered an alternate spelling of my name (even though nobody had ever spelled my name this way before).  The lady rolled her eyes, made a big huff, and walked over to another cabinet to look.    
Less than a minute later, she found the required paper, filed in the wrong spot, and the problem was resolved.   
The lady in the registrar's office seemed as shocked as I was.  I knew it wasn't a coincidence that those words came out of my mouth seconds after I prayed that prayer.  It hadn't been an eloquent prayer but it did the job.  I couldn't deny that something powerful had just happened.   
Truly, I thanked God and marveled at his goodness that day.
I can now look back on that moment as life-defining–not just because I got to go to school but also because it built up my faith in a powerful way.  
To continue this post, let's go over to Dawn Klinge's site.
You can link to it HERE.
---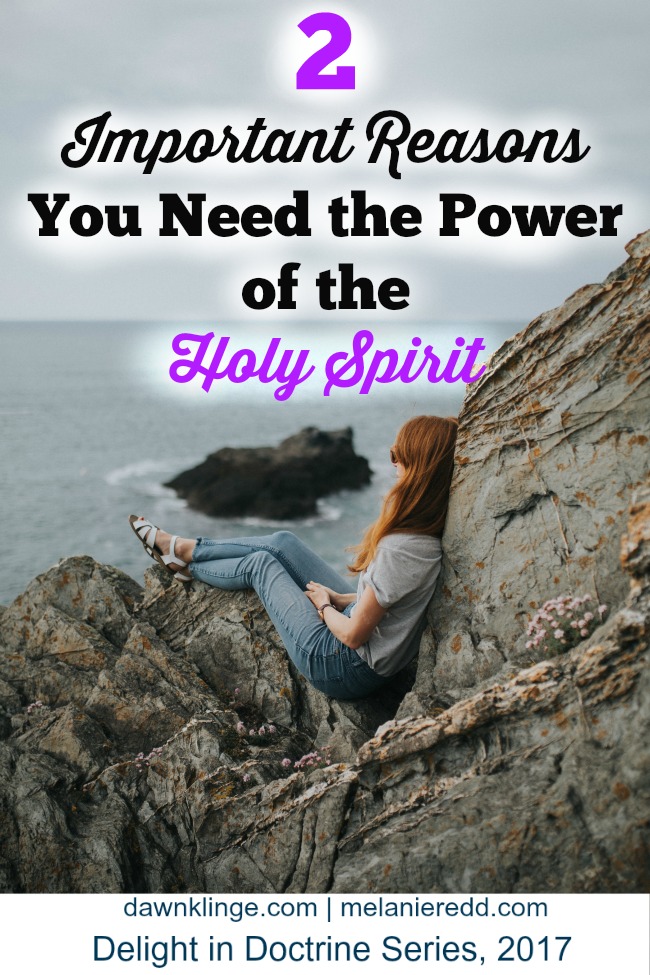 ---
---
Join us as we take a clear and practical look at some of the most basic and essential tenants of the Christian life – the doctrines of the faith.
Each week, we will highlight and explain a core doctrine. Then, we will pose the question, "Why does this matter to you and me?"
You can catch all of this year's "Delight in Doctrine" posts by clicking HERE.
For the purposes of the study, our main texts are first, the Bible, of course, and Wayne Grudem's classic, HERE.
It is our prayer that by the end of the year, we will all find more delight in understanding what we believe and why we believe it.
"…And he answered, "You shall love the Lord your God with all your heart and with all your soul and with all your strength and with all your mind, and your neighbor as yourself." Luke 10:27 (ESV)
---
---
Encouraged by what you read?
Would you share this article with a friend, co-worker, or family member?
Maybe you can send it to a friend or family member?
This blog occasionally uses affiliate links and may contain affiliate links. Melanie Redd is a participant in the Amazon Services LLC Associates Program, an affiliate advertising program designed to provide a means for sites to earn advertising fees by advertising and linking to amazon.com. For more on my disclosure policy, click HERE.
I occasionally link to these amazing link up groups HERE.
© Melanie Redd and Ministry of Hope, 2017. Unauthorized use and/or duplication of this material without express and written permission from this blog's author and/or owner are strictly prohibited. Excerpts and links may be used, provided that full and clear credit is given to Melanie Redd and Ministry of Hope with appropriate and specific direction to the original content.
---