---
It's Easter weekend, and a great time to praise the Lord!
Why?
Because we have hope!
How Easter Offers Messages of Hope (to everyone)
When Jesus rose on the 3rd day, He began making appearances to many of His friends, followers, and disciples.
In fact, here is a great list of eleven different appearances of Jesus that are recorded in the New Testament: 
To Mary Magdalene at the sepulcher alone. This is recorded at length only by John(20:11-18) and alluded to by Mark (16:9-11).
To certain women, "the other Mary," Salome, Joanna, and others, as they returned from the sepulcher. Matthew (28:1-10) alone gives an account of this. (Compare Mark 16:1-8, and Luke 24:1-11.)
To the two disciples on the way to Emmaus on the day of the resurrection, recorded fully only by Luke (24:13-35. Compare Mark 16:12,13).
To the ten disciples (Thomas being absent) and others "with them," at Jerusalem on the evening of the resurrection day. One of the evangelists gives an account of this appearance, John (20:19-24).
More Appearances:
To the disciples when fishing at the Sea of Galilee. Of this appearance also John (21:1-23) alone gives an account.
To the eleven, and over 500 brethren at once, at an appointed place in Galilee (1 Cor. 15:6; compare Matt. 28:16-20).
To James, but under what circumstances we are not informed (1 Cor. 15:7).
To the apostles immediately before the ascension. They accompanied Him from Jerusalem to Mount Olivet, and there they saw Him ascend "till a cloud received Him out of their sight" (Mark 16:19; Luke 24:50-52; Acts 1:4-10). It is worthy of note that it is distinctly related that on most of these occasions our Lord afforded His disciples the amplest opportunity of testing the fact of His resurrection. He conversed with them face to face. They touched Him (Matt. 28:9; Luke 24:39; John 20:27), and He ate bread with them (Luke 24:42,43; John 21:12,13).
In addition to the above, mention might be made of Christ's manifestation of Himself to Paul at Damascus, who speaks of it as an appearance of the risen Savior (Acts 9:3-9, 17; 1 Cor. 15:8; 9:1).
It is implied in the words of Luke (Acts 1:3) that there may have been other appearances of which we have no record.
 (I found this wonderful list at http://www.christiananswers.net/dictionary/resurrectionofchrist.html)
We can worship and have hope because our Savior didn't stay in the grave!
He defeated death and came back to life.
Maybe today, you are facing death.
The death of a vision.
The death of a dream.
A huge loss.
A tragedy.
A harsh reality.
Or, even the loss of someone you dearly loved.
Be encouraged today!
God can bring life out of places of death.
He can make beauty from the ashes.
Isaiah 61:3 in The Message shares this message of encouragement:
"The Spirit of

God

, the Master, is on me because

God

anointed me. He sent me to preach good news to the poor, heal the heartbroken, Announce freedom to all captives, pardon all prisoners.
God

sent me to announce the year of his grace— a celebration of God's destruction of our enemies— and to comfort all who mourn,
To care for the needs of all who mourn in Zion, give them bouquets of roses instead of ashes, Messages of joy instead of news of doom, a praising heart instead of a languid spirit."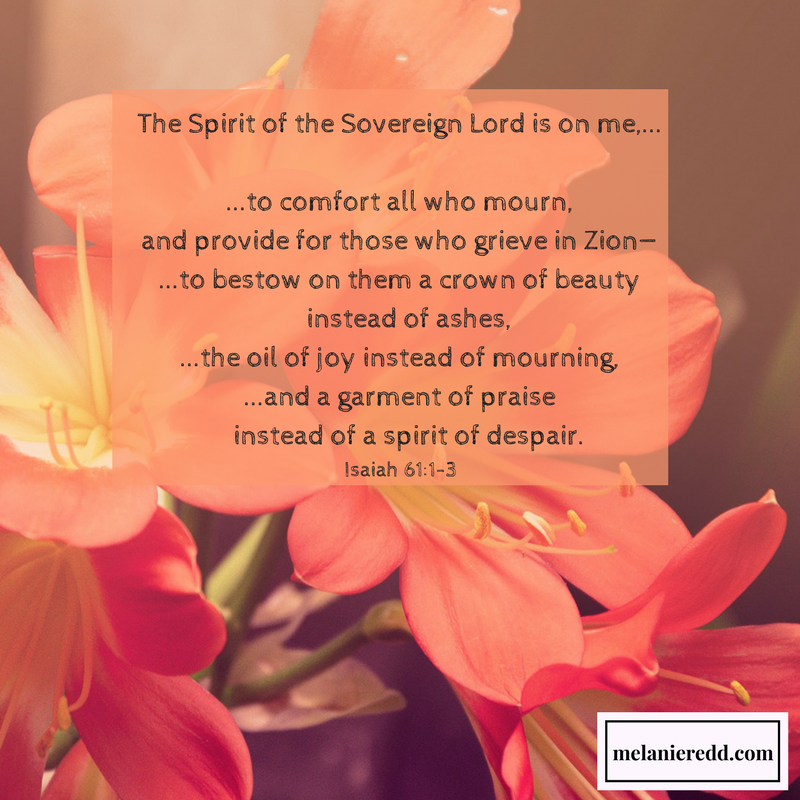 Today, our Lord can comfort all who mourn, care for their needs, give bouquets of roses instead of ashes, messages of joy, and a heart of praise.
Even if your heart is heavy and disappointed on this Easter weekend, would you try something?
Would you choose one of the songs below, listen, and allow yourself to worship?
Some of the sweetest praise flows out of our broken hearts!
Here are a few favorite Easter worship songs:
Jesus Saves (Travis Cotrell)
He Holds the Keys

(Steve Green)
Because He Lives

(Matt Maher)
Because He Lives

(Gaither Vocal Band)
In Christ Alone (Keith and Kristyn Getty)
He's Alive (Don Francisco)
---
What about you?
What songs do you love to hear and sing at Easter?
I always enjoy hearing from you!
---
---
Were you blessed by what you read?
Then, would you share this article with a friend, co-worker, or family member?
Or, maybe you can send it to a friend or family member?
This blog occasionally uses affiliate links and may contain affiliate links. Additionally, Melanie Redd is a participant in the Amazon Services LLC Associates Program, an affiliate advertising program designed to provide a means for sites to earn advertising fees by advertising and linking to amazon.com. Also, for more on my disclosure policy, click HERE.
© Melanie Redd and Ministry of Hope, 2019. Unauthorized use and/or duplication of this material without express and written permission from this blog's author and/or owner are strictly prohibited. Further, excerpts and links may be used, provided that full and clear credit is given to Melanie Redd and Ministry of Hope with appropriate and specific direction to the original content.
---