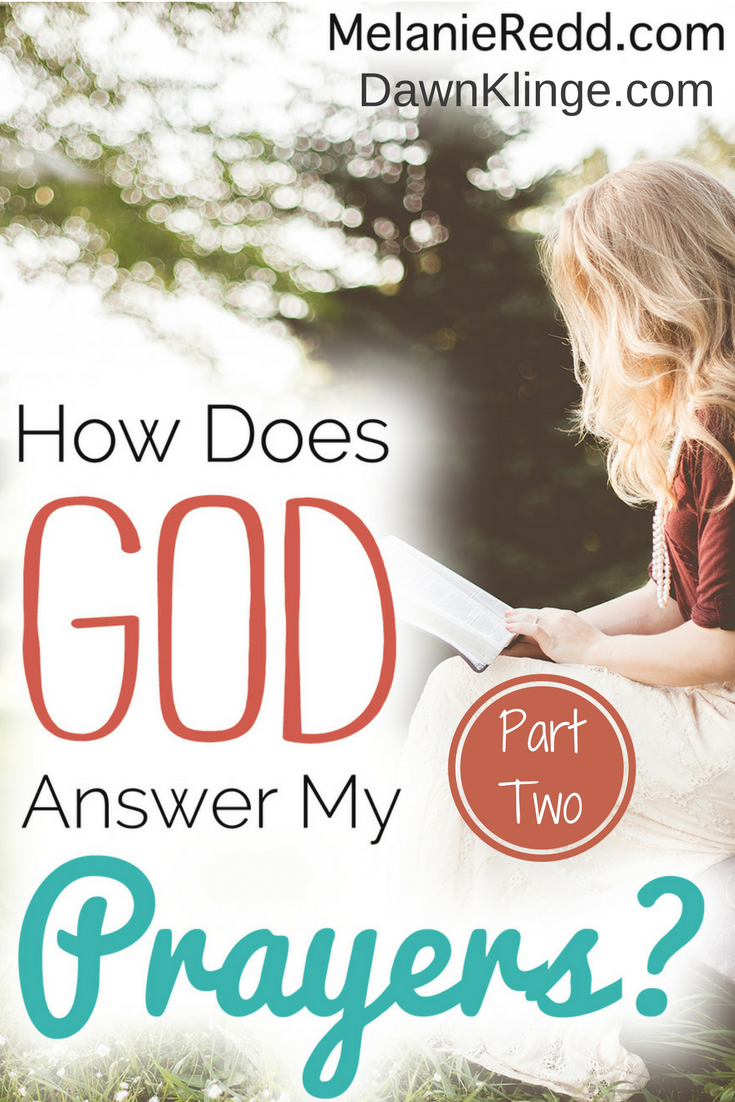 ---
Special Note: This is the second part of a two-part article on prayer.
You can read the first part of the article by clicking on this link: "How Does God Answer My Prayers? (Part One)"
---
God answers prayer!
In fact, God hears and answers all of our prayers.
Often, He answers us immediately with a resounding, "YES!" And, don't we like it when He does?
However, "YES!" is not the only way our Father will respond to our prayers.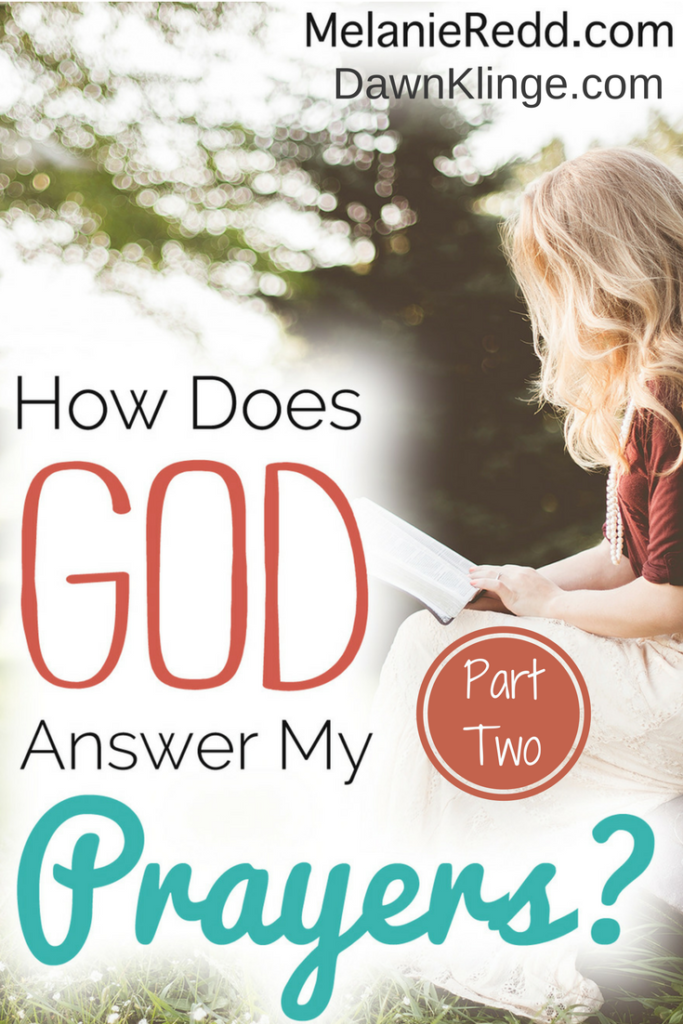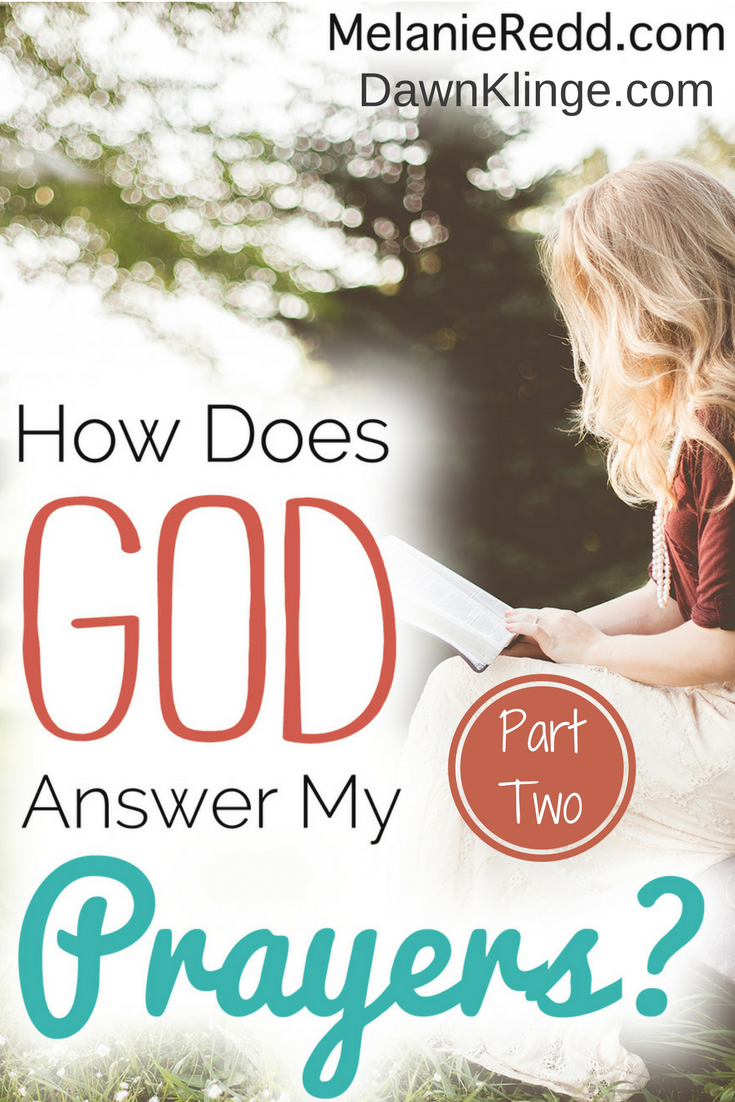 How Does God Answer My Prayers?
Basically, answers to prayer can fall into one of four categories.
These are not hard and fast rules, but they can give us some insight into how God might answer and respond to our requests.
First, God can answer our prayers with a resounding, "YES!"
We ask, and God does it. We pray, and we see immediate results. The check comes in the mail, the house sells, the job offer is made, the baby is born, or some other wonderful answer to prayer occurs.
When this happens, we are usually so grateful and so glad we serve a God Who answers prayer.
For more about the way, God answers, "YES!" check out last week's post: How Does God Answer My Prayers? (Part One)
Second, God answers our prayers with a very definite, "NO!"
He doesn't hesitate, stammer, stutter, or delay. The Lord just closes the door tightly. At times it may feel like it slams in our faces! We may move away from a situation with whiplash because God closes the door so adamantly.
Have you prayed and had the Lord answer your prayers with a resounding, "NO?"
Have you felt like the door has slammed in your face?
Do you trust Him even when He says, "NO?"
When we pray and get "NO" for an answer, this can be tough.
However, there are times when our great and loving heavenly Father will choose not to give us what we ask for. In His wisdom, He knows that we can't handle it or we don't really need that person or that thing in our lives right now. Honestly, we may not understand some of these negative answers to prayer until we get to heaven.
God answered His only Son with a resounding, "NO!" In the Garden of Gethsemane, Jesus was praying. He knew that He was about to be arrested and taken to the cross.
Read the words He spoke in Matthew 26:39 when He was aware of all that was about to occur: "My Father! If it is possible, let this cup of suffering be taken away from Me. Yet I want Your will, not Mine." Then in verse 42, He prays, "My Father! If this cup cannot be taken away until I drink it, Your will be done."
Father God could have answered Jesus with, "Sure, I'll let you out of this and find another way!"
But, God knew what we now know—without Jesus' death, burial, and resurrection, there is no hope for us. We needed Jesus to take our place on that cross so that we might be given eternal life. God answered His own beloved Son with a, "NO!"
Sometimes, He answers us in the same way.
Open and Closed Doors
I like to think of answers to prayer as opened or closed doors. I picture myself walking down a corridor filled with doorways. As I pray, God opens some doors while He closes others. So often I am ultimately grateful for the closed doors. In retrospect, and by His grace, I am able to see how bad the circumstances in my life would have turned out if He had granted my requests.
Often, God closes the doors because He wants to open the very best option for you. It's as if He is saying, "You don't need that one. I've got something much better for you. It's down the hallway. Don't give up. You're going to love it!"
For example, several years ago, my husband was overlooked for a job promotion. In my humble opinion, he was much more qualified and capable for the job than the man who got the promotion. It was a hard pill to swallow.
However, within a few months of that closed door, my husband got a phone call offering him an incredible job opportunity with another company. The new job opportunity was much better than what that job promotion offered.
If his job promotion had come through, he might not have been as receptive to the phone offer. The closed door had prepared his heart to move in a new direction.
That phone offer was ultimately much more suitable for him and for our entire family. God knew exactly what He was doing as He opened and closed the doors in our job situation. In His divine wisdom, He took care of us.
God knows exactly what He's doing as He opens and closes the doors in my life and in yours!
One of my favorite verses is found in Jeremiah 29:11.
The Message shares God's words in this way,
"I know what I'm doing. I have it all planned out—plans to take care of you, not abandon you, plans to give you the future you hope for."
God has a plan and a purpose for our lives. He knows what He is doing, and He does it well.
Today, be encouraged and thankful for the closed doors.
Perhaps, God is asking you to delay and be still because He has something so much better that is just around the bend!
Third, God answers our prayers with, "WAIT!"
This is not a negative response or a positive one. Instead, our Father will delay and make us wait.
Have you prayed and had the Lord answer your prayers with a, "WAIT?"
Do you trust Him even when He delays His answer?
Or, do you get quickly discouraged and impatient when you have to wait?
When God answers with, "Wait a minute," it's not the same as a "NO!" Often, He will ask us to hold on and give it a little time. I can imagine Him saying, "The answer is coming. It's on its way. Don't lose heart! Don't give up! I'm working on it, and I'll get it to you very soon."
Waiting on Brownies to Cook
Waiting on answered prayer makes me think of waiting for brownies to cook. You mix the batter, pour it in a casserole dish, put it in the oven, and then you have to wait for the brownies to bake. They start to smell so good pretty quickly. But, you have to wait for them to cook all the way through.
I find myself putting a toothpick in the brownies as the box instructs only to pull it back out with "chocolate goo" still on it. Finally, after what seems like hours, the brownies have baked, cooled down, you have cut them into nice squares, and then you finally get to enjoy the brownies.
There have been many times, though, that I've pulled the brownies out too early, cut them, and served them to my family. They tasted okay, but they were messy, mushy, and not as good as they could have been. When I rush the baking process, I am always sorry. I should have waited for the perfectly finished product.
Similarly, our God has us wait on His answer to our prayers. It may be that the answer is not quite "baked." Or, it may be that we are not quite hungry enough. The Father knows exactly when the timing is perfect. Ultimately, He knows when the answer will taste the sweetest in our mouths.
In the Psalms, we are reminded to wait for God to act. Psalm 37:7 simply says, "Be still in the presence of the Lord, and wait patiently for Him to act."
Psalm 27:14 encourages us to, "Wait patiently for the Lord. Be brave and courageous. Yes, wait patiently for the Lord."
Today, be encouraged and thankful for the wait.
Perhaps, God is asking you to hold on for something so much better that is right around the bend!
It's just not ready yet.
Finally, sometimes God answers our prayers with seeming silence.
When I've taught this lesson in the past, I've not added this final idea. However, the longer I live, the more I see that the seeming silence of our heavenly Father can be a response.
King David experienced this feeling in Psalm 22:1-2, "My God, my God, why have you forsaken me? Why are you so far from saving me, from the words of my groaning? O, my God, I cry by day, but you do not answer, and by night, but I find no rest." 
There are seasons in life when we feel like God is far away and unresponsive.
When you feel the silence of heaven, it's a perfect time to press in closer to the Lord than you ever have before.
It's Like Kindergarten
A friend of mine has taught kindergartners for many years.
She told me that when she shouts, it just makes the kids louder and more agitated. Yet, when she lowers her voice and whispers, the children will start to look her way. Those closest to her will stop what they are doing and listen. The children in the back of the room will scoot up closer to her so they can hear what she has to say.
It's possible that God, in His wisdom, will answer our prayers in a whisper—a still small voice. Maybe we need to scoot in closer so that we can hear what He has to say.
Are you in a season of seeming silence?
Are you wondering if God hears and will respond?
Could you scoot in a little closer to Him today?
Today, be encouraged and thankful for the seeming silence.
Perhaps, God is wanting you to scoot your chair a little closer to the front of the classroom so you can hear what He has to say.
In closing, I want to assure you that God does hear us when we pray.
And, He always answers our prayers. Assuredly, the answers may not always look like what we were expecting, but the answers will eventually come.
God typically answers our prayers in four ways:
God can answer our prayers with a resounding, "YES!"
Our Father can answer our prayers with a resounding, "NO!"
God can answer our prayers with, "WAIT!"
Sometimes God answers our prayers with seeming silence.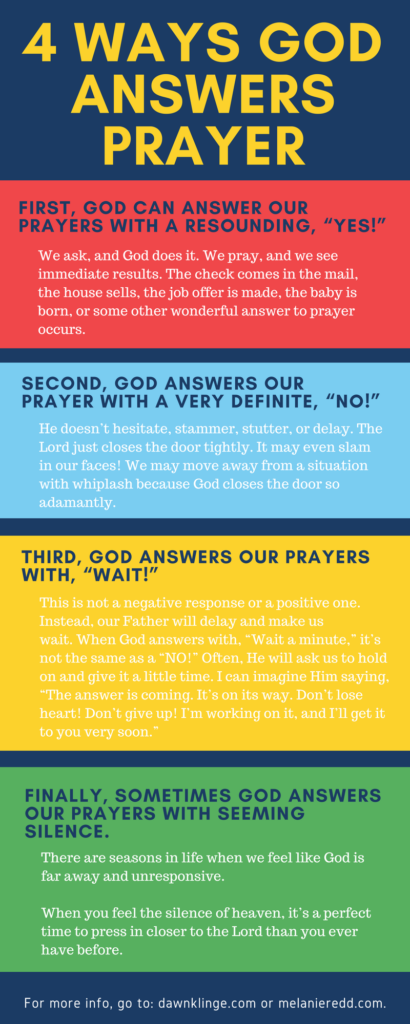 ---
Want more on prayer?
You may want to check out one of these articles:
Why Should We Pray (If God already knows everything anyway)?
What to Do When You're Ready to Pray Powerful Prayers
Does God Really Hear Me When I Pray? 
---
So, what do you think about answers to prayer?
How have you seen God respond to your prayers?
It's always sweet to hear from you!
---
Join us as we take a clear and practical look at some of the most basic and essential tenants of the Christian life – the doctrines of the faith.  
Each week, we will highlight and explain a core doctrine. Then, we will pose the question, "Why does this matter to you and me?"
You can catch all of this year's "Delight in Doctrine" posts by clicking HERE.
For the purposes of the study, our main texts will be first, the Bible, of course, and Wayne Grudem's classic, Systematic Theology:  An Introduction to Biblical Doctrine.
It is our prayer that by the end of 2017, we will all find more delight in understanding what we believe and why we believe it.
"…And he answered, "You shall love the Lord your God with all your heart and with all your soul and with all your strength and with all your mind, and your neighbor as yourself." Luke 10:27 (ESV)
---
Were you encouraged by what you read today?
Would you share this article with a friend, co-worker, or family member?
Maybe you can send it to a friend or family member?
This blog occasionally uses affiliate links and may contain affiliate links. Melanie Redd is a participant in the Amazon Services LLC Associates Program, an affiliate advertising program designed to provide a means for sites to earn advertising fees by advertising and linking to amazon.com. For more on my disclosure policy, click HERE.
I occasionally link to these AMAZING SITES.
© Melanie Redd and Ministry of Hope, 2017. Unauthorized use and/or duplication of this material without express and written permission from this blog's author and/or owner are strictly prohibited. Excerpts and links may be used, provided that full and clear credit is given to Melanie Redd and Ministry of Hope with appropriate and specific direction to the original content.