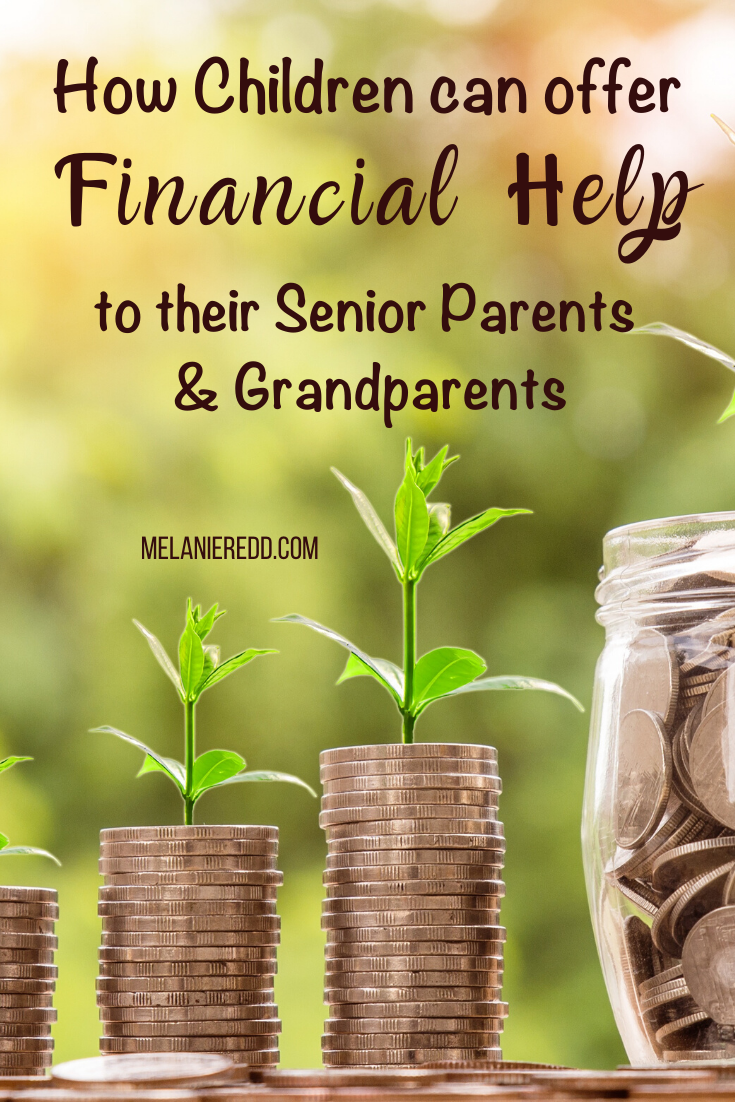 ---
For many seniors, earning potential decreases as they go into their retirement years.
You may not personally be at that stage in your life yet.
But, you're likely reading this blog post because your parents or grandparents are senior citizens, and
you're worried about them
.
In particular, you may be concerned about the financial freedom they have lost now that they are in their twilight years.
---

---
How children can offer financial help to their senior parents & grandparents
First… Encourage them to make sure they are receiving all of their retirement pension payments.
During their working lives, it's likely your parents will have paid money towards a pension plan. Once they've reached their retirement ages, they'll then be entitled to withdraw that money – usually as a monthly payment into their bank accounts.
The trouble is, many people work for different employers during their careers and lose track of their pensions.
If this applies to your parents, it's worth taking the time to check who they've had pension plans with during their careers.
You can then help your parents to contact those pension providers so they can get the money they're entitled to receive.
---
Second… Talk to them about coronavirus stimulus checks.
COVID-19 has virtually brought the country to its knees from a health and economic perspective. The government is issuing senior citizens with coronavirus stimulus checks.
Those stimulus checks got designed to help eligible people ease the financial burden that COVID-19 has placed on them. But, are seniors getting the stimulus check? Some people have received the payments – but not everyone.
If your parents haven't received their stimulus checks from the government, you should first check their eligibility.
Next, you'll need to check the payment status with the IRS. It could be that your parents haven't received the payment due to incorrect bank account details on file.
---
Third… Discuss their household expenses.
Seniors are on a fixed income, often a low one,
To help them,  you can do is check how much your parents are paying for things like utilities, subscriptions, and insurance.
Believe it or not, many people assume that sticking with certain providers will result in them getting a loyalty discount. Unfortunately, that's rarely the case.
To that end, you should help your parents review what they're paying and see if they can get a better deal elsewhere. For a utility like electricity, consider using energy comparing sites to get the most affordable rates that you can get around you. For instance, if they are based in Connecticut, such resources help you compare electricity providers' rates in CT. You'll save your parents a lot of money spent on expensive plans.
Thankfully, it's straightforward to compare prices for utility providers, insurance plans, and regular subscriptions to things like cable TV. Your parents can also request that you're allowed to deal with their accounts on their behalf.
---
Fourth… If possible, help them to brainstorm some creative ways to make a little extra income.
Possibly, your parents could start a little side hustle making something or fixing something.
Or, it could be that your parents have a lot of old "treasures" they can sell. Maybe you can help with this?
Some seniors even enjoy a part-time job like working as a greeter or hostess in a local store or restaurant.
One of my grandmothers worked at an office supply store well into her 80's. She loved the extra cash and the opportunity to contribute to society and be with other people.
You may want to brainstorm with your parents about some ways they could bring in a little extra money.
---
Finally… Be as generous as you can with the seniors in your life.
If you are able to share, share!
When you go out to eat with your parents or grandparents, offer to pick up the check.
After you finish reading a good book, mail it to a senior. Also, pass along gently used clothes and other items they may be able to use.
Also, offer to help them make repairs to household appliances and cars. You may also want to offer to help with their computers and electronic devices.
---
Conclusion – to Help to Your Senior Parents
If you are like most people, your parents and grandparents helped you and supported you most of your life.
Now, it's your chance to give back!
And, it's biblical!
Exodus 20:12 reminds us, "Honor your father and mother. Then you will live a long, full life in the land the LORD your God is giving you."
---
---
---
---
Were you blessed by what you read?
Then, would you share this article with a friend, co-worker, or family member?
Or, maybe you can send it to a friend or family member?
This blog occasionally uses affiliate links and may contain affiliate links. Additionally, Melanie Redd is a participant in the Amazon Services LLC Associates Program, an affiliate advertising program designed to provide a means for sites to earn advertising fees by advertising and linking to amazon.com. Also, for more on my disclosure policy, click HERE.
© Melanie Redd and Ministry of Hope, 2020. Unauthorized use and/or duplication of this material without express and written permission from this blog's author and/or owner is strictly prohibited. Further, excerpts and links may be used, provided that full and clear credit is given to Melanie Redd and Ministry of Hope with appropriate and specific direction to the original content.
---