---
It's my joy to share something wonderful with you this summer on Sundays!
Teaming up with some of my very favorite blogging friends, we are offering a series that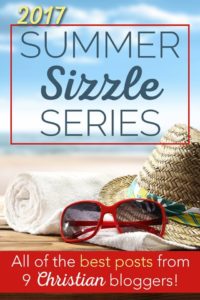 we are calling, "Summer Sizzle." Each week, I'll be sharing the best articles from several amazing women that I personally know, pray with, do ministry with, and dearly love.
I believe you are going to be blessed!
Today, you get to spend a little time with my friend Alison Tiemeyer. You may recall reading some of Alison's wonderful articles last summer when she shared several posts with us.
This young woman has a powerful way with words, and I'm praying God will use her message today to encourage you!
---
---
I think we all agree that life as a wife can be hard.
We feel discouraged.
We fail at submission.
Indeed, we let perfection bog down our intention.
We feel unheard.
We complain.
Truly, we compare to all of the other wives – the pretty ones, smart ones, skinny ones.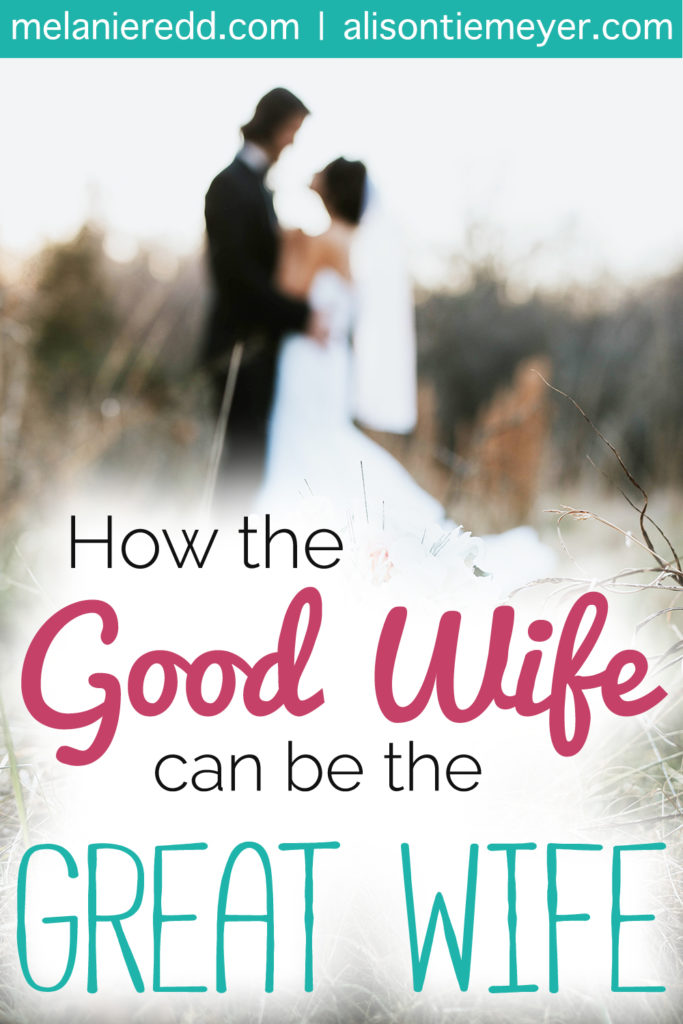 How the Good Wife Can Become the Great Wife
And because of all of this, we have got to rely on something other than ourselves for the encouragement to make it through.
In the moments when being a wife is overwhelming, we have the Book of Life full of words that can shape our thinking and our actions.
We can let go of the hard stuff and rest in God's Truth.
Here is a list of Bible verses for wives – 12 verses that should influence you as a wife and move you toward becoming a better wife:
1) Proverbs 15:1
"A soft answer turns away wrath, but a harsh word stirs up anger."
Our words have power – to kill & destroy or build up & love. I've witnessed this many times in my marriage. In fact, just the other day I completely disregarded by husband's feelings and rushed forward with words of "wisdom". Ouch. It hurt him & it hurt me.
~ Be careful with your words.
2) Ephesians 5:2
"And walk in love, as Christ also has loved us and given Himself for us, an offering and a sacrifice to God for a sweet-smelling aroma."
Christ made the ultimate sacrifice on our behalf and has now called us to live as servants. Yes, it is hard to be a servant sometimes. But in those moments, remember the all-important sacrifice Christ made for your life, your heart, your future.
We've been given grace.
~ Now it's time to give grace through loving your spouse well.
3) 2 Corinthians 13:11
"Finally, brethren, farewell. Be complete. Be of good comfort, be of one mind, live in peace; and the God of love and peace will be with you."
This whole verse is a command to live in a way so different from the world. But this command comes with a beautiful promise – that God will be with us. He is a God of love & peace. And He will stand beside us.
4) James 3:18
"Now the fruit of righteousness is sown in peace by those who make peace."
Are you a peacemaker?
Do you strive to keep a peaceful home?
The fruit of righteousness is sown in peace.
~ Wow. We must live as peacemakers.
5) Galatians 5:13
"For you, brethren, have been called to liberty; only do not use liberty as an opportunity for the flesh, but through love serve one another."
The freedom we've been given does not allow for more sin. Rather, we are meant to live differently because of this great gift of grace.
6) Romans 12:2
"And do not be conformed to this world, but be transformed by the renewing of your mind, that you may prove what is the good and acceptable and perfect will of God."
In a world bent on pretty wives, skinny wives, organic-cooking wives, and country-club wives, we are commanded to be unlike the world. Golly, this one is hard.
~ But by Scripture, we are able to take steps to renew our mind according to the principles and truths of God.
7) Psalm 25:5
"Lead me in Your truth and teach me for You are the God of my salvation; on You, I wait all the day."
Let this be the cry of your heart. Wait on the Lord to work in you, through you, and for you.
~ Only then will you be prepared to do this wife thing well.
8) Psalm 19:14
"Let the words of my mouth and the meditation of my heart be acceptable in your sight, O Lord, my strength and my Redeemer."
~ Maybe you need to make that a challenge – to let your words & thoughts be pleasing to God always.
9) 1 Timothy 4:15
"Meditate on these things; give yourself entirely to them (ministry), that your progress may be evident to all."
Walk in boldness, wife. Your ministry is to your family – first your husband, then any kiddos you may have. Above this verse, in my Bible, it says, "Take heed in your ministry."
~ Be about the ministry of your home.
10) 1 Chronicles 16:11
"Seek the Lord & His strength; seek His face evermore!"
Enough said. If you're not seeking God, you're not growing. And you must be growing to love that man well, admit your weaknesses, and extend grace.
~ Keep seeking God as a wife.
11) Galatians 2:20
"I have been crucified with Christ; it is no longer I who live, but Christ lives in me; and the life I now live in the flesh I live by faith in the Son of God, who loved me and gave himself for me."
As you go about the day-to-day, remember this.
~ You can live this life by faith, with dependence on God, who has already loved you in the biggest way.
12)  Zephaniah 3:17
"The Lord your God is in your midst, the Mighty One will save; He will rejoice over you with gladness, He will quiet you with His love, He will rejoice over you with singing."
This verse? It tells us that God has already fulfilled us – He's in our midst, quieting us with love & rejoicing over us. Live from that & quit seeking fulfillment from that sweet husband of yours.
These truths remind us that the wife life is important. These verses impact our hearts with the importance of living differently, of loving well, of being a servant, and relying on God.
Embrace it.
Live from the truths of these twelve scriptures.
~ That's how you can move from being the Good Wife to becoming more of a Great Wife!
---
---
About the Author: 
Alison is a wife, blogger, and Jesus-follower growing in grace and truth daily. She loves coffee in the morning, experimenting in the kitchen, camping with her husband, and reading in a hammock just about anywhere.
Her blog – AlisonTiemeyer.com – exists to encourage faithful growth and passionate living. You can find Alison on Facebook, Pinterest, Instagram, and Twitter.
---
---
Were you encouraged by what you read?
Would you share this article with a friend, co-worker, or family member?
Maybe you can send it to a friend or family member?
This blog occasionally uses affiliate links and may contain affiliate links. Melanie Redd is a participant in the Amazon Services LLC Associates Program, an affiliate advertising program designed to provide a means for sites to earn advertising fees by advertising and linking to amazon.com. For more on my disclosure policy, click HERE.
I occasionally link to these AMAZING SITES.
© Melanie Redd and Ministry of Hope, 2017. Unauthorized use and/or duplication of this material without express and written permission from this blog's author and/or owner are strictly prohibited. Excerpts and links may be used, provided that full and clear credit is given to Melanie Redd and Ministry of Hope with appropriate and specific direction to the original content.