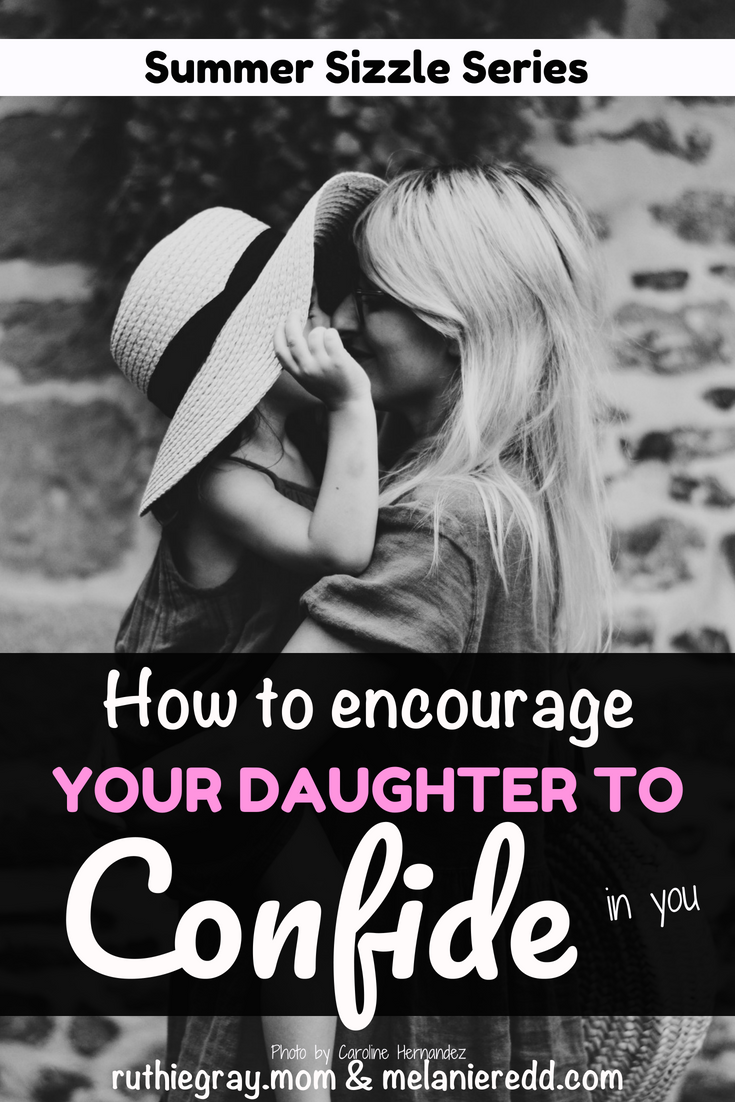 ---
Welcome to summer and The Summer Sizzle Series!
Teaming up with some of my very favorite blogging friends, we are offering a series that we are calling, "The Summer Sizzle Series."
Each week, I'll be sharing the best articles from several amazing women that I personally know, pray for, do ministry with, and dearly love.
I believe you are going to be blessed!
Today, you get to read a wonderful post by my friend Ruthie Gray. Ruthie is a mom, a grandmom, a wife, a blogger, and a great encourager to other moms. I think you are going to greatly enjoy and be blessed by her words today!
---
---
Picture replacing pink bedroom carpet littered with ten years worth of earring backs and bobby pins.
Imagine allowing your 15-year-old to paint her room in stripes of bright orange, bright pink, and bright red.  Oh – and with bright yellow stripes.
Or how about dozens of sleepovers where no one ever sleeps.  (Some clever mom should re-term that.  Not me – I'm still catching up on 29 years of sleep.)
The not-so sugar and spice facts.
You were one once.  You know what where I'm coming from here, mom.
Girls.
They're a –
giggly
chatty
sing-songy
prissy
pretending
boy crazy
drama producing
bunch.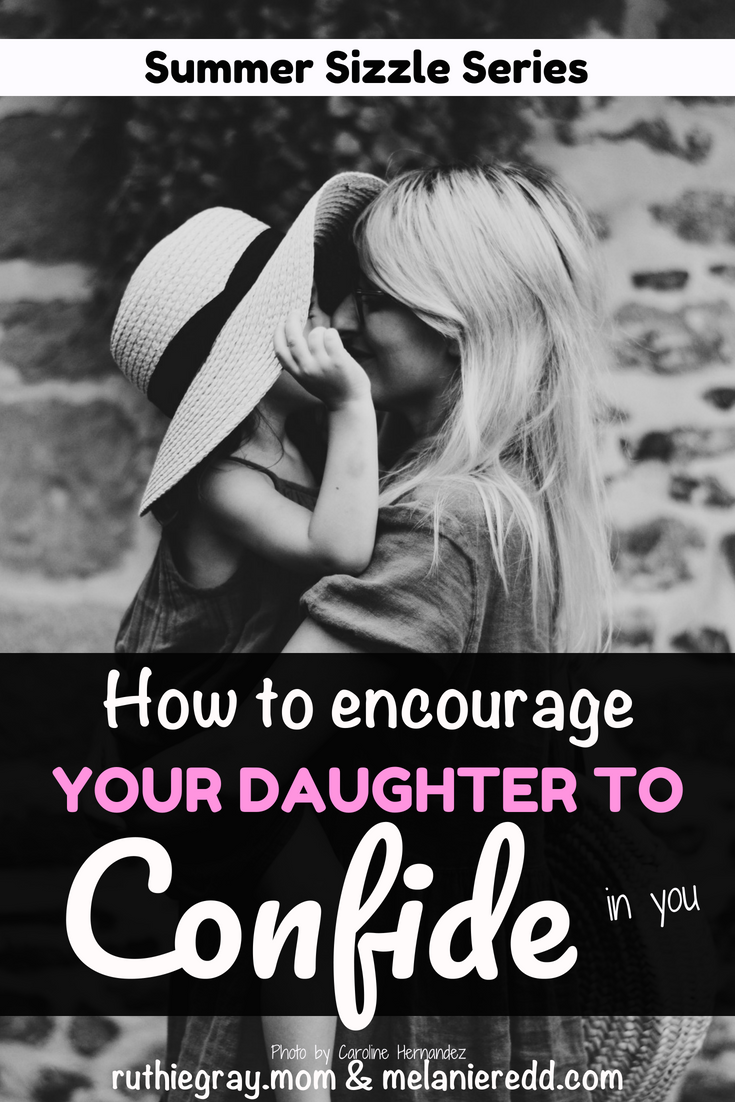 How to Encourage Your Daughter to Confide in You
High heels and tutus.
They love to dress up.  From a very young age, they learn that high heels and makeup are fun.
It begins with the plastic dress-up shoes and the feather boas.
They put them on as soon as they get out of bed, pop their pacifiers back in, and trundle down the steps to breakfast.
(Oh, and don't forget the silver tiaras.)
Every time my husband donned a clean shirt, he complained about finding a long blonde, curly hair stuck to it.
"Get used to it.  You're living in a female-dominated household." I quipped, inwardly gloating.
He used to claim that once the girls all got old enough for "Aunt Martha" (their monthlies), he would be building a man-cave in the basement for the "men" of the household. (That would be he and my son.
You know the part on the movie Toy Story where Sid's sister kidnaps Buzz Lightyear for a tea party?  She lines him up with her dolls and teddy bears around the table.  He has on an apron and a flowered hat and has lost his mind.
That's how my husband and son felt sometimes.  Delirious from being surrounded by girl hormones. 
Drama Mamas.
Oh yeah, we're going there.
Even from a young age, they exhibit the warning signs.
When my oldest was little, people used to tell me I should take her and move to Hollywood.  She adored all Disney princesses, sang "A Whole New World" verbatim, and kissed a boy by the time she was 4.
I'm crying now that I didn't.  The teen years did not disappoint.
My littlest bit her sister on a regular basis.
Of course, not without provocation.  I recall one such incident where the younger sat in her car seat with a blanket draped over her head; a silent plea for space.  Big sis took it upon herself to invade the bubble and stick her finger under the blanket.
CHOMP.
Imagine lots of crying from both – once I flew back there and took care of the situation.
They come in all shapes, sizes, and personalities.
I ended up with two strong-willed (which will henceforth be referred to as "Swillers"), and one pleaser/sneaky instigator.
The 3-year-old Swiller insisted on wearing flared pants every day of her life.  She embodied the essence of "picky" when it came to her clothes, hair, possessions and personal bubble.
The 5-year-old pleaser/instigator just wanted to laugh, tease, collect toilet paper rolls for crafts, and drive her younger sister nuts with her messy side of the room.  Talk about the odd couple!
The 12-year-old Swiller tested her limits every day. And she had a strong affinity towards the male gender.
Thank goodness I had a boy among this bunch to make me laugh!
The memories rolling around in my head are like a steady stream of inter-connecting clouds.
Some, to be sure, a test of my limits.  But mostly good.  Very, very good.
If you are in the throes of parenting girls, one key concept resonates in my mind:
Talking is her love language.
Girls need to be heard.  Some like to chatter, some share deep thoughts, but all girls need a listening ear.
Girls need to be heard. Some like to chatter, some share deep thoughts, but all girls need a listening ear. (Ruthie Gray)
Click To Tweet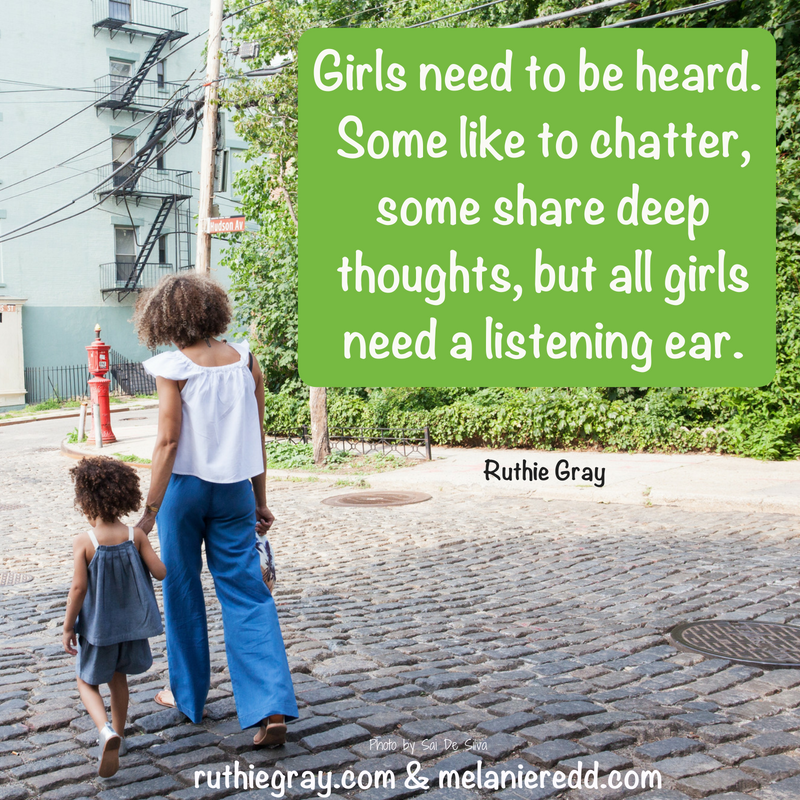 I have one that doesn't share deeply that often, but when she does, I'm all ears.
I have two that talk just about non-stop.  And I'm still all ears.
(Although I do admit to turning the music up in the car to drown out the pre-school.)
The point is – be present.
It's important to them!
One of mine wanted to tell me every single detail about her day after school, but she was easily distracted and it took her forever to get the story out ("And um, uhhh, um…and uhhh").  This was painful some days, to say the least.
But I rode it out.  I maintained eye contact.  Listened, interacted, asked questions.
That little tween is now an adult, and because I listened, she still shares just about everything with her ole' ma.
As a side note, it's important to provide journals or diaries for them.  They like to write down their thoughts.  That way if you have one that's not quite so verbal, at last, she is expressing her thoughts on paper.
Self-expression is important to a girl.
Self-expression is important to a girl.
Click To Tweet
Shut up and listen!
The biggest takeaway from this is:  listen.  Just shut up for a minute, clear your thoughts of your opinions about what she is telling you and how you're going to tell her why she shouldn't do whatever it is she's talking about.
Even if you know for a fact you are going to have to correct her way of thinking, ride out the conversation.  Hear her out.
And then, calmly, gently, and lovingly, correct.
Excuse me, did you think I meant that's what I always did?
Ok, so I had my moments just like everyone else.
But.  I learned not to get on that rollercoaster.
You know the one – the "emo" rollercoaster.
When she starts to board, don't get on it with her.
You stay on the ground, sister.
She may go up, around upside down and sideways – emotions are funny like that.
Just make sure you're right there, grounded when she gets off.
You don't do anyone any favors by getting on that ride!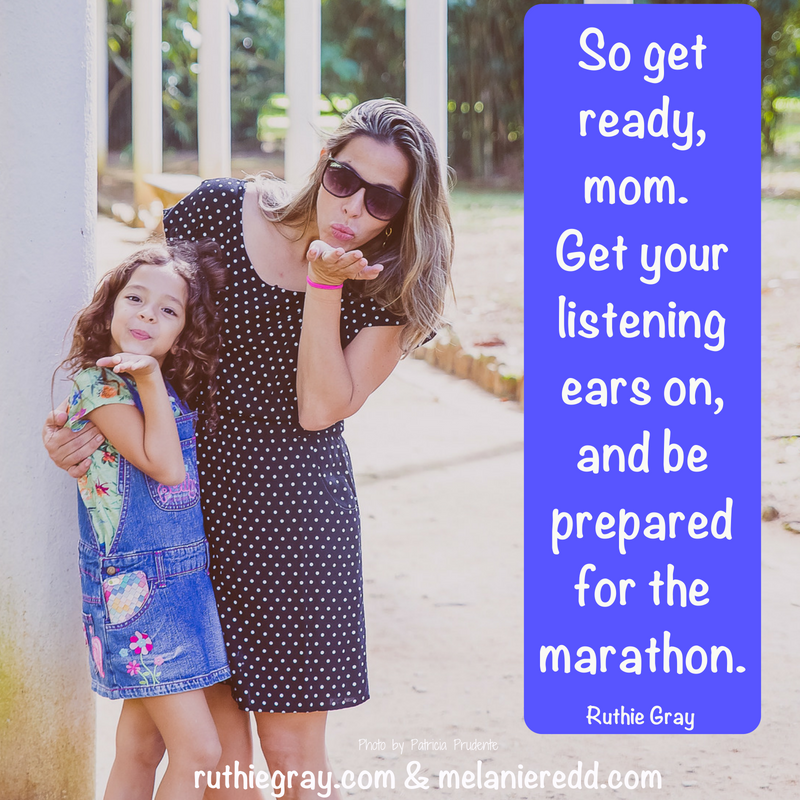 So get ready, mom.  Get your listening ears on, and be prepared for the marathon.
So get ready, mom. Get your listening ears on, and be prepared for the marathon. (Ruthie Gray)
Click To Tweet
Take it a day at a time. Before you know it, she'll be grown and out on her own.
But she will return to confide in you if you did your homework.
If you listen, she'll be back.
If you listen, she'll be back. (Ruthie Gray)
Click To Tweet
Remember my oldest? That "Swiller" who taught me all I needed to know about raising the strong-willed child?
She's my BFF now.
I chalk it all up to the listening ear.  And God – LOTS of God.
And she is a voice for God now.  She owns her faith.
I always knew if I could channel that will into positive avenues, she would be
AWESOME.  And, she is.
Hey, I'm not the perfect mom.  And I don't have perfect kids.
The truth is, there's no magic formula.
But this has worked for me.
You might want to try it out.  And I would love to hear your comments on how you are raising your girls!
---
---
Could you use some more Summer Sizzle?
---
---
About the Author: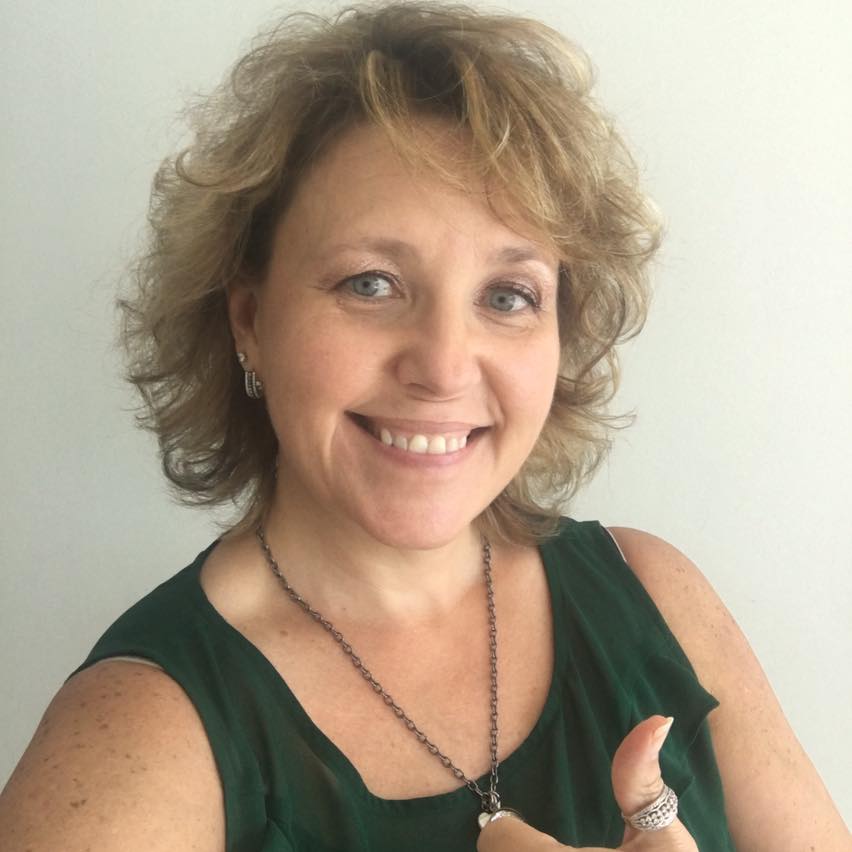 Ruthie Gray is a wife, Gigi, and mom of four (who lived to tell about it). Ruthie's passion is mentoring moms to capture joy with humor, advice, and practical application of Scripture at Ruthie Gray.Mom.
Ruthie is a contributor of the free mom devotional app, TruthBytes, and the author of Count to Nine; 9 Liberating Steps for Mom Frustration and Anger. Click to download her Wife and Mommy Survival Kit here.
Connect with Ruthie on Pinterest  Instagram  Facebook
---
Encouraged by what you read?
Would you share this article with a friend, co-worker, or family member?
Or, maybe you can send it to a friend or family member?
This blog occasionally uses affiliate links and may contain affiliate links. Additionally, Melanie Redd is a participant in the Amazon Services LLC Associates Program, an affiliate advertising program designed to provide a means for sites to earn advertising fees by advertising and linking to amazon.com. Also, for more on my disclosure policy, click HERE.
© Melanie Redd and Ministry of Hope, 2018. Unauthorized use and/or duplication of this material without express and written permission from this blog's author and/or owner are strictly prohibited. Further, excerpts and links may be used, provided that full and clear credit is given to Melanie Redd and Ministry of Hope with appropriate and specific direction to the original content.