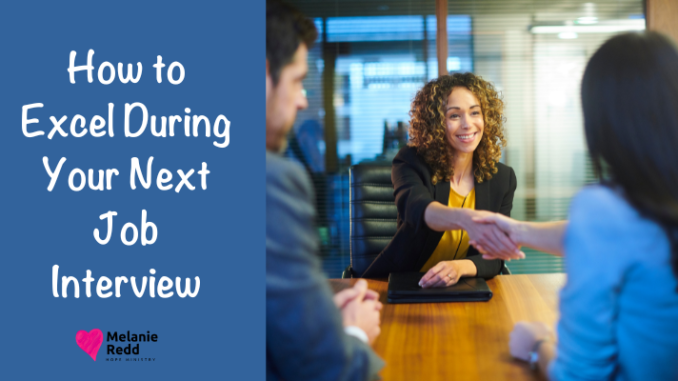 ---
How to Excel During Your Next Job Interview
Finding success in a job interview can be intimidating, but it does not have to be.
Preparing yourself for a job interview and having a positive attitude can help you make a great first impression and increase your chances of landing the job.
You can be well on your way to job interview success with a few tips and tricks.
Keep reading as we discuss the best practices for job interviews. With any luck, you'll ace your next one!
---
First, to excel during your next job interview, research the company.
Before a job interview, it is important to research the company you are interviewing with. This will help you understand the company culture, mission, and values. It will also help you know their current strategies and successes.
Knowing a lot about the company provides you with a better understanding and allows you to relate better to the interviewer.
Additionally, it will give you the opportunity to ask more informed questions.
Finally, it gives you the chance to demonstrate your interest in the company and position.
Taking the time to research the company beforehand also provides you with a better understanding of the role.
Therefore, it helps you to better answer any questions asked of you.
---
Second, to excel during your next job interview, show up prepared.
Before the interview, research the company, its mission, and its values.
Make sure you have a strong understanding of how your skills fit with the job and the organization.
You should also show up with multiple copies of your resume and cover letter. If you have one, also bring a portfolio to showcase your work.
In addition, bring a list of references and any relevant documents.
Finally, dress professionally, arrive early, and make sure you are on time.
All of these steps will help you to make a good impression and increase your chances of success.
---
Third, to excel during your next job interview, be honest.
Job interview success starts with being honest.
Honesty is the best policy when it comes to interviews. You can be honest by answering questions accurately and not exaggerating the truth. Accurately explain your work experience and qualifications.
It's also wise to tell them if you have any gaps in employment.
If you are asked a question that you do not know the answer to, tell them that's the case. Otherwise, making something up can reflect badly on you.
Honesty can go a long way in an interview. It helps you to explain your qualifications better and make a good impression.
---
Fourth, ask them for feedback.
After the job interview, asking the interviewer for feedback is a great idea. This will give you an idea of how you did and what areas you could improve in future interviews.
You'll gain additional insight into the job and the company based on their response. Later, this can help you to hit the ground running once you start
the job.
Asking for feedback is also a good way to reiterate your interest in the position.
From your questions, they will feel confident that you took the interview process seriously.
Furthermore, it confirms your interest in the job. This shows you are eager to learn and improve as a job candidate.
---
Finally, be sure to stay focused as you start your new job.
If you get a job, continue putting your best foot forward.
Get the paperwork turned in promptly, and don't procrastinate on doing a drug test.
Staying on top of everything as you begin your new role will show you're dedicated.
And your new employer will feel confident they chose the right person for the job.
---
Conclusion
Job interview success is something that takes time and effort to achieve.
It is essential to be well-prepared and confident when going into an interview.
Being able to think on your feet and answer questions effectively is also important. It is also beneficial to research the company and the position you are interviewing for.
Doing this gives you the best chance of success.
Lastly, make sure to follow up after the interview.
Even if you don't get the job, the experience should help you do better in the next one.
With a bit of dedication and hard work, you can land the job you want.
---
---
Were you encouraged by what you read?
Then, would you share this article with a friend, co-worker, or family member?
Or, maybe you can send it to a friend or family member?
This blog occasionally uses affiliate links and may contain affiliate links. Additionally, Melanie Redd is a participant in the Amazon Services LLC Associates Program. This is an affiliate advertising program designed to provide a means for sites to earn advertising fees. These are earned by advertising and linking to amazon.com. Also, for more on my disclosure policy, click HERE.
© Melanie Redd and Hope Ministry, 2023. Unauthorized use and/or duplication of this material without express and written permission from this blog's author and/or owner is strictly prohibited. Further, excerpts and links may be used, provided that full and clear credit is given to Melanie Redd and Hope Ministry, LLC. Please give appropriate and specific directions to the original content.
---