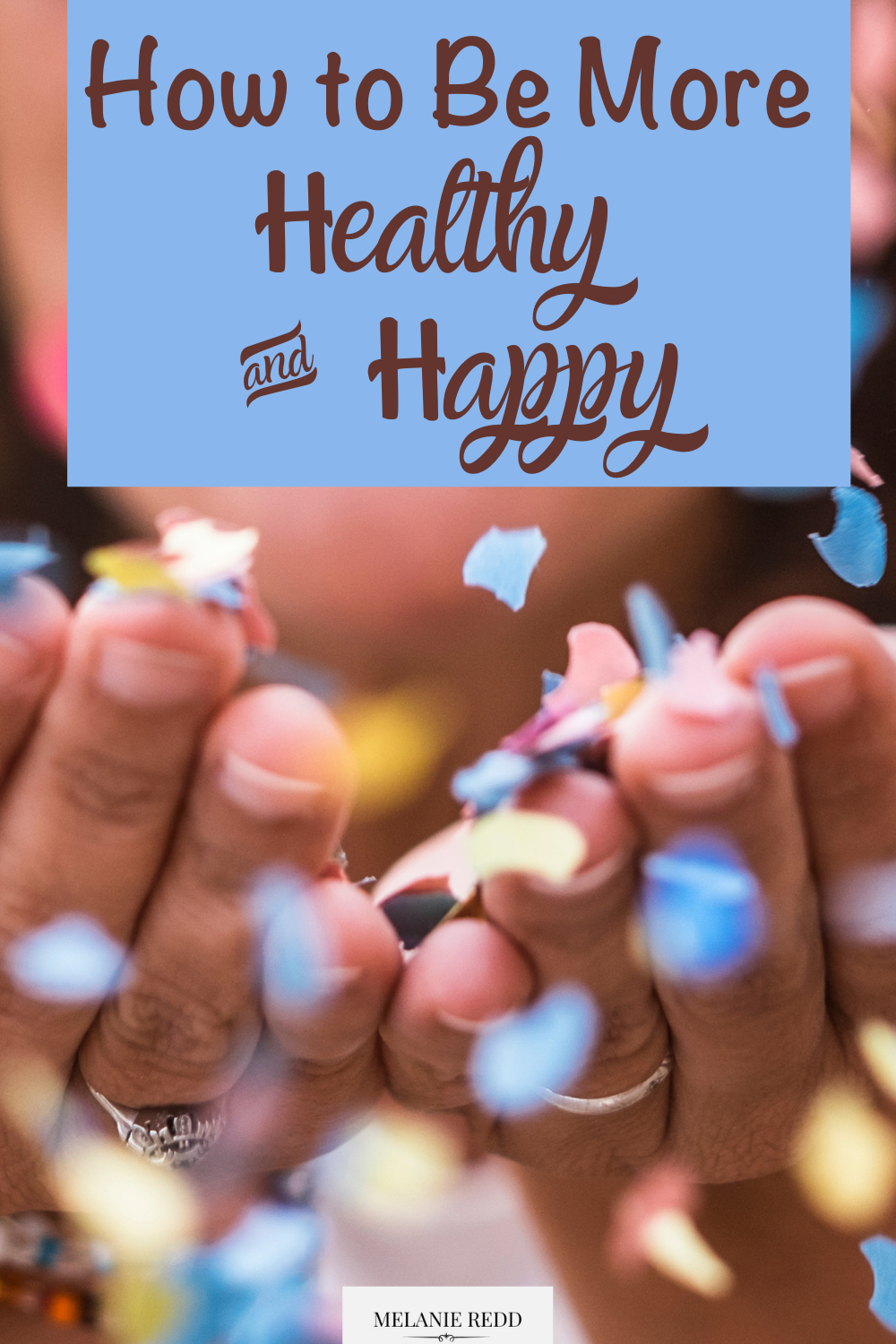 ---
It seemed completely impossible.
As we sat in the classroom, the mood in the room was somber. All of the students appeared to be anxious and completely overwhelmed.
It was Day Two of the Hebrew Language class, and no one felt very comfortable.
When the professor entered the room and caught wind of our concerns, he gave the most wonderful words of encouragement.
He looked around the class with a smile, and asked, "How do you eat an elephant?"
Most looked at him sideways and shrugged, wondering what that had to do with Hebrew.
"One bite at a time," he continued. "You eat an elephant just like you'd eat any other food—one bite at a time."
---
Then, he explained,
"That's how you will learn Hebrew—one bit and one lesson at a time.
I'll teach it to you in very small chunks, and you will begin to catch on.
Eventually, it will start to make sense.
For today, we will just take one small bite.
Then, we will do the same tomorrow.
And, you will get it. I promise you.
You will learn Hebrew if you will take it slow and trust me to teach it to you one small lesson at a time,"
---
And, he was right.
By taking one day and one lesson at a time, I learned a great deal about the Hebrew language and the Hebrew Bible over the course of that year.
Looking back, I realize that we did it one bite at a time.
Isn't that the way most of life is?
---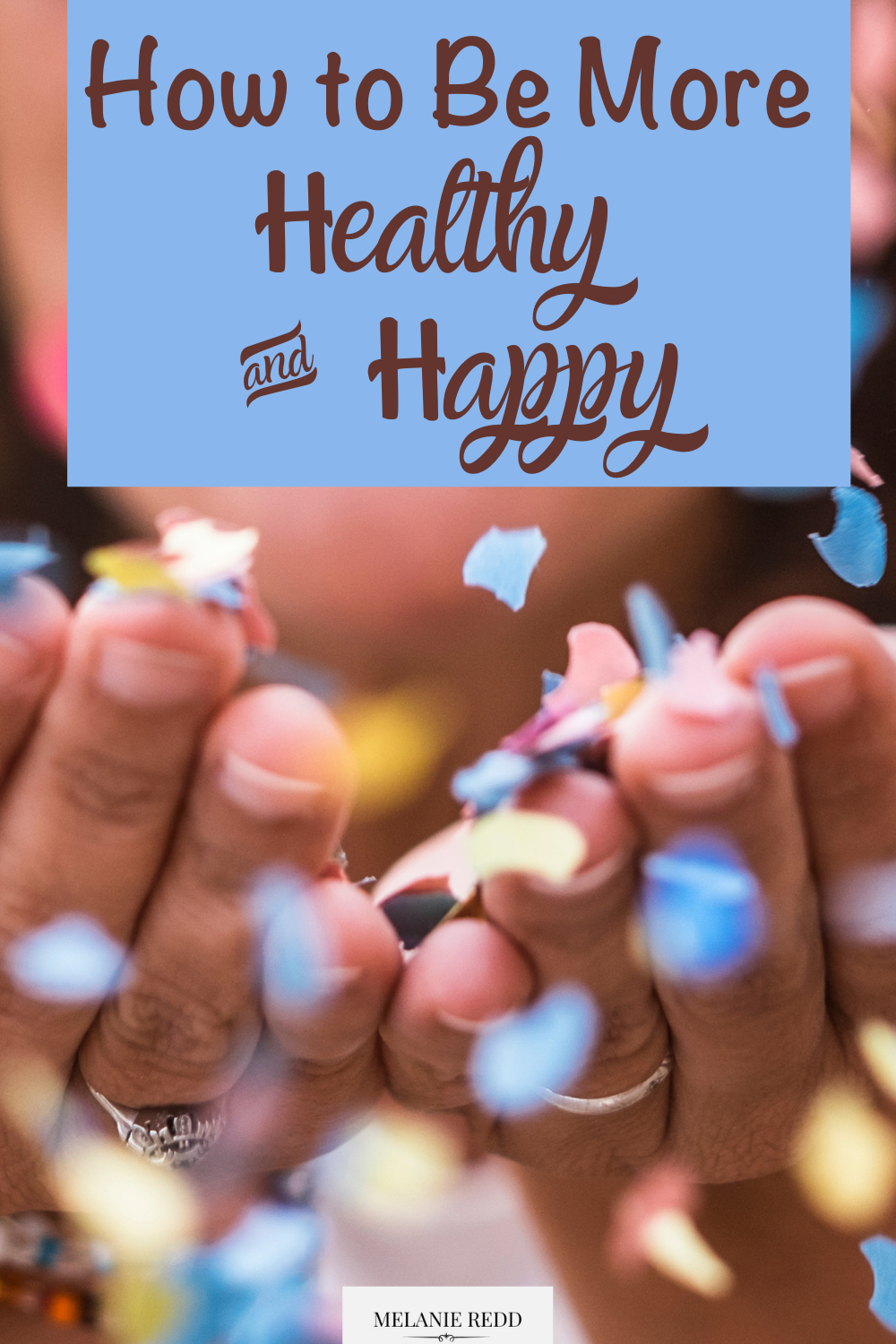 ---
How to Become More Healthy and Happy This Year
---
When I think about the most challenging things I've ever done in my life, I realize they weren't done overnight.
Most of life's adventures are taken one step at a time.
As we launch into a new year, I'd like to invite you to try a new kind of goal setting—a different way of looking at resolutions and goals.
What if, this year, we took things one bite at a time… one step at a time?
Additionally, what if we took those steps in all aspects of our lives? Spiritually, Mentally, Physically, Relationally, and Financially.
Rather than trying to eat so much of life at one time, what if, instead, we started eating one bite at a time?
One change at a time?
One new thing at a time?
One adjustment at a time?
---
---
Over the course of the next few weeks, I'd like to invite you to look closely at your life and your plans with me.
As you look, consider some small ways you can move forward.
Don't try to take the whole staircase; instead, take one step.
In fact, "Faith is taking the first step even when you don't see the whole staircase. " (Samuel Johnson)
---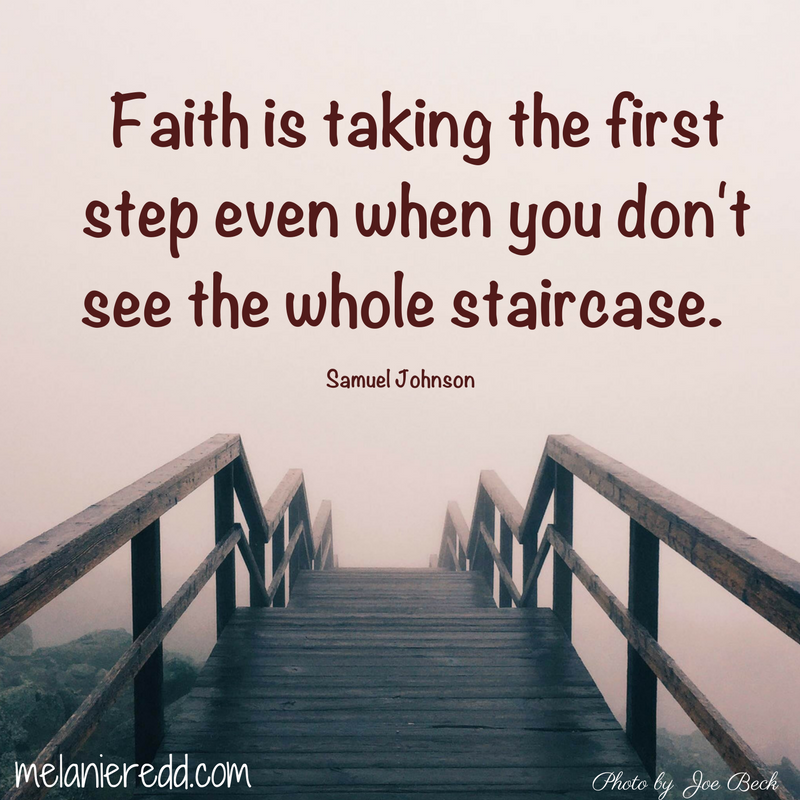 ---
---
I think most of us fail because we set our sites too high and try to do too much too quickly.
We don't lose weight because we try to lose 100 pounds in one month!

Can't stick with reading the Bible because we try to read 5 chapters a day.

Don't make new friends because we try to get to know everyone at once.

Can't save the money because we try to sock too much away at one time.

And, we don't find peace because we try too many relaxation techniques.
---
Why not try something different this year to become healthier and happier?
Take things slower and steadier and move more realistically.
Start small and enjoy the progress.
It can't hurt.
Most of us didn't accomplish our resolutions and goals last year anyway!
---
So, here's the challenge for January.
Each week, for the next 5 weeks, I'm going to share a post about being more healthy and happy this year.
I invite you to look over the list of suggestions and choose 1-2 items you would like to try. Begin to put these items into practice that week.
Then, next week, come back and see the new suggestions.
Choose a few of those to try. By the time this month is over, you will be taking small steps toward big victories!
---
---
Today, let's consider how to become more healthy and happy spiritually.
---
#1 – Pray daily.
Take time to connect with God.
Talk to Him.
Call out to Him.
---
"The Lord is close to everyone who calls out to him, to all who call out to him sincerely."
Psalm 145:18
---
Or, you may want to read more and begin to pray with more power.
If you feel stuck in your prayer life, you might check out this article.
---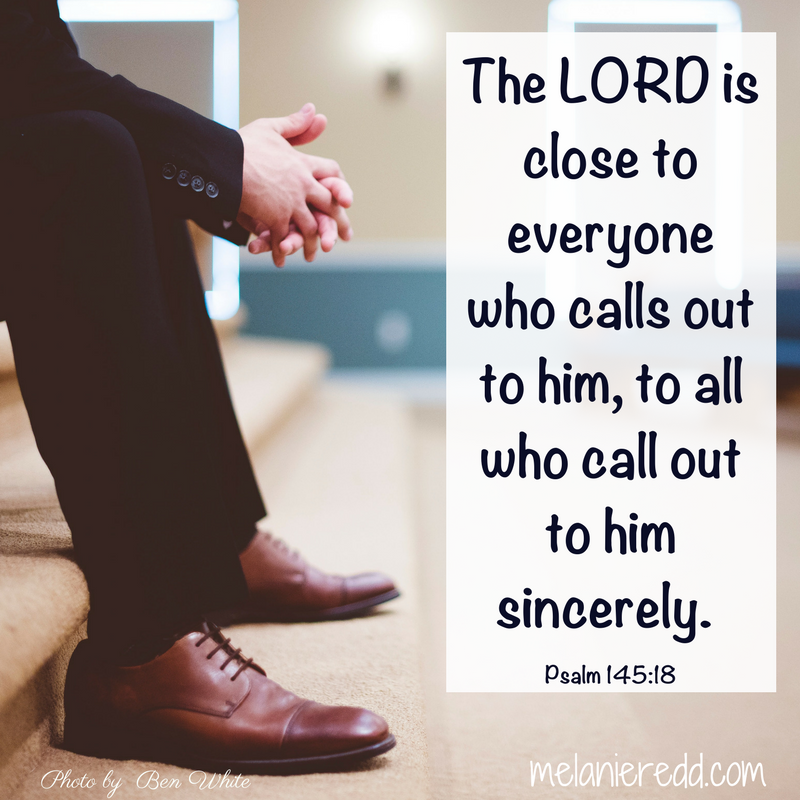 ---
#2 – Open your Bible and read a little.
Start with a Psalm or a Proverb each day.
Don't try to read it all at once.
Instead, begin slowly.
---
Need more help in getting started with your Bible reading?
You might try this article:
---
---
#3 – Be More Thankful!
Every day, write down one thing you are thankful for.
Then, look up to heaven and tell God.
---
#4 – Turn up the inspirational music in your car or home and sing!
It's hard to stay sad when you are singing!
---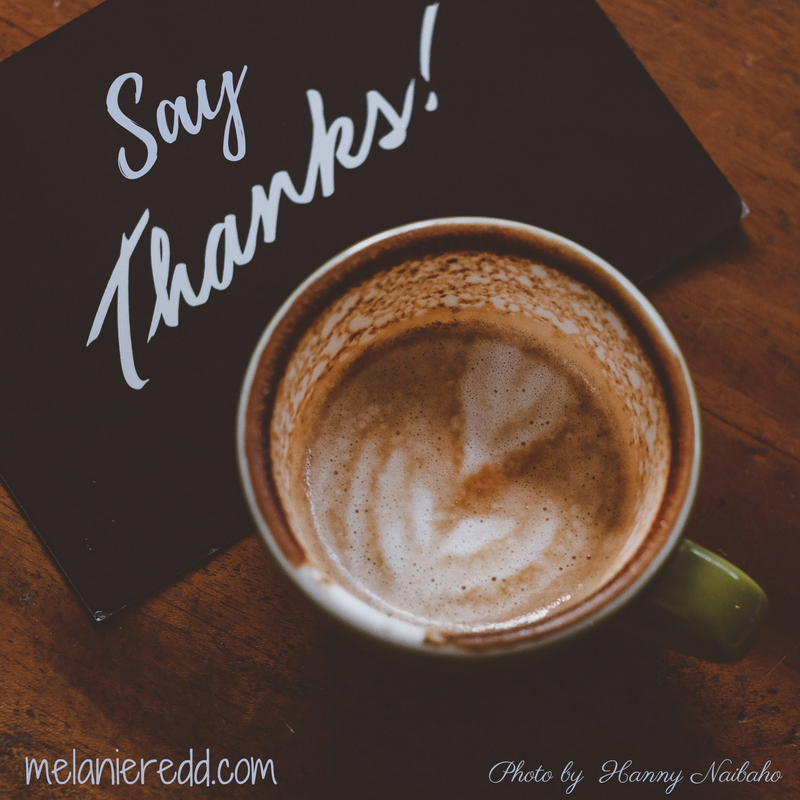 ---
#5 – Get Involved in a Church, Community of Believers, or a Bible Study.
---
---
How to become more healthy and happy this year…
---
#6 – Ask God to Bring More Joy, Hope, Peace, and Love Into Your Life This Year.
Invite God to confirm the work of your hands and show you His favor.
---
"And let the loveliness of our Lord, our God, rest on us, confirming the work that we do. Oh, yes. Affirm the work that we do!"
Psalm 90:17
---
Over the course of this last year, I've shared several familiar Bible verses as prayers.
The verses are written out in the form of personal prayers that you can use to pray.
You might try one of these:
---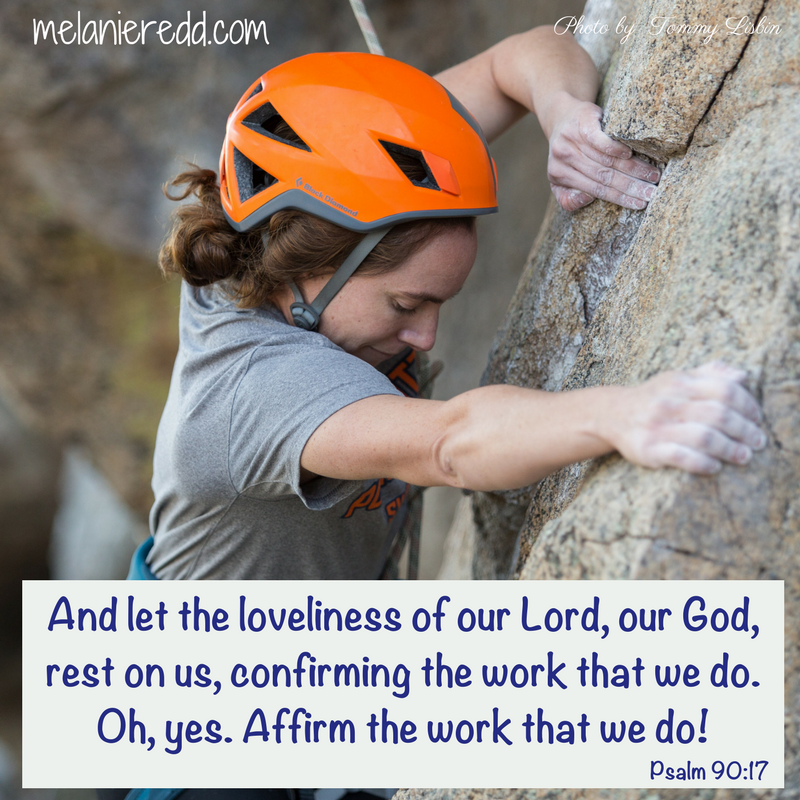 #7 – Pray for your family members by name each morning.
Ask God to protect them, encourage them, and bless them.
You might even write their names in a notebook and jot down some prayer requests for them.
---
---
That's it.
Now go back to the list above and choose 1-2 of these items that you will try this week and for the whole month of January.
You don't have to go crazy.
Just take a step forward spiritually.
---
---
So, what's your biggest "challenge" this year?
What's the "elephant" you want to eat? 

Maybe it's losing weight?

Maybe getting your degree?

Possibly it's reaching out and connecting with others?
---
Whatever the challenge in front of you, I'm praying that you will begin to make the climb.
Take one step up the mountain today.
You don't have to make the whole trip right now, but you can begin!
---
MY PRAYER FOR YOU – Father, would you give us all the courage and the strength to move forward? I ask You to fill my friend with incredible tenacity and the grace to take the first step.
As he/she begins to move, would you reinforce their efforts and give them Your favor? Would You give them victory this year?
May this year be the year that they overcome and become more healthy and happier!
---
---
---
Were you blessed by what you read?
Then, would you share this article with a friend, co-worker, or family member?
Or, maybe you can send it to a friend or family member?
This blog occasionally uses affiliate links and may contain affiliate links. Additionally, Melanie Redd is a participant in the Amazon Services LLC Associates Program, an affiliate advertising program designed to provide a means for sites to earn advertising fees by advertising and linking to amazon.com. Also, for more on my disclosure policy, click HERE.
© Melanie Redd and Ministry of Hope, 2021. Unauthorized use and/or duplication of this material without express and written permission from this blog's author and/or owner is strictly prohibited. Further, excerpts and links may be used, provided that full and clear credit is given to Melanie Redd and the Ministry of Hope with appropriate and specific direction to the original content.
---