---
We are in the middle of a short mini-series called, "Navigating Well through the Transitions of Adulthood."
Many of you have mentioned challenges you are facing right now. I won't be able to cover all transition areas in this short series, but I'd like to highlight a few:
Week One – Navigating into and through the Teen Years
Week Two – Navigating into and through the Empty Nest
Week Three – Navigating into and through Retirement
---
The "Empty Nest."
It's a strange term really.
When I hear these words, I think of a nest that is bereft of all of its birds.
But, this "Empty Nest" is also used quite often to describe a home that is bereft of all of its children.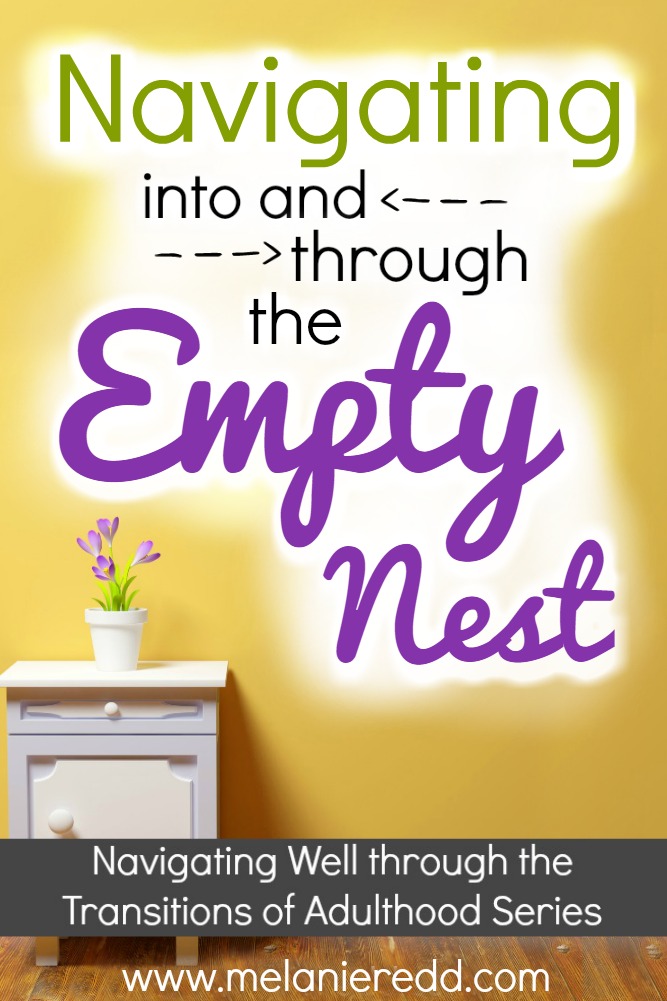 For some, the empty nest stage is grand!
It's a party, a second honeymoon, and a time to celebrate.
For others, the empty nest stage is depressing and sad. With the baby birds gone, Mom and Dad now have to face each other and figure out how to relate again.
My husband and I are not at this stage yet. We are in the "sometimes empty nest" and "sort of empty nest" stage. Our baby birds still live with us, and we know that our time with them is fleeting.
So, I had to seek out the advice of some of my wise friends who have already started life with no baby birds in the nest. These precious sisters are all now "Empty Nesters."
I asked my friends to share their thoughts on three questions that I hope will help us all to navigate into and through the empty nest.
(I know I'm taking notes!)
Question One

: What (if anything) has been sweet about navigating into the Empty Nest season of life?
"Oh, it's all sweet. All our time is sweet. Some say this time is the most fun they have had with their spouses ever and I must say even though we had fun before, it's still getting and becoming more fun. Spontaneous has become our middle name. " (Tami Theobald)
---
"The sweetest thing is being able to travel alongside my business husband who has always been on the road without me throughout the years of child rearing! We are having a blast!" (Ruthie Gray)
---
"We have not found the empty nest to be challenging. Managing the schedule to make time for visiting children and grandchildren is a priority for us. We enjoy being on a perpetual date." (Donna Gaines)
---
"When I married Bill McNeil, our nest was already full since I brought 2 daughters into the marriage, ages 4 and 2 that Bill quickly adopted as his own. Most of our marriage, Bill traveled for business, sometimes being gone for as long as 2-3 weeks at a time in the Orient. We always took little couple trips and enjoyed our time together when we could get it.
So when our girls married, we were ready to start our life together as a couple really for the first time! I remember sitting on the patio the morning after Mary's wedding and saying to Bill…….what now? He said…..PARTYYYYYYYY! And we have completely enjoyed our little empty nest." (Karen McNeil)
---
"The sweet part, that also touched my heart, was to watch how well our son handled his new-found freedom. I cherish the moments that we do have together, & that he still likes to come over for dinner sometimes. As I  became accustomed  to my new-found freedom, I sought out new activities that made me feel good about myself. Most activities involved group exercise, attend the women's weekday ministry meetings at church,  & attend Bible Study Fellowship. Delving into & studying God's Word has helped me the most. Renewing & redeveloping my relationship with my husband has also been a sweet adventure. We've  enjoyed some "bucket list" vacations & special things that have enhanced our leisure time together." (Dixie Rockholt)
---
"During my youngest child's last year of high school, I leaned in and chose to "savor." Everything else except my husband took a back seat. With my impending new "availability," I had multiple new adventures knocking at my door. I chose to say "no" to good opportunities because there was something greater at stake. In August, as I drove her to college, I realized I had no regrets. I thanked God for His guidance the past year that brought me to that place of peace on that very difficult day. This gift of "no regrets" is a gift that keeps on giving." (Christi Gee)
---
Question Two

: What (if anything) has challenged you about the Empty Nest stage?
"I believe if we think it's not supposed to be hard, it gets harder. And if we think we're alone in the harder, that's when it's the hardest. With that in mind, these raw thoughts are the best gift I can offer another sister in this season:  Often we're told we're supposed to be enjoying our newly found "freedom." I will eventually, but right now, I have to work through the loss. This is grief; the only way through grief is to grieve. Yes, my life has been about much more than motherhood, but mothering my three children is the most important kingdom assignment God gave me for the last three decades. I poured my life into my children and when they walked away, pieces of my heart followed. My heart simply has to learn how to beat again with parts living outside my home. I trust God to show me His new rhythm in His perfect time." (Christi Gee)
---
"My situation is unique in that I had been married 17 years before conceiving our one & only child, a son, who just turned 26 in July.  He was a gift from God,  as all children are, so when he moved out he left a huge hole in my heart. Filling the void in my life that our son had been the entire focus of my existence was overwhelming. After expending all your time, money, energy & love into the endeavor of raising children, it's heart-wrenching to let go. However, knowing that  his dad & I  raised him in a Christian environment gave us some peace & comfort & hope that he would walk with Christ by his side & know that he would always be welcomed home anytime he needed us as we would always be here for him.
Overcoming the personal challenge  for me was surrounding myself with other empty nesters sharing our experiences, supporting one another with advice on how to cope with filling that hole in our hearts. And, of course, most of all praying and crying out to Jesus for guidance to be with me to get me through the night. There were many nights, no matter what, that I cried myself to sleep. That was the challenge to get through one of the most painful stages of my life." (Dixie Rockholt)
---
"Coming to grips with the fact that the precious era of child rearing is over. My heart squeezes tight at the sight of an old snapshot of my kids or a memory popping up out of the blue. It's hard not to cry!" (Ruthie Gray)
---
"Perhaps to some, it's bittersweet. Maybe I did weep a little as we drove away and I saw sorority row in my rear view mirror. And maybe I was sad just a tad because as Kate packed and prepared to leave and be a whole six hours away from me, I did wonder certain things like – will we ever just be us again sitting in the den and chatting, marathon shopping in Cooper-Young like we occasionally did, lazy weekends at the lake house taking walks and playing Mexican dominoes, listening to new music, or a Tuesday dinner out when Carl had other plans? But we knew this place was for her and we loved seeing her eyes light up when we entered big orange country. We heard the happiness in her voice. And we felt happiness in our hearts." (Tami Theobald)
---
Question Three

: What advice do you have for others who are heading into the Empty Nest/or new to it?
"Preparation is key. Keep your marriage the priority only under your walk with Christ. Date often and keep communication open. It takes work but is an investment that pays rich dividends! Commitment is key as someone so accurately stated, 'marriage is falling in love over and over again with the same person.'" (Donna Gaines)
---
"My advice is to trust the relationship you have with your children. Then allow them to become who they dream to be. They love you. Maybe they don't call every day or text ten times a day. But let them grow and fly and it'll be so good. I promise. I'm living it. I'm loving it. It's a good sweet nest." (Tami Theobald)
---
"My advice to newcomers of Empty Nest Syndrome is to give yourself time to grieve, and take as long as you need. And yet, create new hobbies and outlets on which to focus your time! (Mine became blogging seriously instead of as a hobby!) God has a plan for you in this new season and your life is truly not over!" (Ruthie Gray)
---
"My advice……after a difficult time in business and some family challenges, I promised Bill I would do all I could to preserve our happiness……nurturing it and protecting it. He is the love of my life and I'm sure I'm his. Our nest has been empty many years now, and it only gets sweeter!" (Karen McNeil)
---
"My advice as a seasoned empty nester now going on 4 years  is to surround yourself with friends going thru the same circumstances,  find young adults who may be without their families & you may be able to be their surrogate parents, engage in activities, that you may have abandoned because of parental responsibilities, which makes you feel good about yourself (get a message, take up a sport you once enjoyed, learn a new skill such as piano, guitar, or foreign language). And always pray hard, seeking God's guidance for this new phase in your life.
When sadness would overcome me of what was, as it still does sometimes, I remember Jeremiah 29:11. 'For I  know the plans I have for you, declares the LORD, plans to prosper you & not harm you, plans to  give you hope & a future.'" (Dixie Rockholt)
---
"As far as the 'empty nest' and ministering to grown children I think first and foremost how VERY valuable is our time spent with our grown children!! We have watched many parents of grown children underestimate the value of this as their children have become adults. There is absolutely no substitute for quality time with them!! We know when we are stateside that our first and foremost ministry is to our grown kids and grandkids.
This sounds very simplistic but we are realizing how much this needs to be reinforced to parents of grown children! Even when our grown children's schedules seems to be full they still need and desire time with us as parents! We must always remember how VERY valuable it is to spend time apart with them. No greater equation of love!!" (Christie Krueger)
---
Thank you, ladies, for sharing a bit of your life situation  and your story with us today.
We really appreciate you and your words of comfort, advice, and encouragement! 
A very special thanks to these ladies for their contributions today:
Donna Gaines, Christi Gee, Ruthie Gray, Christie Krueger, Karen McNeil, Dixie Rockholt, and Tami Theobald!
---
Were you encouraged by what you read?
Would you share this article with a friend, co-worker, or family member?
Maybe you can send it to a friend or family member?
~ This blog occasionally uses affiliate links and may contain affiliate links. Melanie Redd is a participant in the Amazon Services LLC Associates Program, an affiliate advertising program designed to provide a means for sites to earn advertising fees by advertising and linking to amazon.com. For more on my disclosure policy, click HERE.
~ I regularly link to these AMAZING SITES~
© Melanie Redd and Ministry of Hope, 2016. Unauthorized use and/or duplication of this material without express and written permission from this blog's author and/or owner are strictly prohibited. Excerpts and links may be used, provided that full and clear credit is given to Melanie Redd and Ministry of Hope with appropriate and specific direction to the original content.