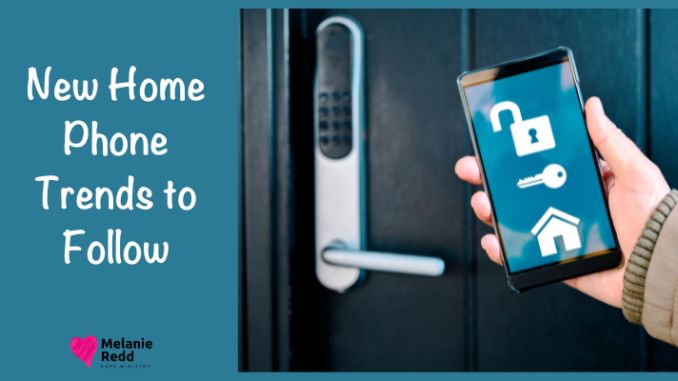 ---
New Home Phone Trends to Follow
Home phones were once the staple of any home, used to keep in contact with family and friends.
However, with the prevalence of smartphones, many are beginning to rely on them for all their communication needs instead.
Despite this shift away from traditional phone lines, there is still something special about getting a call from an old-fashioned landline.
Truly, this cannot be replicated by modern technology.
For that reason, home phones are still a popular choice for many households – but what trends should you consider if you do decide to invest in one? Below are some options to consider!
---
Phone Trends… VoIP Phones
Today, VoIP technology is becoming increasingly popular and is being used in a variety of ways.
VoIP phones allow you to make calls over the Internet, which can be an incredibly cost-effective way to keep in touch with friends and family.
Also, they are more easily integrated into home security systems – allowing for added peace of mind.
In addition, VoIP phones are generally easier to install than traditional landlines, making them an attractive option for those with busy schedules. For those worried about security, this blog here can help answer your questions and give you peace of mind.
---
Cordless Phones
For added convenience, cordless phones are becoming increasingly popular.
They allow users to move freely around the house while still being able to make and receive calls.
Also, cordless phones are more energy-efficient than traditional landlines. This makes them an eco-friendly choice for those looking to reduce their carbon footprint.
---
Phone Trends… Child-Friendly Phones
For families with young children, child-friendly phones can be a great choice.
These phones come with features specifically designed to make them easier and safer for kids to use – such as parental control settings and hands-free calling.
This makes it easy for parents to keep an eye on who their kids are talking to while also allowing them the freedom to explore the world of phone calls.
---
Smartphones
Another option to consider is smartphones.
Indeed, smartphones are becoming increasingly common in households and are a great way to stay connected with family and friends.
They also come with a variety of features that make them more convenient than traditional landlines. One feature is being able to access your voicemails from anywhere with an internet connection.
For adults with busy lifestyles, smartphones are a great way to stay in touch without the need for extra equipment.
---
Phone Trends…
Reverting to Landlines
With smartphones dominating the market, some may opt for a more traditional option and choose to invest in a landline.
While this isn't as sleek or stylish as other options, it can be incredibly reliable and provide better sound quality than some VoIP options.
Plus, with the right phone plan, you can get unlimited calling packages that are very cost-effective.
In addition, landlines can help reduce screen time and digital addiction as they are not tied to the same device used for digital communication.
No matter which option you choose, home phones can still be a great way to stay connected with friends and family.
With the right phone plan and trendy new options, it is easy to find one that fits your needs and budget. Be sure to do your research and find the perfect option to suit your communication needs. Good luck!
---
Were you encouraged by what you read?
Then, would you share this article with a friend, co-worker, or family member?
Or, maybe you can send it to a friend or family member?
This blog occasionally uses affiliate links and may contain affiliate links. Additionally, Melanie Redd is a participant in the Amazon Services LLC Associates Program. This is an affiliate advertising program designed to provide a means for sites to earn advertising fees. These are earned by advertising and linking to amazon.com. Also, for more on my disclosure policy, click HERE.
© Melanie Redd and Hope Ministry, 2023. Unauthorized use and/or duplication of this material without express and written permission from this blog's author and/or owner is strictly prohibited. Further, excerpts and links may be used, provided that full and clear credit is given to Melanie Redd and Hope Ministry, LLC. Please give appropriate and specific directions to the original content.
---