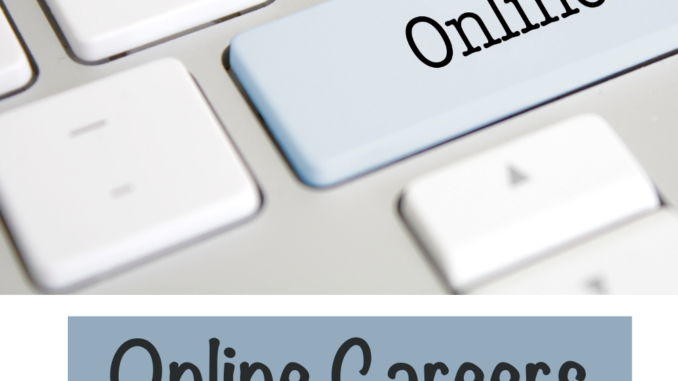 ---
Job hunting?
If you're looking for a new career right now, you are not alone.
The coronavirus and Covid-19 pandemic has seen us live through unprecedented times and circumstances.
Social distancing guidelines put in place to slow the spread of the virus have resulted in countless companies being unable to operate.
On top of this, some employers have had to ask remaining staff to accept fewer working hours or lower pay, both circumstances resulting in reduced salaries.
As a result, many of us need a new income and are struggling with the current job market.
Some of us have been furloughed for extensive periods of time and have found ourselves realizing that we'd like to try something new.
Whatever's encouraged you to switch your work, you may find that an online career works well for you.
Here are some suggestions that you might like to try out.
---

---
One Online Career Possibility is to Work Remotely.
Throughout the pandemic, businesses that can
work on a remote basis
have largely switched to working on a remote basis.
Of course, there are all sorts of perks that come hand in hand with this.
When you work a remote job, you don't have to spend money or time commuting.
This potentially adds hours to your free time and can save you a significant amount of money.
In addition, you can save money on clothes, travel time, and meals.
Many of us find that we can also wear more comfortable clothing rather than office attire. You may want to s
earch job boards for remote positions and start applying for them!
---
---
Another Online Career Possibility is to Freelance.
Another option is to freelance.
When you freelance, you are self-employed, so you become your own boss.
While this entails hard work on your part, you also gain a whole lot of freedom.
You only work for clients you want to work with, you manage your own workload, choose your own working hours, and choose when you take time off. 
Just make sure to register as self-employed before you get started.
---
---
Third, as an Online Career Possibility, you might try Starting an Online Store.
This can be a simple store, such as an eBay store or Depop page where you sell your own belongings. 
Or it can be a full-blown eCommerce store where you sell original items or services.
Whatever you choose, make sure to commit time and effort to it. The more work you put in, the more you will get out of it.
---
---
Finally, for an Online Career Possibility, you could become a Social Media Influencer.
Do you have a large social media following?
Companies pay influencers to advertise or review their products on Instagram, Facebook, and other platforms.
---
---
These are just a few suggestions but you never know, some might really work out for you!
If any tick your boxes, invest some time and effort into them and the money should start flowing in before you know it!
---
---
Then, would you share this article with a friend, co-worker, or family member?
Or, maybe you can send it to a friend or family member?
This blog occasionally uses affiliate links and may contain affiliate links. Additionally, Melanie Redd is a participant in the Amazon Services LLC Associates Program, an affiliate advertising program designed to provide a means for sites to earn advertising fees by advertising and linking to amazon.com. Also, for more on my disclosure policy, click HERE.
© Melanie Redd and Hope Ministry, 2021. Unauthorized use and/or duplication of this material without express and written permission from this blog's author and/or owner is strictly prohibited. Further, excerpts and links may be used, provided that full and clear credit is given to Melanie Redd and Hope Ministry, LLC, with appropriate and specific direction to the original content.
---