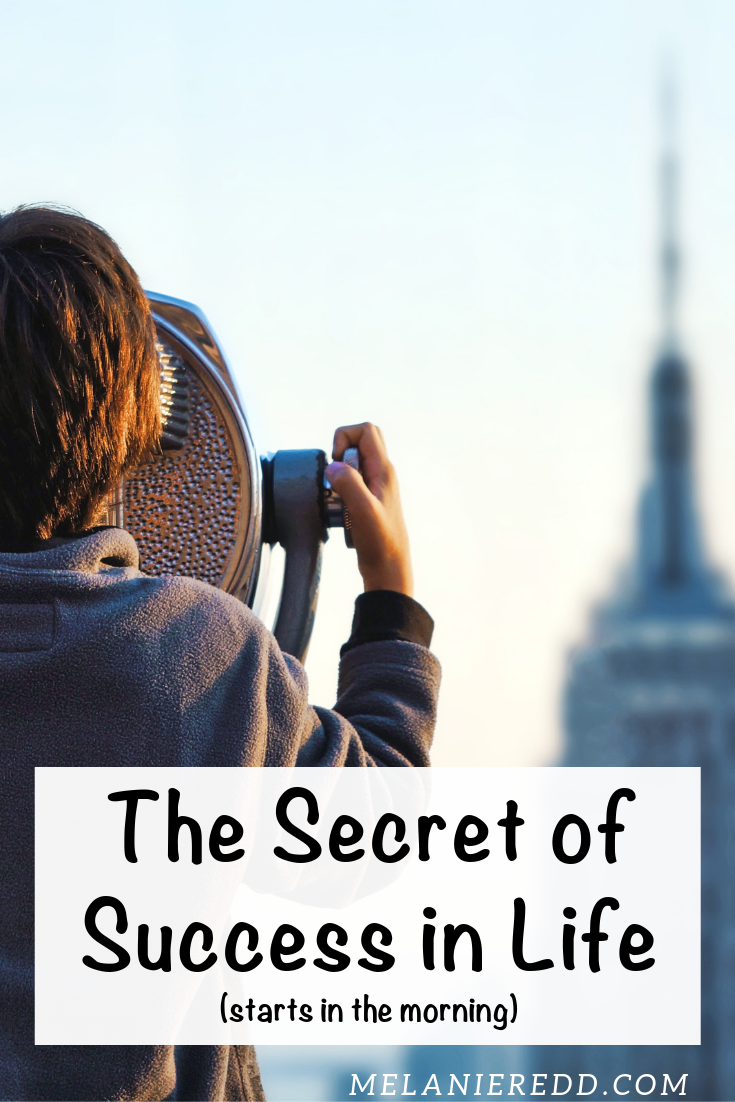 ---
How do you start your morning?
Though I knew I should start by praising God, I had fallen into a different pattern.
Heart racing, I would grab for my smartphone and frantically scroll through emails.
Though I knew this was no way to honor God, I wouldn't break my habit.
I was inspired to change for good when God showed me this verse:
"But I will sing of your strength; in the morning I will sing of your love; for you are the fortress, my refuge in times of trouble."
Psalm 59:16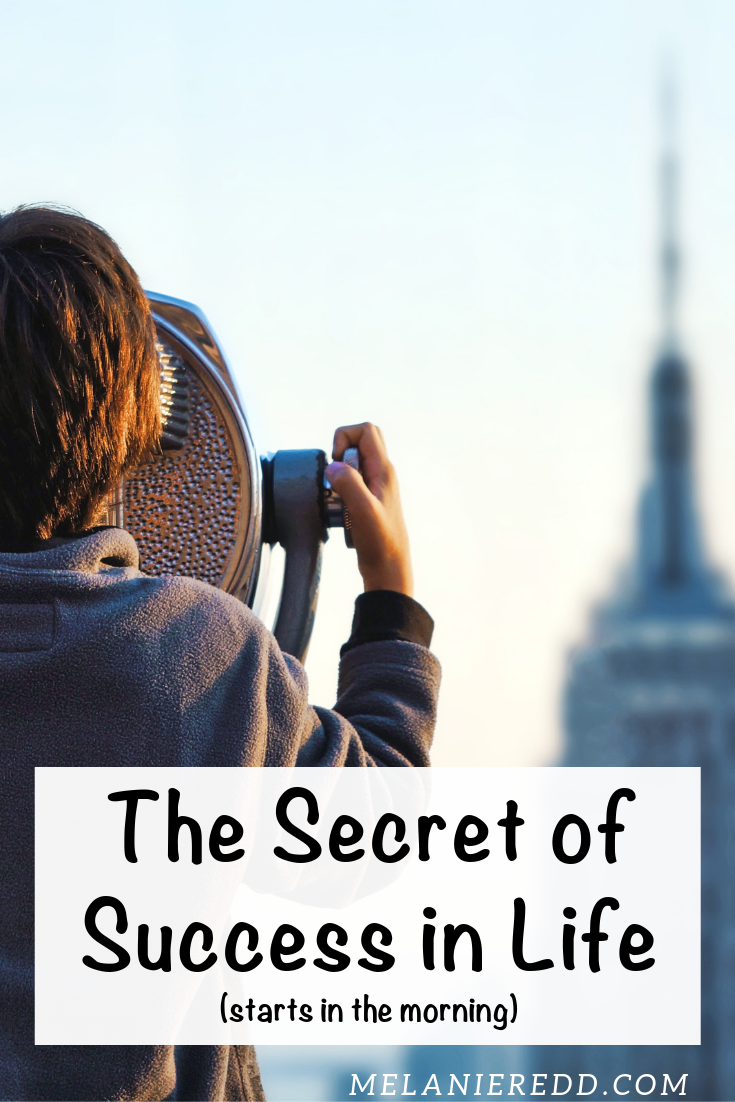 ---
The Secret of Success in Life (starts in the morning)
Priorities for Success
The word that jumped out was "morning."
By taking those first precious moments and setting the tone with reflection and gratitude, the Psalmist dedicated their day and their life to the only thing that matters — the love of God.
For me, instead of relying on God as "my refuge in times of trouble", I already had action items troubling me before emerging from the bed.
I thought I paid that bill already?
Should I renew my insurance policy or switch?
Checking email sapped my energy before the day even started.
---
A role model of Success
I admire my husband Elijah, who doesn't lunge for his phone when he wakes up.
He spends time in restoration and is never too busy to pray with me.
Could his time spent in rest actually make him more productive?
He is one of the most responsible people I know and somehow seems to accomplish countless tasks in the day (including fixing up the RV we're living in).
---
Guidance to Success
I wanted to be more like my husband and the Psalmist.
How do I change for good?  I asked God.
I often turn to Melanie Redd's ministry whenever I need positive guidance. At that moment, I searched her site and found her post, "How can I pray more often and more easily?"
In this article, Melanie offers tips for making prayer a priority all day, but I focused in on her morning advice.
Her first suggestion: "Say 'good morning' to the Lord." Just two simple words to show Him He is the first thing on my mind.
---
Melanie also suggests:
"Spend a few moments in the first part of your day, Bible–reading, learning, and taking some notes. Talk to the Lord about what you learn."
Although this sounds wonderful, I was making the wrong choice when I picked up my phone: I clicked the mailbox envelope icon instead of the Bible app icon.
To avoid temptation, I decided to memorize my morning verse in advance, eliminating the need for the app.
That evening, I picked out a Bible verse and read it ten times, then repeated it aloud ten times. I even had Elijah test me! ("You forgot the word 'and,'" he told me, smiling. "Other than that, it was perfect!")
Just in case I needed reinforcement in my sleepy morning state, I bookmarked the verse in the physical Bible and placed it on the table right in front of the bed. Armed with Melanie's tips and the Word of God, I went to sleep determined to start off the next day correctly.
---

---
"Good morning, Lord."
I woke up at dawn.
Good morning Lord, I thought as I stepped out of bed. I opened the curtains to reveal a beautiful sunrise over the mountains.
Two more words came into my mind. "Thank you."
I reflected on the verse I had selected the night before:
"Even if you are exiled to the ends of the world, from there the Lord your God will gather you, and from there he will bring you back."
-Deuteronomy 30:4
I spent time asking God to reveal what He wanted me to learn and apply from His truths.
I continued to reflect as I dressed, went outside to exercise, then came back in to clean up and prepare for what lay ahead.
Filling my mind with the beauty of God's Word and His promises comforted me in a way that my inbox never could!
---
On the road to success
Our RV had been having mechanical problems, and Elijah and I knew we might be stranded for the day or even longer.
Though the situation was out of my control, I had still worried. But after dedicating my morning and the day to God, I was calm.
As Elijah headed out to a service station, I deliberately turned my worries to praise and continued to meditate on my morning verse.
I thanked God in advance for bringing Elijah safely back. I thanked God for giving Elijah health and knowledge to fix the problem, and that our RV that was providing physical shelter and safety within its walls, even if the mechanics weren't working.
Not only did an employee from the service station give my husband a ride back … but the problem was easily fixed with less than $10 and in under three minutes.
We joyfully drove away to our next destination, praising God for meeting our needs.
---
A bonus kiss!
That was just one example of how reframing my morning changed the day's course.
When I did check email, I asked God to help me address the action items with competence and wisdom. I scanned my inbox calmly, without the frantic feeling that I had to handle the to-dos immediately.
Throughout the day I felt more grateful and connected to God. I found ways to help others and reach out to them in kindness, even in small ways. I kissed my husband "just because."
"Consider this a 'bonus kiss'"! I told him.
Just one day of starting off the morning with a Bible verse and praise instead of email brought me closer to God and improved my ability to share the love of Jesus and as I seek to bring glory to the Kingdom through my life, one day at a time.
---
Promises of Success
Every morning, I resolve to dedicate all to God, showing Him that I trust Him to provide what He promises in the Psalm: Strength, love, and refuge.
That is better than anything found in my inbox.
The secret of success in life is simple… I start my mornings with my heavenly Father.
---
---
About the Author:
Carly Wilson is dedicated to helping others live in the love of Jesus and the truth of the Bible.
She thanks God for the gift of her husband Elijah, who supports and encourages her in ministries, including writing biographies.
They are currently living in an RV and traveling through America, searching for a small town where they can put down roots and adopt foster children.
---
---
Were you blessed by what you read?
Then, would you share this article with a friend, co-worker, or family member?
Or, maybe you can send it to a friend or family member?
This blog occasionally uses affiliate links and may contain affiliate links. Additionally, Melanie Redd is a participant in the Amazon Services LLC Associates Program, an affiliate advertising program designed to provide a means for sites to earn advertising fees by advertising and linking to amazon.com. Also, for more on my disclosure policy, click HERE.
© Melanie Redd and Ministry of Hope, 2019. Unauthorized use and/or duplication of this material without express and written permission from this blog's author and/or owner are strictly prohibited. Further, excerpts and links may be used, provided that full and clear credit is given to Melanie Redd and Ministry of Hope with appropriate and specific direction to the original content.