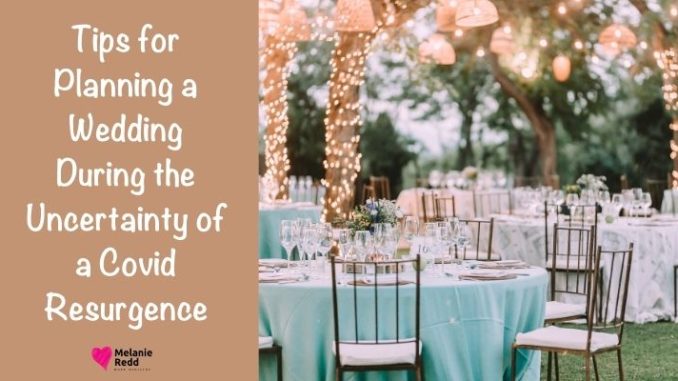 ---
Tips for Planning a Wedding During the Uncertainty of a Covid Resurgence
Over the past two and a half years we have often felt like we were on a rollercoaster ride. Indeed, with all the ups and downs of a global pandemic, it's been crazy.
One moment we were in mandatory strict lockdown and the next mandates were relaxed.
Another surge of covid hit and up went the restrictions once again.
By the end of 2021 when vaccinations seemed to be keeping the virus at bay for those who chose to get vaccinated, there was hope for the coming year.
People started planning vacations and weddings once again.
However, it appeared that the efficacy of the vaccines was short-lived and that there were even variants that seemed to be resistant to it.
Then came the boosters one and then two. Now there is talk of a third booster in some portions of the population and the uncertainty continues.
Some wedding venues are still requiring face masks and others may be requiring proof of vaccination.
While this might be something that you approve of, not all your invited guests will feel the same.
So, how should you handle that? It's a very good question.
---
Sage Advice Offered by a Creative Online Stationery Company
This advice comes to us courtesy of Greenvelope, an online stationery company that designs the most amazing digital invitations.
Their suggestion regarding covid wedding vaccination requirements is to handle the matter delicately in your invitations.
As a company that works with the electronic transmission of invitations, they understand just how easy it is to antagonize someone. Even if it is totally unintended and not something you can control, you may upset guests.
Maybe you set the date late last year, far enough ahead that it was expected all mandates would be lifted.
They suggest that you include a brief questionnaire as part of the RSVP.
You can ask questions online regarding the Covid wedding vaccination requirement.
---
What Not to Do When the Venue Is Requiring Proof of Vaccination
Sometimes it's not what you say, but how you say it. This goes for covid restrictions at your wedding venue as well.
You are advised not to say that if they cannot produce proof of vaccination they will not be admitted.
Rather, state it gently by saying, "The venue will be checking vaccination cards so please don't forget yours. We'd hate to see you turned away from a fun time at our special celebration."
Be as kind as you can when you know the venue has reinstated proof of vaccination.
---
Make Your Questionnaire a Short Survey
As part of the RSVP process online, you can create a brief questionnaire consisting of only a couple of questions.
They could be asked as follows:
Have you been fully vaccinated?

Do you have plans to get vaccinated between now and the date of the wedding?
Having mentioned the vaccination requirements in the invitation, guests won't be unprepared to answer your survey.
Also, by this point, they should begin to understand that it is not something you can control.
The rules are not yours but rather those of the venue. And, likely you booked long before these new restrictions came into play.
---
If Your Venue Isn't Set in Stone
If you haven't finalized your arrangements for a venue, you might consider opting for an outdoor wedding reception.
Truly, there is not much you can do about the church's restrictions.
But at least if guests can't attend the actual wedding, they could celebrate your special day at an outdoor reception.
Chances are that if one venue is requiring proof of vaccination, all or most of the other venues in your area will be as well. 
Sadly, covid has impacted our lives in ways no one could have imagined just a few years ago.
You've waited long enough for restrictions to relax and when they did you began setting a date and making arrangements. Then, midway through, up went the restrictions again.
If you aren't going to lose a sizeable deposit and your venue isn't set in stone, there may still be time to find the perfect outdoor location before sending out your wedding invitations.
---
At the End of the Day – It Is Your Day After All
When you've done all that you can to be as gentle as you can, there may be some of your friends who are not happy about the requirements.
However, you just might be surprised at how many people understand that this is not your doing, and they are more than happy to show proof of vaccination.
This is YOUR day after all, so go easy on yourself. You couldn't foresee a resurgence of the pandemic and you've been waiting long enough.
It's time to push forward with your plans and if you have to change them up a bit, so be it. True friends will be happy for you and will share in your joy whether they can attend or not.
Just know that this is your day, and you have every right to make it the very best first day ever of the rest of your lives together.
---
---
Were you encouraged by what you read?
Then, would you share this article with a friend, co-worker, or family member?
Or, maybe you can send it to a friend or family member?
This blog occasionally uses affiliate links and may contain affiliate links. Additionally, Melanie Redd is a participant in the Amazon Services LLC Associates Program. This is an affiliate advertising program designed to provide a means for sites to earn advertising fees. These are earned by advertising and linking to amazon.com. Also, for more on my disclosure policy, click HERE.
© Melanie Redd and Hope Ministry, 2022. Unauthorized use and/or duplication of this material without express and written permission from this blog's author and/or owner is strictly prohibited. Further, excerpts and links may be used, provided that full and clear credit is given to Melanie Redd and Hope Ministry, LLC. Please give appropriate and specific directions to the original content.
---