---
I closed my eyes throughout most of the movie. 

 
Is it over yet?
I kept thinking.
Why? 
This is too awful! 
Why did he have to suffer so much?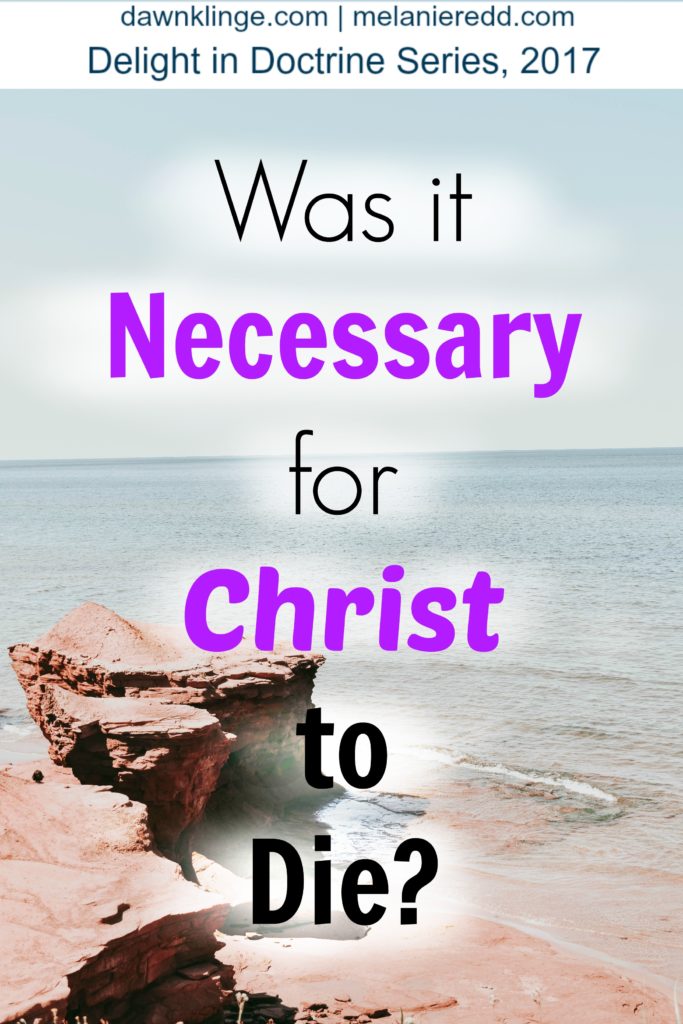 Was It Necessary for Christ to Die?
Jesus's death, as portrayed in The Passion of the Christ, had my mind going to uncomfortable places, confronting me with a reality that hurt.
It was only a movie, but what Christ did for me, and for you, was illustrated so vividly, that even from the comfort of the dark theater, it was almost more than I could handle.   
Yes, what I saw was a movie: it was something I could turn off or walk away from, but it was also more than that.  It was based on truths we can read about in the Bible.  The whole truth, if we were actually able to go back in time, to see, to smell, to feel, and to hear what happened that day when Jesus died, was undoubtedly far worse.  
God, in his perfect love, chose to become man: to live, to die, and to rise from his grave so that we could be forgiven and reconciled to him.  
It really happened.
And sometimes, we need to "go there".  We need to allow ourselves to sit with the sadness of this reality, to soak it in and let it speak to us.
We can't begin to understand the depth of God's love for us. Additionally, we can't grasp what he saved us from until we start to appreciate the atonement. 
Go with me over to Dawn Klinge's for the rest of this post.
Click HERE to read on.
---
---
Join us as we take a clear and practical look at some of the most basic and essential tenants of the Christian life – the doctrines of the faith.  
Each week, we will highlight and explain a core doctrine. Then, we will pose the question, "Why does this matter to you and me?"
You can catch all of this year's "Delight in Doctrine" posts by clicking HERE.
For the purposes of the study, our main texts will be first, the Bible, of course, and Wayne Grudem's classic, Systematic Theology:  An Introduction to Biblical Doctrine.
It is our prayer that by the end of 2017, we will all find more delight in understanding what we believe and why we believe it.
"…And he answered, "You shall love the Lord your God with all your heart and with all your soul and with all your strength and with all your mind, and your neighbor as yourself." Luke 10:27 (ESV)
---
---
Encouraged by what you read?
Would you share this article with a friend, co-worker, or family member?
Or, maybe you can send it to a friend or family member?
This blog occasionally uses affiliate links and may contain affiliate links. Additionally, Melanie Redd is a participant in the Amazon Services LLC Associates Program, an affiliate advertising program designed to provide a means for sites to earn advertising fees by advertising and linking to amazon.com. Also, for more on my disclosure policy, click HERE.
© Melanie Redd and Ministry of Hope, 2018. Unauthorized use and/or duplication of this material without express and written permission from this blog's author and/or owner are strictly prohibited. Further, excerpts and links may be used, provided that full and clear credit is given to Melanie Redd and Ministry of Hope with appropriate and specific direction to the original content.
---