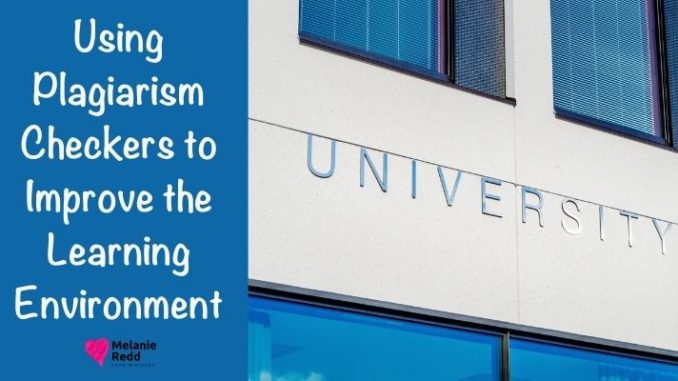 ---
Improve the Learning Environment
In most universities, teachers require students to submit unique works that will be checked for plagiarism before grading.
This practice helps to prevent young people from cheating.
However, many students neglect this aspect of their academic life or do not understand the reasons why instructors use plagiarism checkers on each of their assignments.
Some of them even feel overwhelmed by this approach and criticize it because of the constant stress that their works will not be accepted.
Universities having a strong anti-plagiarism policy reject works with signs of inappropriately paraphrased or copied information.
Indeed, they may even ban a particular student with a repetitive history of submitting plagiarized papers.
Below, you will find the reasons why educational institutions check essays to improve the learning environment.
---
---
First, to Improve the Learning Environment, Understand What Plagiarism Is.
In many cases, students are not quite aware of the plagiarism definition.
This issue predicts their ignorance of the problem and inability to pay decent attention and effort to prevent it. It is essential to question yourself:
What is plagiarism? The use of someone else's work as your own.
It's when a person acts as if they are the author of particular ideas, textual or visual elements that are not theirs to share.
In simple words, it is stealing another person's intellectual property.
Plagiarism is considered to be a form of offense and may result in law persecution.
However, in the educational setting, this issue is a breach of scholarly ethics and academic integrity.
---
---
Second, to Improve the Learning Environment, Encourage Students to Give Their Best.
When a person resorts to plagiarism, he or she does not contribute to the completion of the task.
This student, unlike others in the group, does not put the effort in to learning the material but simply copies someone's work.
In this way, the process of grading the submitted assignment cannot be fair and honest.
Earning a good mark for plagiarized work cannot be justified at any educational establishment.
That is why universities try to prevent this problem and make students more diligent in their learning process.
Thanks to plagiarism checkers, instructors create a level playing field.
---
---
Third, to Improve the Learning Environment, Use Simple Tools to Check for Plagiarism.
Considering the high number of papers written by students for classes, the utilization of automatized checking instruments is justified.
In this way, teachers can save time and effort and quickly detect the works with signs of plagiarism.
They have enough opportunities to improve the learning process of students and deliver them studying materials.
Thanks to specific software, no work can be skipped or ignored during the anti-plagiarism check.
Hence, this approach is a significant benefit for instructors and a way for saving their time when dealing with multiple works.
---
---
Fourth, to Improve the Learning Environment, Monitor Students' Academic Performance During the Term.
University plagiarism check also helps to monitor the performance of each student during the term.
Teachers can trace whether young people have been working on their assignments on their own or copy them from external sources.
Moreover, in some cases, plagiarism occurs unintentionally. Students may use informational resources but fail to cite them properly.
From the academic perspective, this action is a serious mistake that demonstrates the lack of expertise in writing essays and other types of texts.
Thus, the teacher can approach certain students and emphasize their flaws to facilitate learning proper formats and reference rules.
---
---
Fifth, Seek to Motivate Students to Learn More.
Students who understand that their works will be checked for plagiarism are more diligent and attentive while writing papers.
They may ask: How do you know if someone's plagiarizing?
The answer is simple. Modern plagiarism checkers can detect even improperly paraphrased parts of the text.
Thus, teachers can find even minor signs of plagiarism.
They will know which students have to revise their papers and submit them once more.
Thus, young people will understand that the failure to create a fully unique text will lead to a huge amount of work and the necessity to remake the assignment.
And, they will be more motivated to produce their own papers.
---
---
Sixth, Understand that Schools Are Working to Reduce Plagiarism.
Each respected academic institution will struggle to reduce plagiarism among students. It is not acceptable to use copied works at any university. This issue is a serious violation of academic integrity.
Using plagiarism checkers prepares young people for their future life, career, and the continuation of their studies.
Indeed, students will learn how to conduct their own research and create their own works.
Only with the utilization of a university plagiarism check, this option becomes possible.
After observing the fact that each copied part can be easily detected, students will further avoid this issue and produce their own research with correct referencing.
---
---
Finally, to Improve the Learning Environment, Establish Respect.
While understanding the risks of plagiarizing, students learn how to be respectful and tolerant of other people's intellectual property.
They understand that writing a unique work is not a simple task.
The confusion and stress of observing how another person illicitly uses your intellectual property are known to many individuals.
The comprehension of this aspect is valuable to students and helps them to produce a more respectful attitude and develop responsibility for their homework.
Additionally, plagiarism checker used by universities assists in making the classroom equal and fair space.
Students have to work on their assignments without a possibility for any of them to plagiarize and simplify the task.
---
---
Conclusion.
It is important to understand the reasons behind plagiarism checks at universities.
These instruments work for the benefit of students, teachers, and academic institutions.
Thanks to the regular and proper use of such tools, learning environments become more respectful, creative, and fair.
Therefore, it is highly recommended that more educational establishments introduce anti-plagiarism practices in their classrooms.
---
---
Were you encouraged by what you read?
Then, would you share this article with a friend, co-worker, or family member?
Or, maybe you can send it to a friend or family member?
This blog occasionally uses affiliate links and may contain affiliate links. Additionally, Melanie Redd is a participant in the Amazon Services LLC Associates Program. This is an affiliate advertising program designed to provide a means for sites to earn advertising fees. These are earned by advertising and linking to amazon.com. Also, for more on my disclosure policy, click HERE.
© Melanie Redd and Hope Ministry, 2022. Unauthorized use and/or duplication of this material without express and written permission from this blog's author and/or owner is strictly prohibited. Further, excerpts and links may be used, provided that full and clear credit is given to Melanie Redd and Hope Ministry, LLC. Please give appropriate and specific directions to the original content.
---