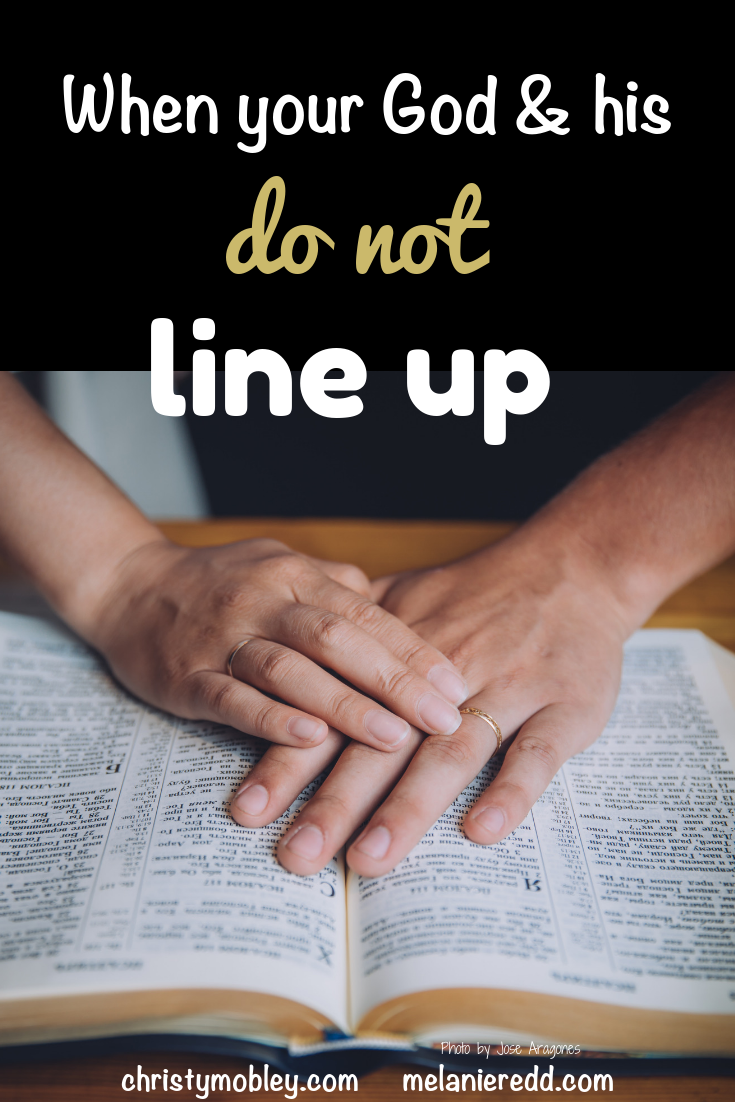 ---
If I only had a dollar for every friend or acquaintance who shared with me how their spouse isn't on the same page when it came to spiritual things …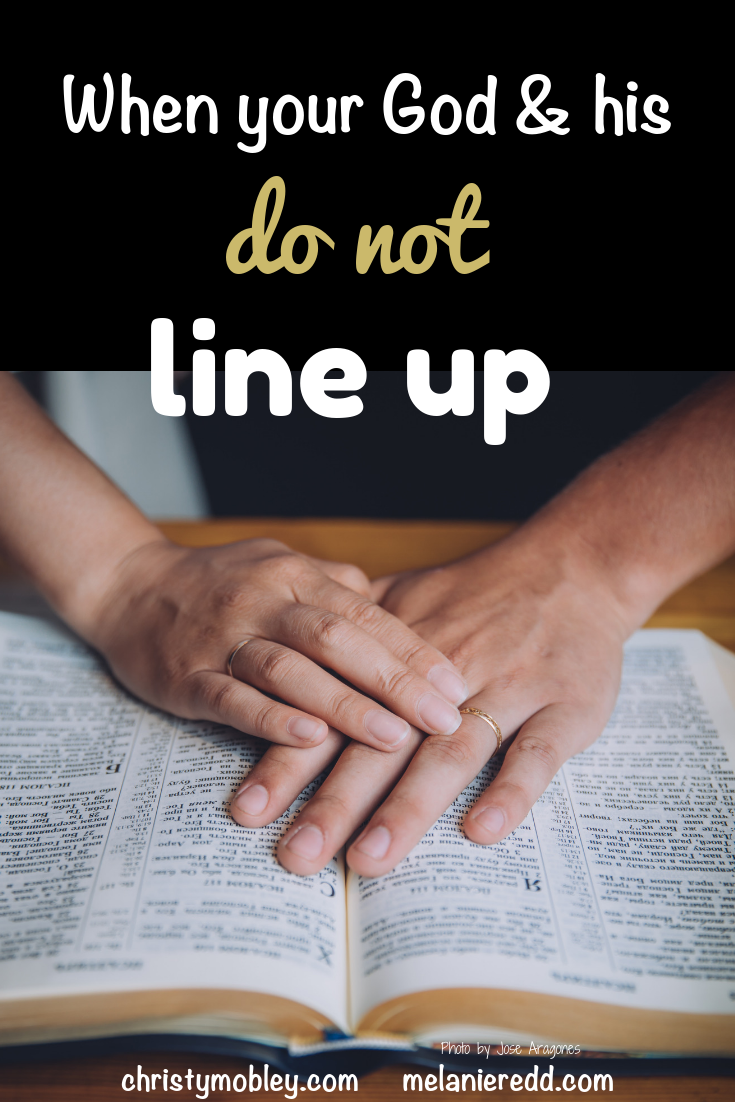 When Your God and His Don't Line Up
The Problem:
Yep, either their husbands won't go to church with them, except maybe Christmas and Easter, or they believe in a totally different theology or doctrine.
Others are concerned because their husbands won't engage in any spiritual upbringing of their children.
All of these situations, unfortunately, are more common then we would care to think and can be a source of contention in a marriage relationship.
I know.
I've been there.
Here's My Story:
Thirty-five years ago I married a "Christian," man. I defined Christian at the time of our vows the way a lot of us do — one who has accepted Jesus as Lord and Savior — nothing more.  And my man had done that — when he was six.
However, from that day forward he went about the business of being a kid, then a teenager, then an adult. Sure he went to church but it was more out of a responsibility than a response to his belief.
When we married, you might say he had a religion, not a relationship. That left us at odds when engaging in spiritual matters beyond going to church. It particularly became a source of friction when our boys came along.
I longed for David to be the spiritual leader of our household. He felt it was more my job to read Bible stories, teach the kids about God and pray with them.
What not to do:
It was disheartening to feel like David wasn't on the same page with the things that mattered most to me. Oh but silly me, thought I could "fix" the situation with talking, debating, demanding, pestering, nagging, even ignoring him if that would do the trick.
Oh but silly me, thought I could fix the situation with talking, debating, demanding, pestering, nagging, even ignoring him if that would do the trick.
Click To Tweet
But it didn't.
If anything, it only made matters worse which in turn made me more frustrated and discouraged not to mention what it was doing to David and our relationship. What I wanted to bring us together was actually pulling us apart.
One day, a friend shared with me the wonderful things God started doing in the heart of her man when she began praying Scripture for her husband. The example she gave was a prayer found in Ephesians 3:14-19.
"For this reason, I kneel before the Father, from whom every family in heaven and on earth derives its name. I pray that out of his glorious riches he may strengthen you with power through his Spirit in your inner being, so that Christ may dwell in your hearts through faith.
And I pray that you, being rooted and established in love, may have power, together with all the Lord's holy people, to grasp how wide and long and high and deep is the love of Christ, and to know this love that surpasses knowledge—that you may be filled to the measure of all the fullness of God."
This sparked a hope in me and I took up the same prayer vigil.
I replaced the pronouns in the verse with my husbands' name and prayed the prayer on his behalf every day of the week that ends in Y. I stopped the nagging and put my efforts into kneeling. And every day I watched for a change.
Weeks, months, years went by but nothing happened.
Until it did.
God's timing is everything.
David received an opportunity for promotion and we moved to another city. One of my husband's new colleagues asked him to go to a men's Bible study and he went. To my surprise, he started attending regularly and that's where the heart change began.
David went from a man who never opened the Bible on his own accord to getting up at five in the morning to read God's Word before he went to work. Where there was once only religion, a budding relationship began.
And He was there to step up to the plate and give godly wisdom to our boys when they need it most — those tumultuous teenage years.
What I learned: 
Prayer is powerful.
It's taking the problem straight to the source of help. When we pray God's words back to Him there is no doubt we are praying in accordance with His will.
When we pray God's words back to Him there is no doubt we are praying in accordance with His will.
Click To Tweet
1 John 5:14-15  says, "This is the confidence we have when approaching God: That if we ask anything according to his will, he hears us. And we know he hears us —  whatever we ask — we know that we have what we ask of him."  (NIV)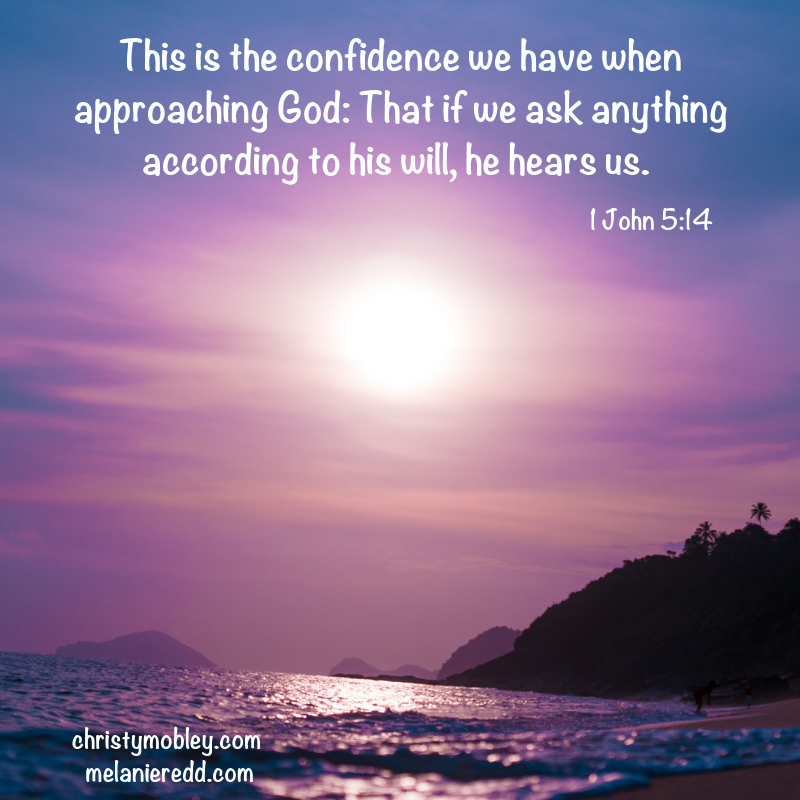 Silence is golden.
All the talking, nagging, pestering in the world cannot crack a heart that's not ready to be laid open. Only the Holy Spirit can do that. Save your voice. A humble example speaks volumes over words.
1 Peter 3:1 says, "In the same way, you wives must accept the authority of your husbands. Then, even if some refuse to obey the Good News, your godly lives will speak to them without any words." (NLT)
Waiting is worth it.
In this hurry-up culture, we don't like to sit for much of anything.
In this hurry-up culture, we don't like to sit for much of anything.
Click To Tweet
I know I don't anyway. But God's timing is perfect. He knows what He is doing. When we pray, He puts a plan in place. The waiting causes us to draw closer to Him and we're strengthened as we seek Him more. The result is perseverance and hope.
When we pray, He puts a plan in place.
Click To Tweet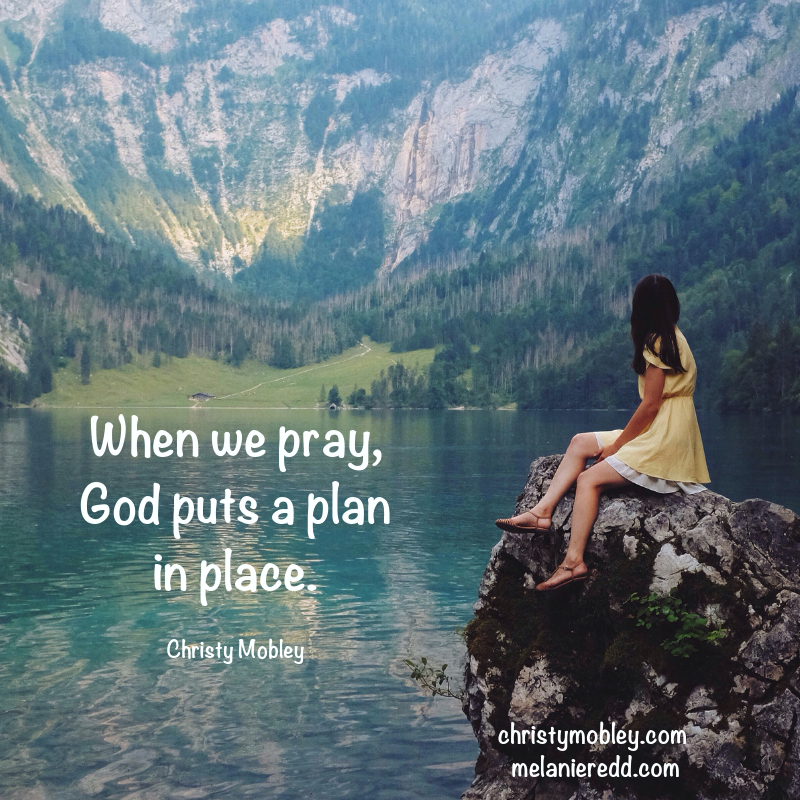 Romans 5:3-4 says, "Not only so but we also glory in our sufferings, because we know that suffering produces perseverance; perseverance, character; and character, hope." (NIV)
I'm always happy to share my story with any woman who feels the tension of spiritual awkwardness with her man. I want to give comfort — the kind of comfort I received from a friend so many years ago. Isn't that what we are called to do?
"Praise be to God and Father of our Lord Jesus Christ, the Father of compassion and the God of all comfort, who comforts us in all of our troubles so that we can comfort those in any trouble with the comfort we ourselves receive from God"
1 Corinthians 1:4
The Best of Surprises:
Over the years I have joined many a friend in praying for their spouse and in some cases, honestly, I've felt my prayers were an exercise in futility.
But you know what? I've been wrong every time. I love how God loves to surprise us.
I love how God loves to surprise us.
Click To Tweet
Now, if I just had a dollar for every prayer I saw answered … uh, how does the saying go? … I'd be a rich woman!
---
---
About the Author: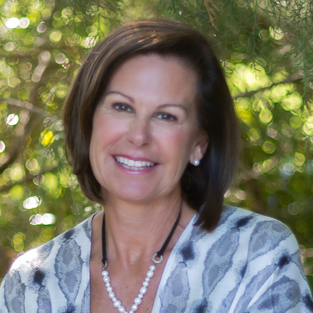 Christy Mobley is a wife, mom, and a  first-time grandmom who lives in Florida. She's a self-proclaimed "girly girl" who likes clothes, accessories and decorating … that is, moving things around in her house.
She's been married to David for over 34 years and says he is the funniest man she's ever met. The couple has two sons, two precious daughters in law, and one amazing little grandson.
You can find her Joying in the Journey on her blog at ChristyMobley.com.
---
---
Want more encouragement in your relationships?
---
---
Encouraged by what you read?
Would you share this article with a friend, co-worker, or family member?
Or, maybe you can send it to a friend or family member?
This blog occasionally uses affiliate links and may contain affiliate links. Additionally, Melanie Redd is a participant in the Amazon Services LLC Associates Program, an affiliate advertising program designed to provide a means for sites to earn advertising fees by advertising and linking to amazon.com. Also, for more on my disclosure policy, click HERE.
© Melanie Redd and Ministry of Hope, 2018. Unauthorized use and/or duplication of this material without express and written permission from this blog's author and/or owner are strictly prohibited. Further, excerpts and links may be used, provided that full and clear credit is given to Melanie Redd and Ministry of Hope with appropriate and specific direction to the original content.
---
When Your God and His Don't Line Up