---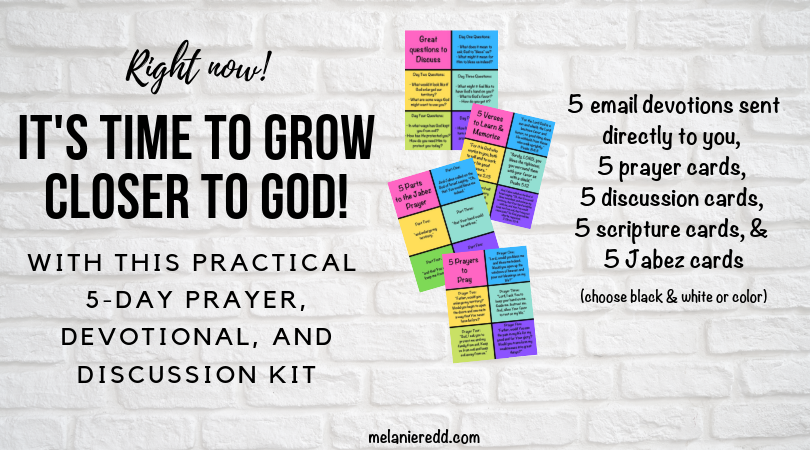 ---
~ Would you like to take steps in your walk with the Lord to grow closer to Him?
~ Want to experience more joy, more peace, and more victory?
~ Would it help if you had a little assistance in this growth?
---
That's what this resource is all about!
It's a practical 5-Day Prayer, Devotional, and Discussion Kit – created to inspire and encourage you!
---
What you'll get in your kit:
5 Days of Inspiring devotionals sent to your personal email inbox.
5 Prayer Cards that you can print and cut out.
5 Discussion Cards that you print and discuss with family and friends.
5 Scripture Verse Cards that you can take with you for more encouragement.
5 Jabez Prayer Cards.
---
To get started, just share your name and email below.
You'll get your cards, and then the emails will come to you one day at a time for 5 days.
---
It's that simple!
And, we are hoping and praying that you will take advantage of this tool that Ministry of Hope has crafted just for you.
We are also praying that you will begin to grow closer to God through your experience.
Let us know if you have any questions. You can email us at hope@melanieredd.com.
Blessings to you!
---
Were you blessed by what you read?
Then, would you share this article with a friend, co-worker, or family member?
Or, maybe you can send it to a friend or family member?
This blog occasionally uses affiliate links and may contain affiliate links. Additionally, Melanie Redd is a participant in the Amazon Services LLC Associates Program, an affiliate advertising program designed to provide a means for sites to earn advertising fees by advertising and linking to amazon.com. Also, for more on my disclosure policy, click HERE.
© Melanie Redd and Ministry of Hope, 2019. Unauthorized use and/or duplication of this material without express and written permission from this blog's author and/or owner are strictly prohibited. Further, excerpts and links may be used, provided that full and clear credit is given to Melanie Redd and Ministry of Hope with appropriate and specific direction to the original content.