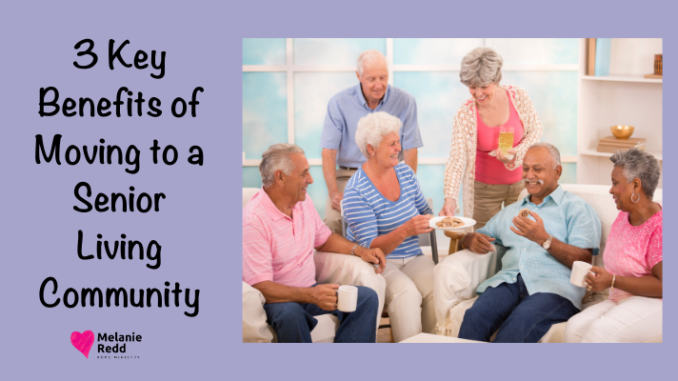 ---
3 Key Benefits of Moving to a Senior Living Community
In later life, it is common to find that mobility levels decline, and your general health may also begin to suffer.
Fitness levels will reduce. And you will not be able to undertake exercise to the same levels of intensity that you enjoyed during your early adulthood.
However, it is important to understand that growing old is a natural part of life. And, there will be some challenges that come with aging.
Also, as a senior citizen, there is the opportunity to move to a senior living community. This is true if you feel that it is no longer safe or viable to remain in your own home.
This move should not be considered a negative step. In fact, it can be an extremely positive decision that can improve your quality of life as a senior citizen.
In this article, three key benefits of moving to a senior living community will be discussed.
---
The first key benefit of moving to a senior living community is the Social aspects.
It is widely recognized that the elderly are at an increased risk of suffering from poor mental and physical health due to becoming isolated from wider society.
It is likely that many of these residents will share the same outlook and interests as you do. This can allow strong friendships to develop in this environment.
In addition, most well-managed senior living communities will have a range of social events and activities for their residents to enjoy.
These may include arts and crafts classes that allow residents to enjoy creating together in a comfortable environment.
Also, they can go on trips out into the local town or countryside.
These types of activities help to create a strong community spirit at these premises and allow residents to enjoy senior life to the fullest.
---
The second key benefit of moving to a senior living community is on-site chefs.
Many senior citizens find that they struggle to cook for themselves in later life.
If mobility and health levels are poor, it may be difficult to safely prepare hot meals and they may resort to eating a less healthy and nutritious diet in their own homes.
Thankfully, many senior living communities have on-site chefs. These chefs can prepare a wide range of mouthwatering and healthy meal options for residents.
At some premises, there may also be the option to order meals and snacks on a 24/7 basis.
Put simply, these facilities help to ensure that elderly residents enjoy a high-quality diet. They also allow them to stay in the best possible health.
---
The final key benefit of moving to a senior living community is a safe environment.
One of the most important benefits of moving to a senior living community is that the premises are managed by a range of skilled staff.
On-site healthcare staff will be able to modify your room to suit your specific mobility needs (such as fitting bed rails or shower handles to prevent slips and falls). Also, the staff will often create bespoke care plans to ensure that you remain safe and well.
These professionally managed environments help the elderly to thrive and enjoy a high standard of living whilst minimizing the risk of suffering injuries from accidents.
---
Were you encouraged by what you read?
Then, would you share this article with a friend, co-worker, or family member?
Or, maybe you can send it to a friend or family member?
This blog occasionally uses affiliate links and may contain affiliate links. Additionally, Melanie Redd is a participant in the Amazon Services LLC Associates Program.
This is an affiliate advertising program designed to provide a means for sites to earn advertising fees. These are earned by advertising and linking to amazon.com. Also, for more on my disclosure policy, click HERE.
© Melanie Redd and Hope Ministry, 2023. Unauthorized use and/or duplication of this material without express and written permission from this blog's author and/or owner is strictly prohibited.
Further, excerpts and links may be used, provided that full and clear credit is given to Melanie Redd and Hope Ministry, LLC. Please give appropriate and specific directions to the original content.
---