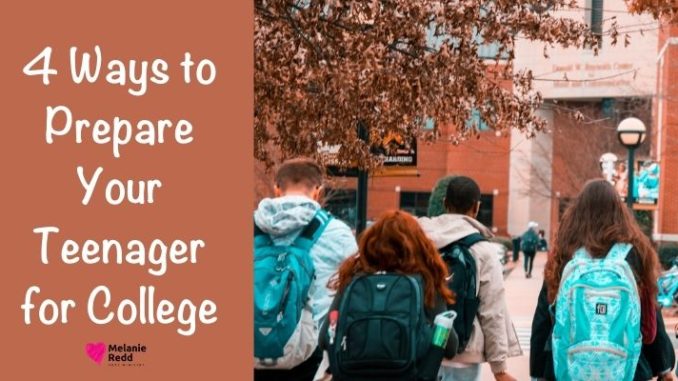 ---
Prepare your teenager for College
Today's teens are tomorrow's adults and it can be scary to think about your teen heading off
to university
soon.
While this is a scary time for parents, it is also a time of incredible growth and opportunity for teens.
Starting university is not just about packing your bags with new clothes, books, and supplies – it's about getting ready to live on your own in a new city and begin the next stage of your life.
You might be wondering how you can prepare your teen to be ready for university.
Here are some tips on how you can help prep your teen for college.
---
First, to prepare your teenager for college, teach them life skills.
Whenever you can, try to talk to your teen about the skills they will need in life.
This will help them develop the abilities to cope and function independently at university.
Some examples of life skills that teens might find helpful are: 
Resilience:

Things will not always go as planned, and they will need to learn how to deal with that. 

Organization:

Teens need to learn how to manage their time wisely to balance their studies and extra-curricular activities. 

Finances:

Teens need to learn how to budget their money to pay their bills and buy the things they need. 

Interpersonal skills:

Teens need to learn how to get along with their roommates and interact with people in their new university city. 

Problem-solving skills:

At some point, teens will face a problem they can solve. They need to know how to identify, solve and move past these challenges.
---
Second, to prepare your teenager for college, secure storage options for their extra stuff.
If your teen is moving away to study, they will need to be prepared to live in a dorm or share a house with other people. This means they will not have their room or closet, making it difficult to store their belongings.
This can lead to frustration and make finding things when they need them harder.
Looking at
storage units
for your teen to store their belongings to have easy access to everything they need can be a great solution to a space issue. This will help them feel prepared and less stressed about moving to a new place.
It will also be helpful if your teen is planning to stay with friends or relatives instead of staying in the dorms. This will give them the space to feel comfortable and store the things they want to keep.
---
Third, to prepare your teenager for college, discuss safety.
College is a space where many different people from different backgrounds, cultures, and lifestyles come together.
This can be both exciting and daunting for young people new to university life.
Parents need to discuss safety and security issues with their teens.
Try to let your teen know what to do if they ever find themselves in a situation where they feel unsafe or threatened.
---
Fourth, to prepare your teenager for college, discuss emergencies & challenging situations.
College is a time of new beginnings, exploration, and exposure to so many new things.
This can be a great learning experience for teens, but it can also get involved with something they aren't prepared for, such as drugs or alcohol.
Let them know that you are there for them if they need anything.
---
---
Were you encouraged by what you read?
Then, would you share this article with a friend, co-worker, or family member?
Or, maybe you can send it to a friend or family member?
This blog occasionally uses affiliate links and may contain affiliate links. Additionally, Melanie Redd is a participant in the Amazon Services LLC Associates Program. This is an affiliate advertising program designed to provide a means for sites to earn advertising fees. These are earned by advertising and linking to amazon.com. Also, for more on my disclosure policy, click HERE.
© Melanie Redd and Hope Ministry, 2022. Unauthorized use and/or duplication of this material without express and written permission from this blog's author and/or owner is strictly prohibited. Further, excerpts and links may be used, provided that full and clear credit is given to Melanie Redd and Hope Ministry, LLC. Please give appropriate and specific directions to the original content.
---