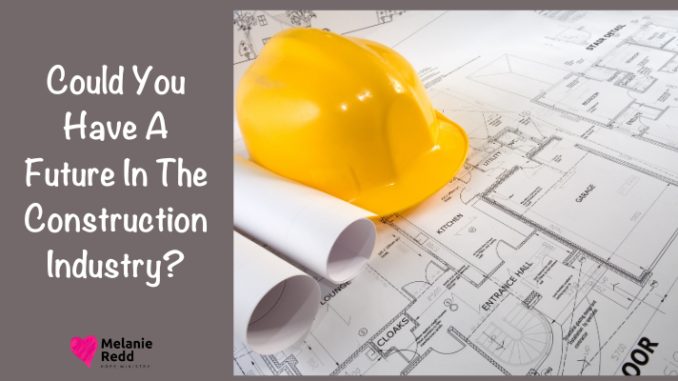 ---
Could You Have A Future In The Construction Industry?
As far as home business ideas go, starting up a construction company of your own might not sound like the best call.
However, it can be a great startup for anyone with expert DIY skills and the willingness to work towards a proper certification. 
And seeing as people will always need building work done. Whether for a residential project or commercial, you could start a service that has the potential to be in demand. 
But what will it take to build a future in the construction industry?
Alongside the

mountain of admin

,

you'll have to go through, as well as the financial backdrop you'll need to build, there's a long road ahead of you! 
As long as you're ready for the commitment ahead of you, as with any other business, a new construction company could soon land in town.
So, we'd like to ensure you've got a good idea of what to expect over the next 12 months.
For that reason, we've listed some crucial steps you'll need to complete to form your contractor business down below.
---
Assess Your Skills within the Market
This is the first step in building a career in the construction industry: what are you capable of?
Do you have experience working in the sector already, or would you need to go back to school here?
Do you have any project proof you could immediately file into a portfolio?
Or a hardy reference from a previous employer that would help? 
Whether you do or not, it's always a good idea to see what skills are currently in demand.
What do people want from the contractors they hire? Truly, a track record will help you to get set up,
However, it's not necessary if you're also looking for an effective change in your career trajectory.
---
What's the Competition Like?
Doing research into the market doesn't stop at your skills.
You also need to see what's out there. Who are you competing against for customers? And particularly in your local area? You can move further afield to increase your pool of clients, but the most reliable work is going to be on your doorstep. 
So, what services exist just around the corner from you? What projects have been completed in your area recently? And what do the testimonials mention when you're reviewing similar companies? If you can, it's good to get some insider knowledge by asking around the workforce as well. 
A few connections go a long way, and you can make personal connections easily
with just a phone call
. Whether you're trying to do some research for the market or you're looking to get a job at a previously established contractor for experience, this method can work well.
---
Think About Protecting Yourself
This is where you think about insurance, warranties, and how you're going to stay safe in the construction industry. You're likely to spend a lot of money on equipment, and without the proper training or experience in handling, this can go very wrong. 
At the very least, an accident is a huge expense you'd rather not have to deal with, even outside of your first year of operations. Investing in this element of business is the best way to safety-proof against the future.
Public liability insurance, contractor's liability insurance, and even automobile insurance for any essential business vehicles should all be noted down on your expenses list. And for the future, if you plan to expand a proper training regime for any employees you hire should be on the cards too.
---
What Can You Offer?
With a bit of market research, an understanding of how your competitors work, and insider knowledge of the job ranking inside the construction industry, you can then plan your business structure. 
You're trying to answer one question here: as a new player in the local economy, what can you offer that a client wouldn't find anywhere else? You can help a client plan their project, account for demolition work alongside construction, and offer debris cleaning services after the work is finished. But inside these services, what could be special about your company? 
You could think about specializing in one type of project alone, such as certain room conversions. You could also provide plenty of add-ons, such as grouting and tiling, painting and decorating, or specific guarantees. Such guarantees could include emergency jobs, work at all hours, or specific turnaround times based on the size of a project. 
Above all, consider your skill set, your ability to refine this skill set, and how that can translate into the product you finally deliver.
---
Set Up a Stable Tech Network
Now you've got to think about your digital needs. You don't want to be filing paperwork 24/7, and that means you need a stable network to use. At the very least, you need a secure and spacious server, a strong connection, and the ability to encrypt all client data. 
Putting your digital security first will serve you in the long run. Thankfully, there's a lot of software out there that can help. You can download something like the
buildops field service solution
to assess all of the above needs and then coordinate them across your entire platform. 
Of course, you can always try patching your software, but that'll take some building up to. After all, you'll need a good idea of what your personalized dashboard needs to include, and that comes with experience!
---
Price Yourself Right
Pricing yourself can be complicated. You've got to make money out of the work you do, and that's a tricky thing to align. You'll be paying for your own materials, overheads, insurance, and employee wages, and then you've got to make a pure profit on top. After-tax, that amount could be slim if you don't think about this correctly.
But then we get to the main worry: you need potential clients to understand your pricing structure and find it acceptable. A lot of people out there fail to take your business needs into account, as they're not just paying for the workload, but the time and skill you put into a job as well. 
It's why there's always a baseline price to pay, and then work costs are timed on top of that. Otherwise, you'll always be working at a loss. Make sure this is reflected in any quote you plan to give.
You also have to account for the days when you'll be doing mostly office work, and likely not making money at all. Every contractor needs to acquire clients from time to time, and that means getting online, making phone calls, and using up a viable working day behind a desk.
---
How Can You Prove You're the Real Deal?
Do you have a certification that proves you're able to carry out construction work on a property? If not, you're never going to get anywhere with a company like this. You're not just doing a bit of DIY for a friend here – you're taking homes and livelihoods into your hands. That requires a huge level of trust. 
Make this easy for someone to have in you. Make sure you're certified across the board, as well as signed up with local trades guilds and international regulatory agencies. But depending on where you're working, these legalities will differ, so you'll want to check your local government website for further clarification.
---
Now it's Time to Advertise
Advertising your company is the final nail. This is where most new contractors can fall as well. It can be very hard to prompt yourself within this kind of niche, as shopping for a new bathroom or a loft conversion isn't something we do regularly. 
Think this through. Projects like these are expenses we only tend to fork out every 10 years or so. But if there are about a hundred people in your local area all about to reach that mark, that's a lot of work that could come your way! 
So you need to know your audience, leverage social media, and
use schemes like Google Ads
to target customers when they're ready to buy. Combining such methods means you'll find a lot more success too. And within your marketing, make heavy use of your USP, throw in some clever buzzwords that draw the eye, and never forget to target relevant keywords.
---
A Construction Industry Career: Is it for You?
When you've got a dream for a business, a future in the construction industry could be ahead of you. But are you ready to meet the journey? Take your time forming your company and work through the steps above systematically. 
You need to know what you're up against, what you need to offer, how you can price yourself fairly and competitively, and then how best to deliver your message once all that is done. And make sure you work back and forth here – rarely are these steps ever static or linear. Keep an eye out, be adaptable, and work towards the future.
---
---
Were you encouraged by what you read?
Then, would you share this article with a friend, co-worker, or family member?
Or, maybe you can send it to a friend or family member?
This blog occasionally uses affiliate links and may contain affiliate links. Additionally, Melanie Redd is a participant in the Amazon Services LLC Associates Program. This is an affiliate advertising program designed to provide a means for sites to earn advertising fees. These are earned by advertising and linking to amazon.com. Also, for more on my disclosure policy, click HERE.
© Melanie Redd and Hope Ministry, 2023. Unauthorized use and/or duplication of this material without express and written permission from this blog's author and/or owner is strictly prohibited. Further, excerpts and links may be used, provided that full and clear credit is given to Melanie Redd and Hope Ministry, LLC. Please give appropriate and specific directions to the original content.
---