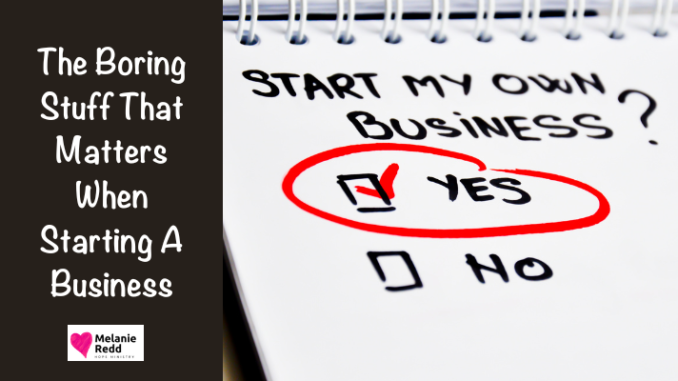 ---
The Boring Stuff That Matters When Starting A Business
When
starting a business
, it's easy to overlook some of the more boring details.
However, these could be just as important to the success of your business.
This post delves into some of the boring stuff in business that you shouldn't overlook (and how you can make it less boring!).
---
When starting a business, do some market research.
Market research is essential before launching a business.
It can help you to determine who your audience are and who your competitors are so that you design your product/service to meet the demand. 
There are a few different
forms of market research
that you can do before starting a business.
These include:
Researching websites and products of competitor brands

Reading studies and reports related to your industry

Creating surveys to help you understand what your audience wants

Creating a product prototype and testing it on consumers
---
When starting a business, you need to apply for licenses and permits.
To legally run your business, you may need to apply for certain licenses and permits.
A few examples include:
A federal business license

A state business license

A seller's permit

A specific industry license (such as an electrical license if you plan to work as an electrician)

Specific licenses to sell certain products (such as an alcohol license or food license)
It's worth talking to a legal advisor who can tell you which licenses you need to apply for and how to apply for them.
Many of these licenses aren't too expensive. 
However multiple licenses could add up.
---
When starting a business, you may need to create legal contracts.
Your business also needs to create legal contracts.
Customers will trust your business more if there is a legal contract in place.
A legal contract will also protect you from customers or employees who may want to take advantage of you.
A legal contract writer can help you create employment contracts and customer contracts.
It is important that they are professionally written so that the wording cannot be misconstrued.
---
When starting a business, think about bookkeeping.
Your company needs to pay tax on its earnings. This involves paying a tax return every year.
To calculate exactly how much tax you owe, you'll need to keep records of your earnings and expenses. This could require using accounting software or even hiring an accountant.
Tax returns can be filed online. It's worth applying for a
tax ID number
before you launch your business. There are services that can help you with this. 
---
Taking out insurance
If you plan to hire employees, you'll need to first take out
worker's compensation insurance
. This is a legally compulsory insurance scheme that provides compensation if your employees are injured or made sick as a result of your work. 
There are other commercial insurance schemes that you can take out such as public liability insurance and commercial property insurance.
These insurance schemes aren't mandatory for any company, but could still be worth taking out to protect your business in case a disaster occurs.
---
---
Were you encouraged by what you read?
Then, would you share this article with a friend, co-worker, or family member?
Or, maybe you can send it to a friend or family member?
This blog occasionally uses affiliate links and may contain affiliate links. Additionally, Melanie Redd is a participant in the Amazon Services LLC Associates Program. This is an affiliate advertising program designed to provide a means for sites to earn advertising fees. These are earned by advertising and linking to amazon.com. Also, for more on my disclosure policy, click HERE.
© Melanie Redd and Hope Ministry, 2022. Unauthorized use and/or duplication of this material without express and written permission from this blog's author and/or owner is strictly prohibited. Further, excerpts and links may be used, provided that full and clear credit is given to Melanie Redd and Hope Ministry, LLC. Please give appropriate and specific directions to the original content.
---