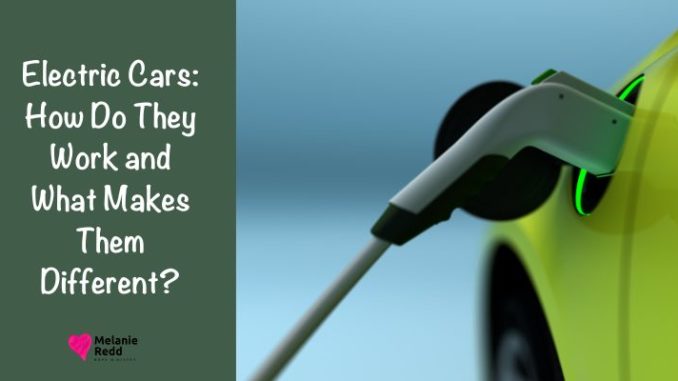 ---
Electric Cars: How Do They Work and What Makes Them Different?
These days, electric cars are becoming more and more mainstream.
Tesla is not the only car available.
Plenty of big-name car manufacturers now offer a range of electric and hybrid models to choose from. Some of these include
Volkswagen, Toyota, Ford, Fiat, and others.
If you've noticed the rapid growth of electric cars on the road, you might have considered choosing one for your next vehicle.
But before you make the switch, it's worth learning more about electric cars and how they work.
Here are some basics that are worth knowing:
---
How Electric Cars Work
First, you are going to want to know is how they work.
For the most part, an electric car works in the same way as traditional gas or diesel car. However, the main power source for the EV is electricity.
They look and feel like traditional cars, and the main difference is that instead of filling a tank with petrol, you need to charge the battery.
There are some main differences, however, including the fact that with no combustion engine, electric cars are very quiet without any engine noise.
The batteries also have a huge weight, so they are fitted to the floor which lowers the center of gravity in the car and allows excellent handling.
---
Driving Differences
The
regenerative braking system
that you will find on any electric car today is one of the biggest differences between EVs and traditional combustion engine cars.
The system is designed to capture the kinetic energy generated by the forward motion of the car when you are driving. Then, the energy feeds this back into the battery whenever you take your foot off the accelerator.
This leads to additional retardation. When you are driving, the brake pedal doesn't need to be used as often.
Moreover, the car starts to brake just by taking your foot off the gas pedal.
---
Charging Your Car at Home
You may be considering having an
electric car charger
installed at your home if you have off-road parking and enough space to have the charger installed.
Having an in-home charger installed is a big expense involved with owning an electric car.
However, you can get access to grants that have been put in place by the government to help new EV owners with the cost of getting this setup.
---
Charging Your Electric Car Using Public Chargers
Perhaps you can't or don't want a charger at home. For example, if you only have street parking or live in an apartment, you can still drive an electric car.
There's an extensive network of electric car chargers available at gas stations and even in some supermarket parking lots.
Indeed, finding somewhere to charge your car should not be too difficult.
---
Closing Thoughts
With electric cars growing in popularity and set to eventually become the most common type of car on the road, it's worth knowing how they work.
Also, it greatly helps to know the main differences between EVs and traditional cars.
---
---
Were you encouraged by what you read?
Then, would you share this article with a friend, co-worker, or family member?
Or, maybe you can send it to a friend or family member?
This blog occasionally uses affiliate links and may contain affiliate links. Additionally, Melanie Redd is a participant in the Amazon Services LLC Associates Program. This is an affiliate advertising program designed to provide a means for sites to earn advertising fees. These are earned by advertising and linking to amazon.com. Also, for more on my disclosure policy, click HERE.
© Melanie Redd and Hope Ministry, 2022. Unauthorized use and/or duplication of this material without express and written permission from this blog's author and/or owner is strictly prohibited. Further, excerpts and links may be used, provided that full and clear credit is given to Melanie Redd and Hope Ministry, LLC. Please give appropriate and specific directions to the original content.
---