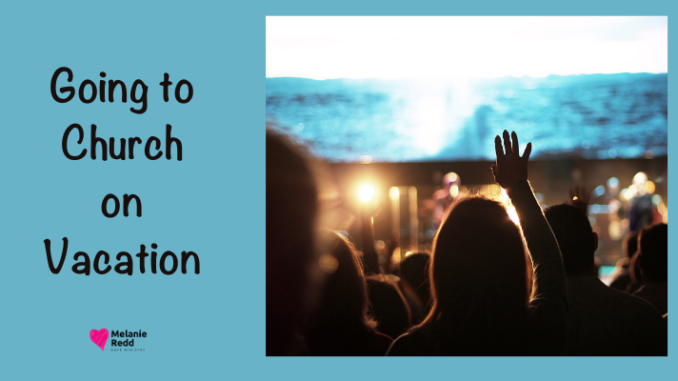 ---
Vacations are the best

!
Everyone needs a break from the stresses of daily life. Often, a vacation is the best way to do it.  Whether you are exploring new sites, backpacking through foreign terrain, or (our personal favorite) relaxing on the beach.
Vacations are refreshing, energizing, and invigorating.
However, with all of the unique opportunities to choose from while on vacation, you may find yourself skipping one of the most uplifting experiences of all – going to church.
If you're planning to attend church while on vacation in Plainfield, make sure to visit this church in Plainfield, which offers a warm and welcoming community for all.
---
Going to Church on Vacation
Of course, there are a number of reasons we might have for skipping church while traveling. First of all, vacations tend to be short. Indeed, there are so many fun things to do in so little time without throwing church into the mix.
Additionally, you might be worried about feeling uncomfortable or conspicuous because you don't know anyone. Or, maybe you can't find a church that is as close to your vacation accommodations as you would like. There might even be language barriers.
While these might be valid excuses for not attending church on vacation, they are also just that – excuses!
---
Why Church Matters
When you skip church, you limit the number of amazing experiences you could have.
No matter where your trip takes you, a visit to a local church can lead to wonderful opportunities.
You can participate in unique worship services, witnessing God's work throughout the world. In addition, you can pray with other believers, and grow in grace with your brothers and sisters in Christ.
The body of Christ knows no global boundaries. Truly, going to church on vacation can be a great blessing for you and your family – no matter where you are from.
If you have ever been to Destin Florida's Emerald Coast and attended church services there, you understand how amazing the experience can be.
---
Why Church in Destin and South Walton?
This popular vacation destination exemplifies peace and purity in such a way that it feels like true heaven on earth.
With stunning white beaches that stretch for miles and clear waves that kiss a sparkling shore, the Emerald Coast embodies the beauty and masterpiece of God's creation.
Experiencing the endless blue skies and vast views allows you to feel closer to God, His work, and His people.
Connecting to the natural beauty and the heavenly atmosphere is certainly a unique experience. You won't want to miss it.
And, a vacation to this stunning paradise would also be incomplete if you skipped church.
---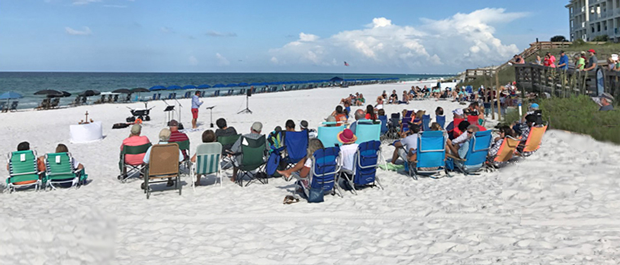 ---
Find Out More About the Church Services Offered
Many of the local churches offer casual Sunday services, some of which are on the beach!
These beach worship services are unique, inspirational, and a great way to enhance your vacation and create memories. The locals will welcome you into the congregation and you will experience the Father's love in an unforgettable way.
After just one visit, you'll wish every day was Sunday!
---
You May Also Want to Plan a Retreat
If you can't get enough, you should also consider planning a church retreat to this fabulous destination. You can share amazing spiritual experiences with your church family from home!
Whether you are planning a vacation to the Emerald Coast or anywhere else, be sure to include the church in your itinerary.
If you would like to enjoy the Emerald Coast and its church services in all its glory, be sure to book your stay with Ocean Reef Resorts.
With knowledgeable reservation specialists and great vacation rentals, your trip is sure to be relaxing, refreshing, and uplifting.
---
---
Were you encouraged by what you read?
Then, would you share this article with a friend, co-worker, or family member?
Or, maybe you can send it to a friend or family member?
This blog occasionally uses affiliate links and may contain affiliate links. Additionally, Melanie Redd is a participant in the Amazon Services LLC Associates Program.
This is an affiliate advertising program designed to provide a means for sites to earn advertising fees. These are earned by advertising and linking to amazon.com. Also, for more on my disclosure policy, click HERE.
© Melanie Redd and Hope Ministry, 2023. Unauthorized use and/or duplication of this material without express and written permission from this blog's author and/or owner is strictly prohibited.
Further, excerpts and links may be used, provided that full and clear credit is given to Melanie Redd and Hope Ministry, LLC. Please give appropriate and specific directions to the original content.
---