---
Can a clean home lead to a better life?
We all know that it's good to keep a clean home, but can it also lead to improved health and a happier life?
In this post, we are going to discuss some of the ways in which having a clean home can lead to a better life.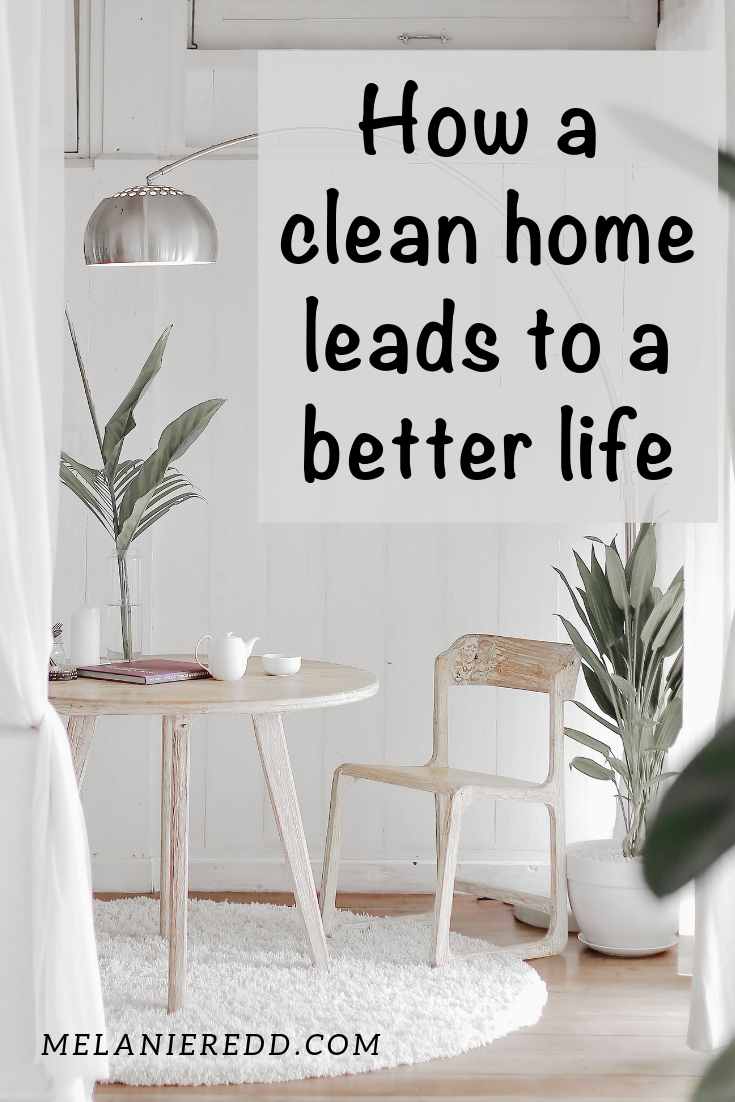 How a Clean Home Leads to a Better Life
First… having less clutter in your home can lead to a more focused mind.
If you find that you are frequently stressed out or feel overwhelmed, you may have too much clutter.
Or, if you suffer from a lot of anxiety, it could be that the state of your home has something to do with it.
It's important to bear in mind that having as little clutter as possible is helpful for enjoying a clear and happy mind.
With less clutter, you will find that it is easier to be calm and happy and to keep the anxiety at bay.
So it might be worth going through your belongings occasionally and throwing things out that you aren't using. If you haven't used something in a year, you may not need it.
Toss old magazines, mail, and give away clothes, shoes, and anything else that's not being used. 
Second… a clean home can lead to better health.
Keeping your home regularly vacuumed and dusted can prevent all sorts of allergies.
In addition, to keep pet hair and pet dander at bay is to protect your family from potential breathing problems.
If things get particularly bad, you might even end up with pests in the house and have to call in pest control.
So, why not tackle the clutter and mess today, and begin to feel better?
Finally… keeping a clean home can just make you feel better.
 A final reason to keep your home clean is that it is effectively one of the major tenets of self-care.
To walk into a tidy home after a long day at work makes you feel relaxed. Clean spaces lead to more peace and more calm in our lives.
If you want to feel better about yourself and your life, clean up!
Moreover, if you want to enjoy more calmness in your world, de-clutter your living spaces.
In closing, here are a few great quotes.
"When all else fails, cleaning house is the perfect antidote to most of life's ills."   
(Sue Grafton)
"The objective of cleaning is not just to clean, but to feel happiness living within that environment."   
(Marie Kondo)
"I look forward to spring cleaning and putting things in their place. It's therapeutic for me."   
(Kimora Lee Simmons)
---
---
Need a Little More Help Getting Organized?
---
---
Were you blessed by what you read?
Then, would you share this article with a friend, co-worker, or family member?
Or, maybe you can send it to a friend or family member?
This blog occasionally uses affiliate links and may contain affiliate links. Additionally, Melanie Redd is a participant in the Amazon Services LLC Associates Program, an affiliate advertising program. In specific, this is designed to provide a means for sites to earn advertising fees by advertising and linking to amazon.com. Also, for more on my disclosure policy, click HERE.
© Melanie Redd and Ministry of Hope, 2019. Further, unauthorized use and/or duplication of this material without express and written permission from this blog's author and/or owner are strictly prohibited. Also, excerpts and links may be used, provided that full and clear credit is given to Melanie Redd and Ministry of Hope with appropriate and specific direction to the original content.
---