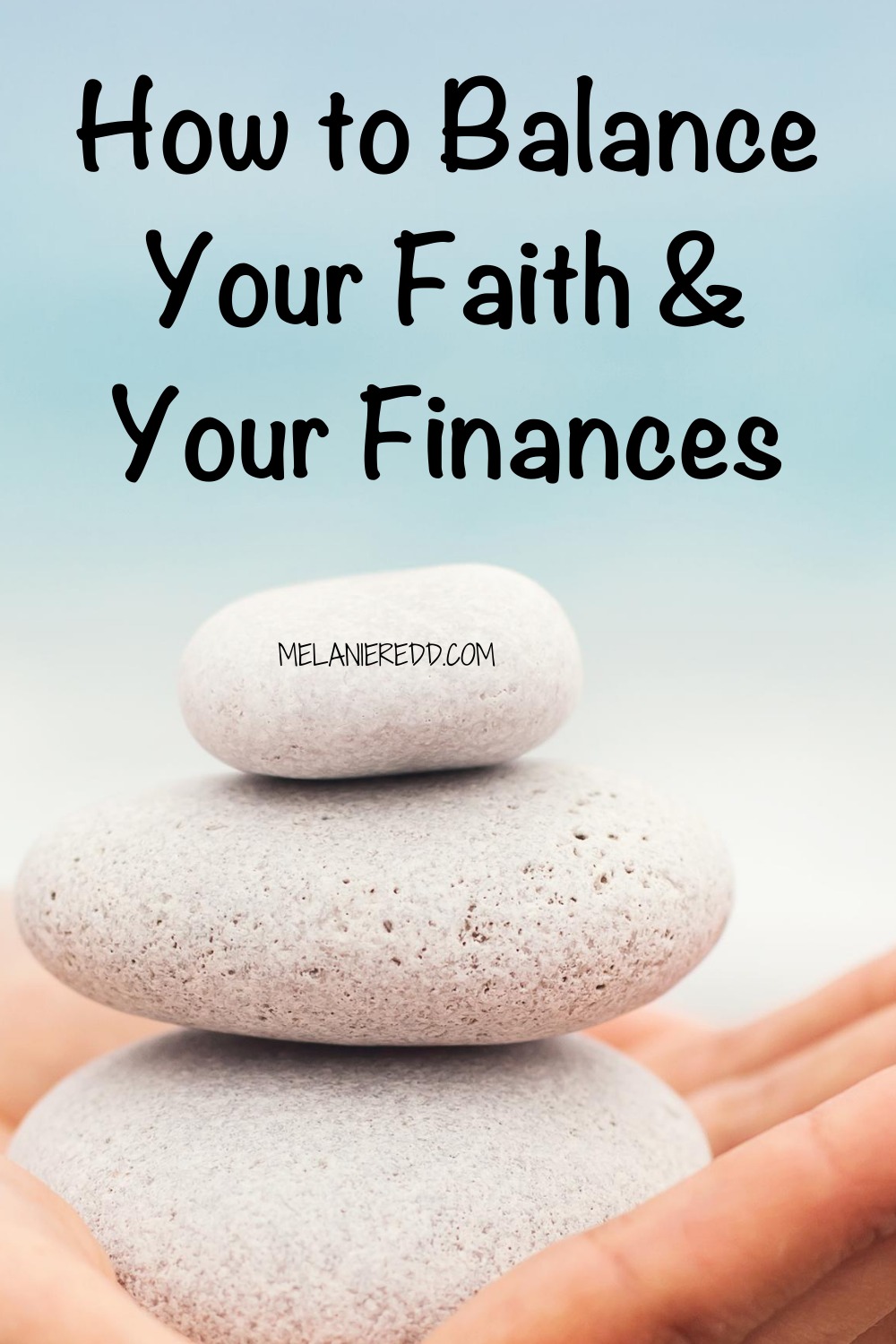 ---
The Bible has a lot to say about money and finances.
So many great principles are shared throughout the Scriptures about money and the use of money.
In 1 Timothy 6:10, we read that "the love of money is a root of all kinds of evil."
Also, the Bible warns against going into debt, stating that we are to owe no man anything. 
Unfortunately, about
80% of Americans
are in some kind of debt, and many of them are believers.
---
---

---
So, what can you do to balance your faith and your finances?
It starts by looking at some of the basic principles of money that we can pull from the Word.
Let's take a look at some of those principles and how they apply to your everyday life, so even if you find yourself in debt, you can still
count it as joy
and use it to serve.
---
First… Don't Strive to Be Rich
While you should take control of your finances so you can avoid going into debt as much as possible, your goal also shouldn't be to achieve mass amounts of wealth.
The love of money can be dangerous, and the Bible often describes people with a love of money as greedy, which can lead to many sorrows. 
There is a big difference in managing your finances with someone like a
secured party creditor
and working with big-name investors in a "get rich quick" scheme.
You know how much money you need to live comfortably while tithing and giving what you can to those in need.
While it is tempting to constantly want for more, it will only leave you feeling dissatisfied and without contentment.
---
---
Second… Don't Hoard Your Wealth
In Matthew 6:19-21, we are told:
"Do not store up for yourselves treasures on earth, where moths and vermin destroy, and where thieves break in and steal.

But store up for yourselves treasures in heaven, where moths and vermin do not destroy, and where thieves do not break in and steal.

For where your treasure is, there your heart will be also."
Even Solomon suggested that hoarding wealth can lead to misery. 
In simple terms, "you can't take it with you."
While it is wise and good to save money, that doesn't mean hoarding it all away and keeping it for yourself when you can be doing something good with it.
Indeed, hoarding money suggests that it is the most important thing to you and that you're clinging to it too tightly.
---
Third… Don't Make Money an Idol
When you do feel as though money is the most important thing in your life, it's easy to turn it into an idol.
Essentially, you can make money 'your god'.
Think about your finances and how much time you put into them.
Do you find yourself working more simply to bring home extra cash?

Also, are you constantly finding ways to make more money, or cut corners so you can save more? 
When money is all you think about, you're not giving your mind, body, and soul to God.
---
---
In those cases, it's good to take a step back, assess the role that your finances play in your life, and make changes as needed. 
You don't have to avoid financial success or conversations surrounding it as a believer.
But, you do have to understand that money comes second, and it should be used in service to the Lord.
---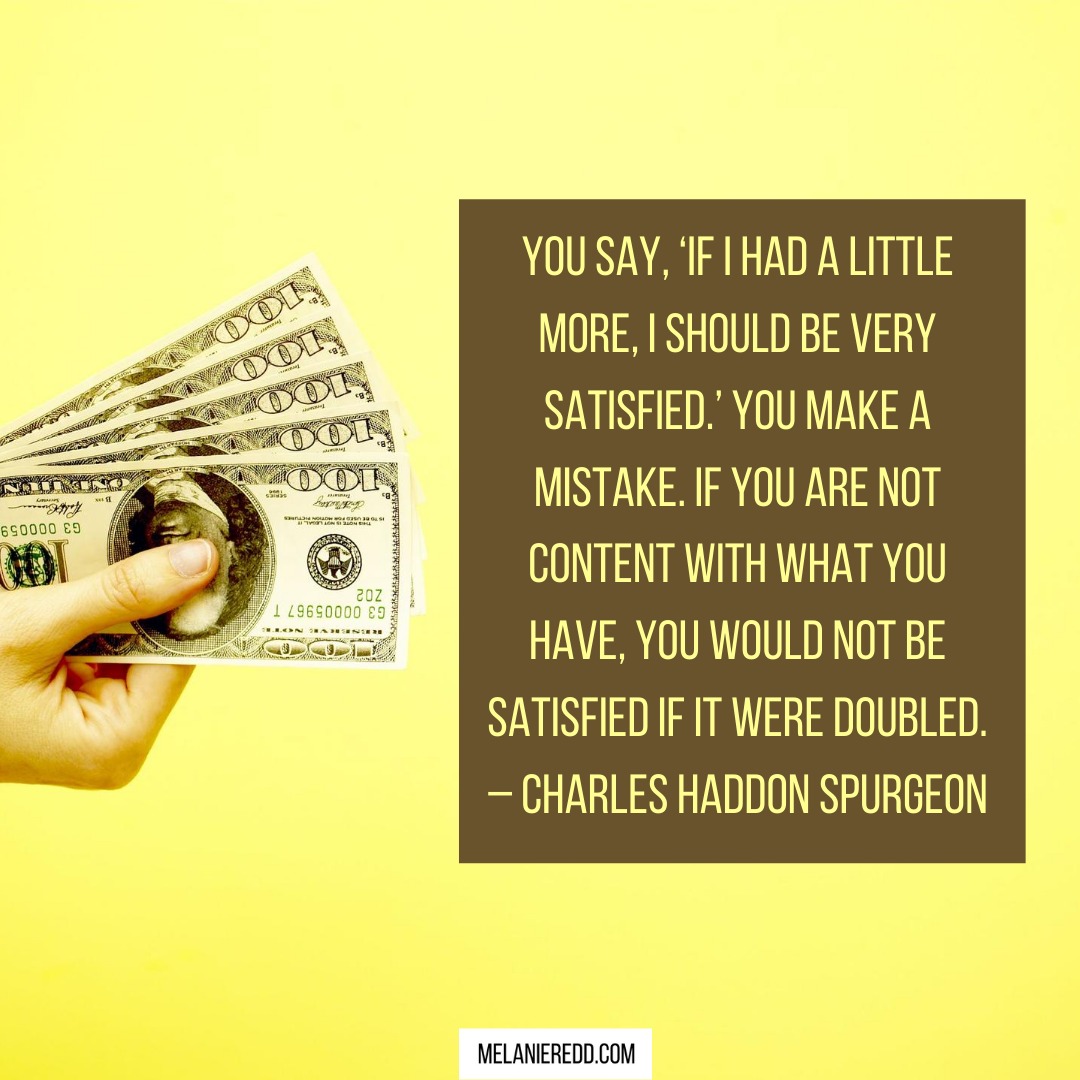 ---
You say, 'If I had a little more, I should be very satisfied.'
You make a mistake. If you are not content with what you have, you would not be satisfied if it were doubled.
– Charles Haddon Spurgeon
---
What do you think?
So, how do you balance your money and your faith?
What suggestions do you have?
---
---
Were you blessed by what you read?
Then, would you share this article with a friend, co-worker, or family member?
Or, maybe you can send it to a friend or family member?
This blog occasionally uses affiliate links and may contain affiliate links. Additionally, Melanie Redd is a participant in the Amazon Services LLC Associates Program, an affiliate advertising program designed to provide a means for sites to earn advertising fees by advertising and linking to amazon.com. Also, for more on my disclosure policy, click HERE.
© Melanie Redd and Ministry of Hope, 2020. Unauthorized use and/or duplication of this material without express and written permission from this blog's author and/or owner is strictly prohibited. Further, excerpts and links may be used, provided that full and clear credit is given to Melanie Redd and Ministry of Hope with appropriate and specific direction to the original content.
---