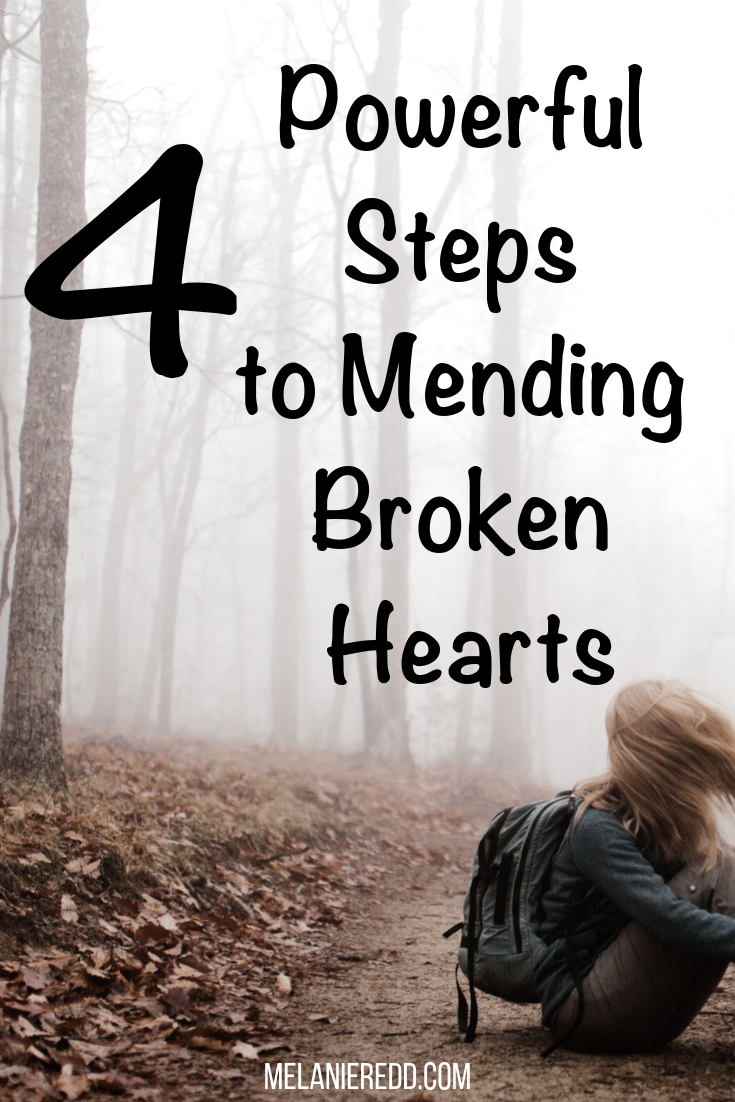 ---
We'd been planning, praying, and preparing for almost a year.
Headed in a direction that we sensed the Lord was leading, we were moving forward.
And, then suddenly, without warning, everything changed.
Consequently, our hearts were shattered and broken!
---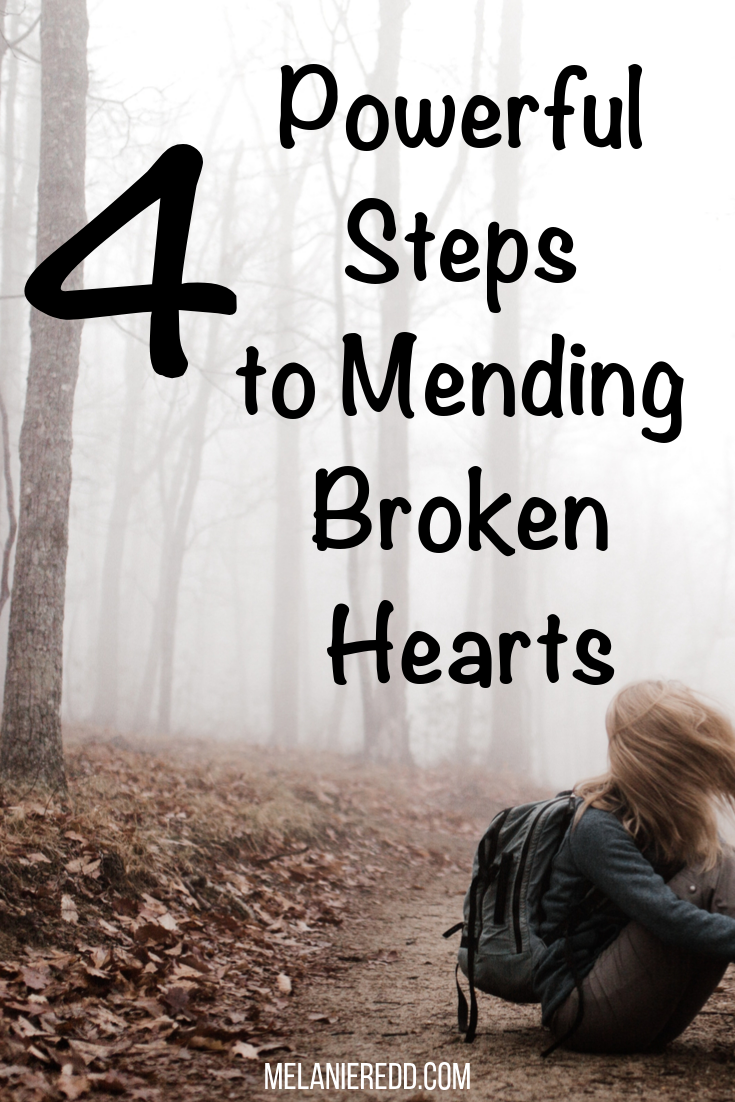 ---
4 Powerful Steps to Mending Broken Hearts
One brief, unexpected decision threw our plans, our hopes, and our dreams into a tailspin.
Under these circumstances, the trajectory of our lives was altered, and there was not one thing we could do about it.
Truly, our world turned upside down and left us…
Dashed.

Disappointed.

Disheartened.

In Tears.

Wounded.

Completely Crushed.
---
If you've lived long enough, you've been there as well.
One phone call.
Or, an email.
Or, a decision.
One meeting.
Or, one doctor's visit.
One conversation.
---
Indeed, one moment can change everything.
For this reason, you cannot walk through this life unscathed.
---
---
There's a woman in scripture who faced one of these painful, defining moments.
She reached the point where her world came crashing down on her. Truly, she could take it no more. I love her story because it's so raw and so real. We see the pain, and we see what she does with all of the hurt.
To bring with, we find that her name is Hannah, and she's dealing with a series of events that all build in her life until she has had enough.
In 1 Samuel 1, we read of the cruel "other" woman in her life with her constant taunting, comparing, and competition.
Then, we also discover that Hannah is deeply saddened by her inability to have children. Her barrenness weighs heavy upon her heart.
In addition, Hannah has to deal with a clueless husband who doesn't understand what she is going through. He just doesn't "get" her.
---
Finally, while seated at a large dinner on a family vacation, Hannah has a breakdown.
She comes "undone" and rises from the meal.
Her world has turned upside down and has left her feeling…
Dashed.

Disappointed.

Disheartened.

In Tears.

Wounded.

Completely Crushed.
---
From her story, I think we can gain some wonderful insights.
In fact, I believe we can follow Hannah's example and find hope again.
Here are 4 actions we can take when our hearts are broken and shattered to pieces.
These are 4 powerful steps to mending broken hearts.
---
---
First – Pour out your heart

!
Hannah literally goes to church.
She journeys over to the synagogue to pour out her heart to God in prayer.
"Hannah was in deep anguish, crying bitterly as she prayed to the Lord." 1 Samuel 1:10
We don't have to go to the temple to pray. We can pray anywhere and anytime. But, we must pray.
---
Truly, we must let it out!
Get it out!
---
---
So, when your world is coming apart and your heart is breaking:
Pray it out.

Write it out.

Talk it out.

Journal it out.

Get it out!
---
I love Hebrews 4:16 where we are encouraged to:
"So let us come boldly to the throne of our gracious God.
There we will receive his mercy, and we will find grace to help us when we need it most."
---
---
Second – Ask and allow others to pray for you and with you

!
In 1 Samuel 1:17, the priest Eli actually offers a blessing for Hannah. He says:
"May the God of Israel grant the request you have asked of him."
---
---
It is life-altering and powerful.
---
We experienced this recently in our lives.
While at a conference, we had the chance to hear from an older pastor who'd been in ministry for a long time.
His message blessed us and encouraged us greatly. And, as he was closing out the session, he invited those ministers who were hurting to stand to be prayed over.
My husband and I both almost jumped to our feet.
This pastor called others to come around those standing to lay hands on them and pray over them while he prayed.
As people gathered around us, and the prayers began, we both started weeping like little babies. It was loud. It was messy. And, it was ugly crying.
And yet it was so refreshing. To be prayed for and to be prayed over greatly lifted the load we were carrying.
---
The same will be true for you.
---
---
Third – Surrender the issue to the Lord! Give it up

!
Hannah poured out her heart in prayer in 1 Samuel 1:10-16. She prayed with such fervor that Eli thought she was drunk.
However, she was just dumping her pain at the feet of the Lord. She was surrendering her deep sorrows to the Lord.
---
Indeed, she was giving up her hurt and giving it over to God.
When she finished, we are told in 1 Samuel 1:18, "Her face was no longer sad."
For you and me, this…
May take 3 prayer times a day.

May mean getting up in the middle of the night to pray.

Or, it may be a "surrender-a-day" for 31 days.

This will not be easy, but it is possible.
Once you let it go, you let go of the need to fix it, control it, or change it. You get okay with it, and your face will no longer be sad.
No matter what is hurting your heart, you can get "okay" with it and move on with life.
---
How is this possible

?
We read the answer in Philippians 4:6-7:
"Be anxious for nothing, but in everything by prayer and supplication, with thanksgiving, let your requests be made known to God; and the peace of God, which surpasses all understanding, will guard your hearts and minds through Christ Jesus."
---
---
Fourth – Do the Next Thing

!
Hannah went on with life and living.
In 1 Samuel 1:19, we are told that she rose early, worshiped with her family, and traveled home.
"The entire family got up early the next morning and went to worship the Lord once more. Then they returned home to Ramah."
---
How do you do the next thing?
You get up.

You breathe.

And, you shower.

You dress.

You eat breakfast.

Then, you just keep going.
---
I know some of you are struggling.
I've talked to you.
You may be in the deepest, darkest valley of your life!
Truly, you may think it is NEVER going to get better.
This pain may feel like it will never end.
There is one other word that I have for you today, and it comes from Psalm 27:13-14. King David was in one of the most challenging moments of his life.
His world was a mess.
At this moment, he did what we must do – He declared his trust in the Lord.
---
With tenacity and courage, he chose not to give up!
No matter what, he was going to wait for the goodness of the Lord.
"I would have lost heart unless I had believed


That I would see the goodness of the

Lord




In the land of the living.
Wait on the

Lord

;


Be of good courage,




And He shall strengthen your heart;


Wait, I say, on the

Lord

!"
---
That is what we must resolve to do – especially while in the dark of night…
Resolve to keep on keeping on.

Press on.

Stand firm.

---

---
---
Don't you dare give up!
1} First, pour out your heart to God!
2} Second, invite & allow others to pray for you and bless you.
3} Then, surrender this pain to the Lord.
4} Finally, get up and do the next thing.
---
In particular, I'm praying for you to not lose heart!
---
---
So, what do you think?
What do you do when your heart is shattered?
And, how do you keep going when you want to quit?
Truly, I always enjoy hearing from you!
---
Want a little more Encouragement?
---
---
Were you encouraged by what you read?
Then, would you share this article with a friend, co-worker, or family member?
Or, maybe you can send it to a friend or family member?
This blog occasionally uses affiliate links and may contain affiliate links. Additionally, Melanie Redd is a participant in the Amazon Services LLC Associates Program. This is an affiliate advertising program designed to provide a means for sites to earn advertising fees. These are earned by advertising and linking to amazon.com. Also, for more on my disclosure policy, click HERE.
© Melanie Redd and Hope Ministry, 2022. Unauthorized use and/or duplication of this material without express and written permission from this blog's author and/or owner is strictly prohibited. Further, excerpts and links may be used, provided that full and clear credit is given to Melanie Redd and Hope Ministry, LLC. Please give appropriate and specific directions to the original content.
---