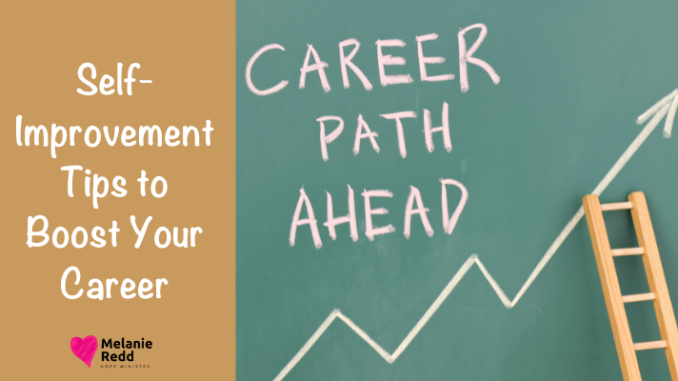 ---
Self-Improvement Tips to Boost Your Career
Goodbye hustle, goodbye grinding hard, and goodbye working over 40 hours a week.
Now more than ever, the balance between career and personal life has been in the spotlight.
And, to achieve this equilibrium, self-improvement is key.
The list of ways to improve yourself goes beyond a skincare routine, indulging in expensive signature coffee, or finding a new hobby.
And it can all be achieved in 100 days. 
Here's a full list of self-improvement tips that can help you boost your career. One change at a time.
---
I'm a morning person, right?
Unfortunately, it's true: being an early riser helps with your professional life.
However, being a morning person doesn't just mean waking up at sunrise -or before. It's about setting up a routine that allows you to start the day filled with energy and motivation.
Among the activities you can do, are: 
Instead of checking your smartphone first, drink a glass of water. Not a fan of water? Add a few drops of lemon to trick your mind. 

Exercise at your own pace and follow your body's signs. There is no need to overdo it. You can start by taking it easy and, later in the weeks, improve your pace or rhythm. 

Make the bed, enjoy breakfast, or write your journal. You can start with a gratitude one. 
These are only a few activities you can knock off the park before you go to work.
Since there is no magic potion, you can write a morning routine checklist, which might make it easier to come up with a plan and stick with it. You can write down your checklist the night before, but make sure it focuses on you, your needs, and your personality.
Instead of following someone else's routine, determine the best routine for yourself.
That's the best way to have a successful self-improvement plan. How will this help your career? It will help maximize your time.
---
First, a tip to boost your career is to focus on your health.
Both your physical and mental health. Too often, in the list of ways to improve yourself, there is no mention of your mental well-being.
While exercising is important, so is your mental health. The good news is that you don't need to go to a therapist in person.
Thanks to platforms like Better Help, you can talk to a professional from the comfort of your home and respect your schedule. One of the biggest misunderstandings about therapy is that you only need it during difficult times. 
Nothing can be more wrong. For example, the heat of summer can increase anxiety and so can gloomy winter. So, staying creative and productive can be difficult. Therapy can overcome those moments.
So can exercising, since it raises endorphins. 
So, how will this boost your career? It will help you clear your mind and relax.
---
Second, another tip to boost your career is to not fall behind.
When you wake up, checking your phone isn't the first thing you should do. But that doesn't mean you shouldn't follow up with current technology or news.
Connecting with the world allows you to connect with everything and everyone around you.
So, staying up to date is crucial, especially when it comes to innovations like cryptocurrency. Modern technology and form of investing, cryptocurrencies like Bitcoin and Ethereum can become crucial for your financial freedom.
And, thanks to exchange platforms, transactions have never been easier and you can buy Dogecoin with a few clicks.
---
Third, a final tip to boost your career is to be willing to ask for help.
This isn't only about mental health. You can rely on the best self-improvement books that can also help your career.
A couple of titles you might consider are: 
"Power Moves" by Lauren McGoodwin, the founder of Career Contessa. This book is dedicated to women who strive for a successful career while being successful at home. It includes practical tips, interviews with professionals, and small assignments to improve yourself. One page at a time. 
"Atomic Habits: An Easy & Proven Way to Build Good Habits & Break Bad Ones" by James Clear. This is the best seller in the self-help Amazon category. With over 100,000 positive reviews and a total of five stars, this book helps readers to create new habits and break old, useless patterns.
Memoirs can also be powerful self-improvement books, inspirational books like the biography of Viola Davis or Elisabeth Elliot.
You can also add these titles to your morning routine, making a point of reading a chapter per day. 
These self-improvement tips are about you. Hence, they are about your career.
Finding a healthy balance is possible and it starts with small changes.
---
Were you encouraged by what you read?
Then, would you share this article with a friend, co-worker, or family member?
Or, maybe you can send it to a friend or family member?
This blog occasionally uses affiliate links and may contain affiliate links. Additionally, Melanie Redd is a participant in the Amazon Services LLC Associates Program. This is an affiliate advertising program designed to provide a means for sites to earn advertising fees. These are earned by advertising and linking to amazon.com. Also, for more on my disclosure policy, click HERE.
© Melanie Redd and Hope Ministry, 2022. Unauthorized use and/or duplication of this material without express and written permission from this blog's author and/or owner is strictly prohibited. Further, excerpts and links may be used, provided that full and clear credit is given to Melanie Redd and Hope Ministry, LLC. Please give appropriate and specific directions to the original content.
---