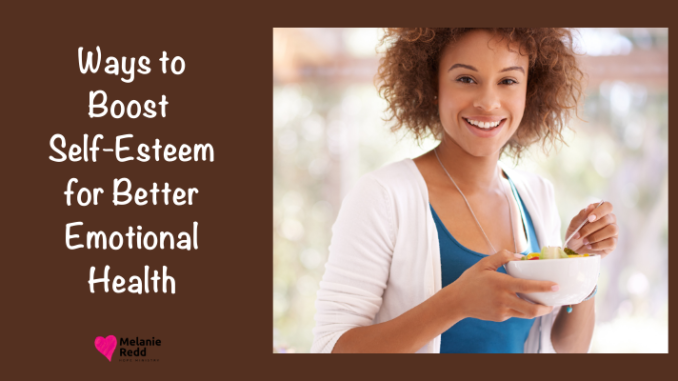 ---
Ways to Boost Self-Esteem for Better Emotional Health
Self-esteem is our inner compass that deeply influences our emotional and mental well-being.
How we view ourselves, whether we feel confident tackling challenges or need extra encouragement, greatly influences our actions and decisions. In fact, a significant number of people, about 85% globally and across all age groups, frequently deal with feelings of self-doubt.
It makes you wonder: Why do so many of us feel this way?
The reasons vary. It might be old memories that still sting, the opinions of those around us, the weight of societal norms, or the lofty goals we chase. To genuinely lift our self-esteem, we need to dig deeper and get to the heart of these feelings. 
Let's dive into this topic together and explore the steps to boost our self-worth in the upcoming sections.
---
First, to Boost Self-Esteem for Better Emotional Health, Consider Harnessing the Power of Kindness and Spirituality.
Uplifting our self-esteem goes beyond motivational quotes. The journey begins by being our own best friend. When times get tough, and someone needs help, some people offer a helping hand without a doubt. So, let's extend that same compassion to ourselves. 
Spirituality also offers a profound source of strength. Many find solace in teachings like those of Saint Antipas, which emphasize patience, love, and understanding, providing a guiding light through the stormy seas of self-doubt.
By internalizing such lessons, you can cultivate a sense of inner peace and resilience, finding clarity amidst the chaos of life's challenges.
---
Second, to Boost Self-Esteem for Better Emotional Health, Try Standing Firm and Choosing Your Surroundings.
Cultivating self-esteem requires a deep acknowledgment of our values and a clear understanding of our personal boundaries.
This understanding not only entails knowing when to firmly say 'no' or when it's important to take a much-needed break but also when to assertively stand behind our beliefs and values. Keep in mind that everyone deserves to be treated with understanding and respect. 
Another significant aspect of this is having an acute awareness of our environment—recognizing the situations or people that sap our positivity and energy.
Prioritizing our well-being often means creating distance from negative influences and seeking out inspiring and uplifting environments or relationships. Making these choices is not just about immediate comfort; it's about a long-term commitment to our emotional and mental well-being.
---
Third, to Boost Self-Esteem for Better Emotional Health, Celebrate Small Wins.
In our journey towards achieving robust self-esteem, valuing every forward movement, no matter how subtle, is key. Acknowledging personal milestones, even if they seem trivial, is crucial. 
Whether it's successfully voicing an opinion during a team meeting or finally tackling a task that's been lingering on the back burner, these moments are significant.
Celebrating these achievements not only adds to our confidence but also serves as a reminder of our capabilities. They lay down the building blocks, reinforcing the foundation of our self-worth and continually adding to our reservoir of confidence.
---
Next, Try Journeying through the Social Media Age.
In our digitally driven world, it feels like everyone's life is on display. Picture-perfect moments are everywhere, making it easy for us to sometimes feel overshadowed by others.
But remember, what we see online is often a highlight reel. Every one of us has a particular life story that has a range of highs and lows, happy and sad events, and important life lessons. Even if it seems like everyone else has it all figured out, it's important to remember that each path is unique. 
It all comes down to developing at our own speed and appreciating the unique events that have shaped who we are. When we accomplish that, we discover true satisfaction and a strong sense of our own worth. Comparing is less important than knowing and enjoying our individual journeys.
---
Finally, to Boost Self-Esteem for Better Emotional Health, Find a Helping Hand.
Life, with all its twists and turns, ensures we have our fair share of bright days and tough times. And when those challenging moments come around, there's no harm in reaching out. Maybe it's talking to a professional, joining a community with similar experiences, or simply confiding in a trusted friend. 
These interactions are more than just conversations; they're lifelines. They allow us to share our worries, get a fresh outlook, and remind us that we're not facing life's hurdles by ourselves.
Reaching out isn't a sign of weakness; it shows courage, strength, and a genuine commitment to our well-being.
---
Closing Thoughts
Self-esteem isn't a fleeting feeling; it's the core of how we face life. It influences how we tackle obstacles, experience moments of joy, and make our way through life's complexities.
Building it is an ongoing journey; one that might need some reflection, guidance, and moments of rest.
It leads to a life filled with purpose, connection, and genuine happiness. So, let's commit to valuing our unique journeys, growing in our own time, and recognizing the value of each step we take.
---
---
Were you encouraged by what you read?
Then, would you share this article with a friend, co-worker, or family member?
Or, maybe you can send it to a friend or family member?
This blog occasionally uses affiliate links and may contain affiliate links. Additionally, Melanie Redd is a participant in the Amazon Services LLC Associates Program.
This is an affiliate advertising program designed to provide a means for sites to earn advertising fees. These are earned by advertising and linking to amazon.com. Also, for more on my disclosure policy, click HERE.
© Melanie Redd and Hope Ministry, 2023. Unauthorized use and/or duplication of this material without express and written permission from this blog's author and/or owner is strictly prohibited.
Further, excerpts and links may be used, provided that full and clear credit is given to Melanie Redd and Hope Ministry, LLC. Please give appropriate and specific directions to the original content.
---