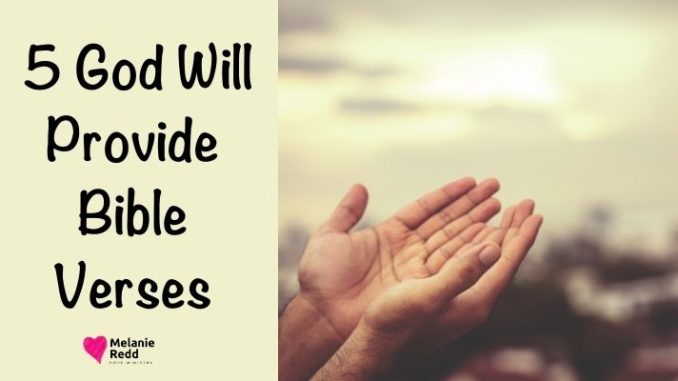 ---
It was unbelievable really.
She had quit her job to be home with the kids while they were babies.
The very same week, her husband lost his job.
All of a sudden, they had a huge house and no income.
And the utility bill was due.
They only told a few friends and just prayed.
---
---
Five God Will Provide Bible Verses
---
---
At about the same time, our Bible study group heard about this family.
We were encouraged to take up money for this family.
Although we didn't know them, someone mentioned a need.
After all of the money was gathered, we had a total of $357.
We dropped the money off in an envelope in their mailbox on the same day that the woman had been on her kitchen floor asking God to provide for the utility bill.
She cried out–pleading with God to send her the necessary funds.
The total of her unpaid utility bill?
$357!
God had provided exactly what they needed – just in the nick of time.
---
---
Just as God met the needs of a young family in Atlanta all those years ago, he can meet your needs.
What do you need God to do for you right now?
Where do you need Him to step in?
How do you need Him to provide?
Here are some wonderful Bible verses to encourage you that God does and will provide for you.
---
---
---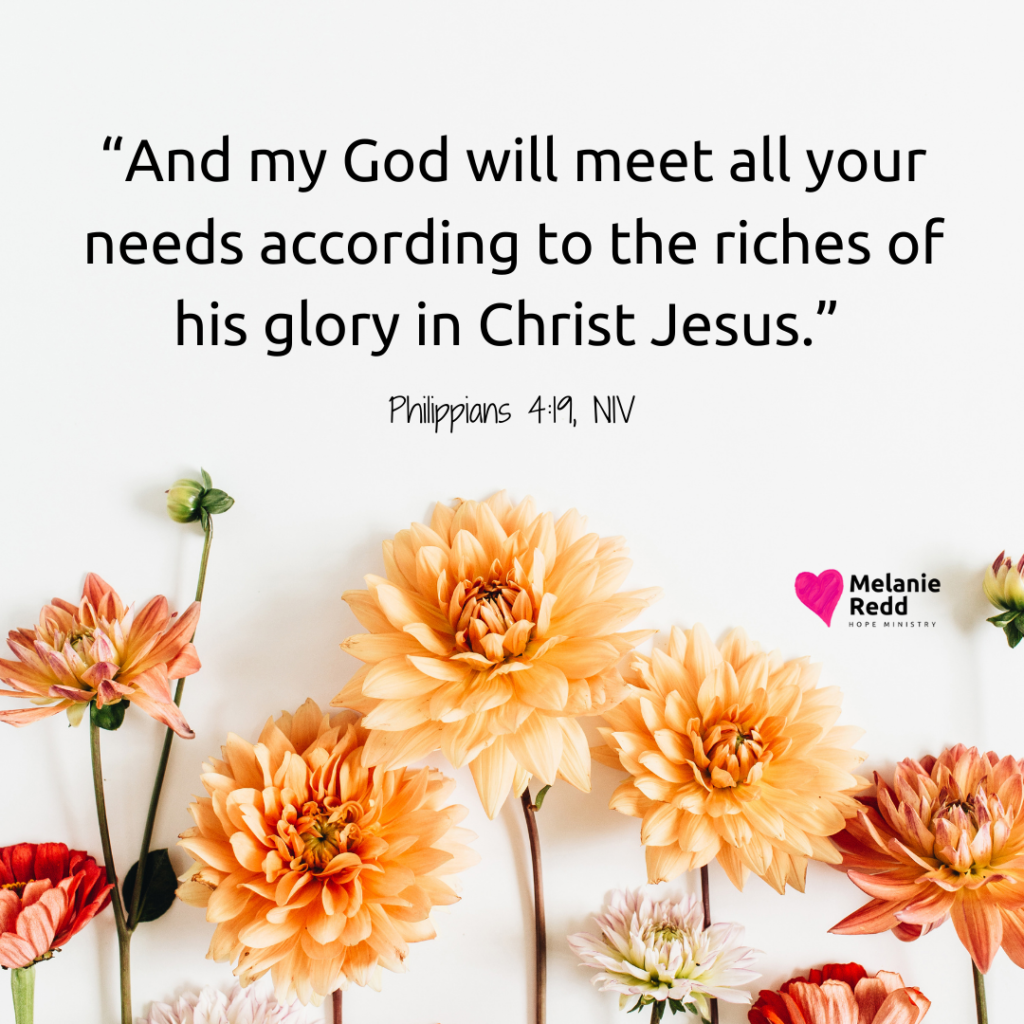 ---
---
God Will Provide Bible Verse 1
"And my God will meet all your needs according to the riches of his glory in Christ Jesus."
Philippians 4:19, NIV
---
---

---
"For the Lord God is brighter than the brilliance of a sunrise!
Wrapping himself around me like a shield, he is so generous with his gifts of grace and glory.
Those who walk along his paths with integrity will never lack one thing they need, for he provides it all!"
Psalm 84:11
---
---

---
God Will Provide Bible Verse 3
"We all experience times of testing, which is normal for every human being.
But God will be faithful to you.
He will screen and filter the severity, nature, and timing of every test or trial you face so that you can bear it.
And each test is an opportunity to trust him more, for along with every trial God has provided for you a way of escape that will bring you out of it victoriously."
1 Corinthians 10:13, TPT
---
---
---

---
Abraham looked up and there in a thicket, he saw a ram caught by its horns. 
He went over and took the ram and sacrificed it as a burnt offering instead of his son. 
So Abraham called that place The Lord Will Provide.
And to this day it is said, "On the mountain of the Lord it will be provided."
Genesis 22:13-14
---
---

---
God Will Provide Bible Verse 5
"So, what do you think? With God on our side like this, how can we lose?
If God didn't hesitate to put everything on the line for us, embracing our condition and exposing himself to the worst by sending his own Son, is there anything else he wouldn't gladly and freely do for us?"
Romans 8:31-32, MSG
---
---
Here's a Declaration for Today:
"I declare that God is Jehovah Jireh, my Provider.
He is well able to provide all that I need for life, for school, for relationships, for godly living, for emotional support and my financial needs.
I will trust God today!"
---
---
---
Here's a Prayer to Pray Today:
"Would you give me the grace to trust you like I never have before to take care of me?
Help my unbelief.
I do want to be a person who trusts you to provide for everything I need."
---
---
Here's an Action for You to Take:
How do you need God to be Jehovah Jireh in your life today?
What needs do you have at this moment?
Why not pray and talk over each one with the Lord?
---
---

---
"Perhaps God brings us to the end of our resources so we can discover the vastness is His."
Neil Anderson
---
---
---
---
Were you encouraged by what you read?
Then, would you share this article with a friend, co-worker, or family member?
Or, maybe you can send it to a friend or family member?
This blog occasionally uses affiliate links and may contain affiliate links. Additionally, Melanie Redd is a participant in the Amazon Services LLC Associates Program. This is an affiliate advertising program designed to provide a means for sites to earn advertising fees. These are earned by advertising and linking to amazon.com. Also, for more on my disclosure policy, click HERE.
© Melanie Redd and Hope Ministry, 2023. Unauthorized use and/or duplication of this material without express and written permission from this blog's author and/or owner is strictly prohibited. Further, excerpts and links may be used, provided that full and clear credit is given to Melanie Redd and Hope Ministry, LLC. Please give appropriate and specific directions to the original content.
---