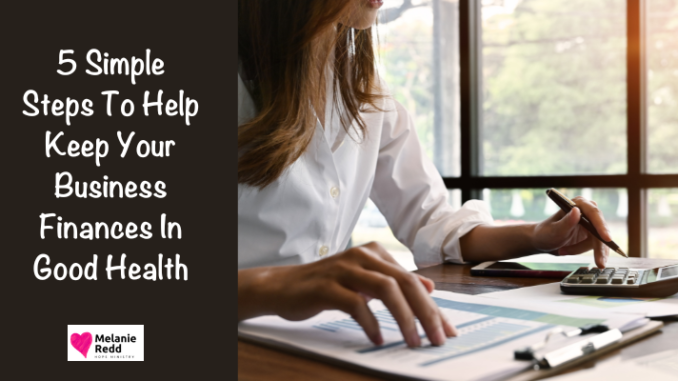 ---
5 Simple Steps To Help Keep Your Business Finances In Good Health
If your business is currently feeling the pressure of these tough economic times, you are not alone.
The combination of inflation and increased customer hesitation has caused a lot of companies to cease trading. Even if yours has survived, now is the time to place a greater emphasis on financial matters.
Here are five top tips to help you maintain control and navigate these difficult times.
---
Get more out of your business purchases to keep your business finances in good health.
There is nothing wrong with spending money in business, but you need to seek value for money.
From affordable web design services to cheaper packaging materials, every saving that you can make is a positive move. As long as the saving won't compromise the company's output, the rewards can be huge.
Even when the individual savings don't feel noticeable, their cumulative impact can change your business forever.
---
Get more out of your employees to keep your business finances in good health.
A great team of employees can be the greatest weapon in your arsenal, which is why getting more out of them should be a priority.
After recruiting the right candidates, you must invest in looking after them. When you do, you'll see greater productivity and lower staff turnover rates. This means immediate and long-term savings.
Happy workers will also spread their positivity to your customers. This is sure to translate to a better bottom line.
---
Get more out of your customers to keep your business finances in good health.
While winning new clients is a key challenge, you must never overlook your current customers.
Loyal consumers who return to your business will generate more revenue for you. Better still, remarketing is cheap and easy as you'll already have their contact details and know their trends. So, your marketing costs will fall.
In addition to gaining a higher lifetime value, loyal customers can advocate your brand to bring new fans to the business. Perfect.
---
Getting more out of your time
Time is an extremely valuable resource.
With the right strategies in place, it's one area where you can make significant improvements.
For starters, VoIP services and video conferencing tools will allow you to reduce business travel. Likewise, advanced project management systems facilitate the shortening or removal of team meetings.
Meanwhile, a mindset shift that encourages you to let employees work autonomously can have a telling influence on your future.
---
Get more out of your transactions to keep your business finances in good health.
All businesses need to understand the foundations of purchasing and selling. But things are a little more complicated than that. An excellent time to think about small business loan possibilities might be now.
With so many options available, it may be useful to seek professional small business funding assistance in deciding which is the best decision for your circumstances. This might offer the monetary safety net required to survive these challenging economic times.

You can see more money if you select POS systems with lower transaction fees. Analyzing a customer's credit can also help you avoid hiring clients who would be likely to make late payments.
You can suffer from bad debt. Your money will appear healthier if you have superior organizational abilities to prevent unexpected costs. Success won't be assured, but it will certainly boost your hopes.
---
The final word
Business success isn't only defined by financial issues.
After all, you may be hoping to change society for the better too.
Nevertheless, keeping financial matters in good health is more important than ever.
The tips above should help make it happen.
---
---
Were you encouraged by what you read?
Then, would you share this article with a friend, co-worker, or family member?
Or, maybe you can send it to a friend or family member?
This blog occasionally uses affiliate links and may contain affiliate links. Additionally, Melanie Redd is a participant in the Amazon Services LLC Associates Program. This is an affiliate advertising program designed to provide a means for sites to earn advertising fees. These are earned by advertising and linking to amazon.com. Also, for more on my disclosure policy, click HERE.
© Melanie Redd and Hope Ministry, 2022. Unauthorized use and/or duplication of this material without express and written permission from this blog's author and/or owner is strictly prohibited. Further, excerpts and links may be used, provided that full and clear credit is given to Melanie Redd and Hope Ministry, LLC. Please give appropriate and specific directions to the original content.
---