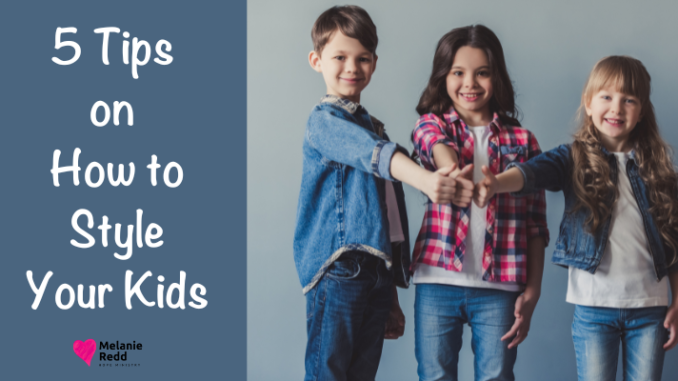 ---
5 Tips on How to Style Your Kids
The world of fashion isn't just for grownups.
Children are also curious about their outfits and want to look good in front of their peers. In the past, fashion brands targeted only adults, but in time they started to create lines aimed at children.
Children's clothes are adorable.
However, there are so many options to choose from that it can be difficult to decide what to buy.
On top of the many options, each child has a unique personality, so they will wear only the things they like.
Let's look at some styling tips for children and how to make everybody happy.
---
The first tip on how to style your kids… seek comfort.
When looking at what to buy, you should always consider comfort first and style second.
While most parents want their kids to be the most stylish, they might not be comfortable with particular clothes. Thus, it's always best to ask them what they want and if they feel they could wear certain things all day long. 
Children are more comfortable wearing clothes that match their personalities. For example, if your child likes the outdoors, they will enjoy wearing
sporty clothes
.
---
Second, to style your kids… experiment with colors and patterns.
Gender colors
are a thing of the past, so don't be afraid to have fun.
Baby pink is no longer a color that's suitable just for girls; boys can wear it too. Ask your child what's their favorite color and find matching outfits.
You can also let them put together their outfits and see what colors they want.
They can pick bold colors with fluffy patterns, wear stripes from head to toe, and still look funky and adorable.
---
Third, to style your kids… follow the latest trends.
While trends come and go, some brands transcend short fads and are stylish all year round.
Gucci Kids is always a good choice regarding style and trends. You can
purchase the latest range here
.
You can mix and match multiple pieces of clothes to create daily outfits.
---
Fourth, to style your kids… use accessories.
Accessories are a simple way of complimenting any outfit. It can make people look fun and stylish by complementing a white outfit with a black pair of sunglasses. Or, you can add a tribal necklace with that black dress.
The same rules apply to children as well. 
You can always combine accessories with their daily clothes.
For example, when they go to middle school, instead of a plain backpack, they can get one in the shape of a bumblebee.
Likewise, you can always equip them with a stylish hat. There are many accessory options; the trick is not to overdo it.
---
Finally, to style your kids… size up.
Kids grow up quickly. If you want them to wear a piece of clothing for more than a couple of months, you should always go for one size larger.
For some children, that's not always the case because they might look shaggy, but larger is better as a rule of thumb.
Dressing up your child is fun. Kids love to be in the center of attention, so dressing them according to the event will make them feel happy and special.
The most important thing is that their clothes represent them.
---
Were you encouraged by what you read?
Then, would you share this article with a friend, co-worker, or family member?
Or, maybe you can send it to a friend or family member?
This blog occasionally uses affiliate links and may contain affiliate links. Additionally, Melanie Redd is a participant in the Amazon Services LLC Associates Program. This is an affiliate advertising program designed to provide a means for sites to earn advertising fees. These are earned by advertising and linking to amazon.com. Also, for more on my disclosure policy, click HERE.
© Melanie Redd and Hope Ministry, 2022. Unauthorized use and/or duplication of this material without express and written permission from this blog's author and/or owner is strictly prohibited. Further, excerpts and links may be used, provided that full and clear credit is given to Melanie Redd and Hope Ministry, LLC. Please give appropriate and specific directions to the original content.
---