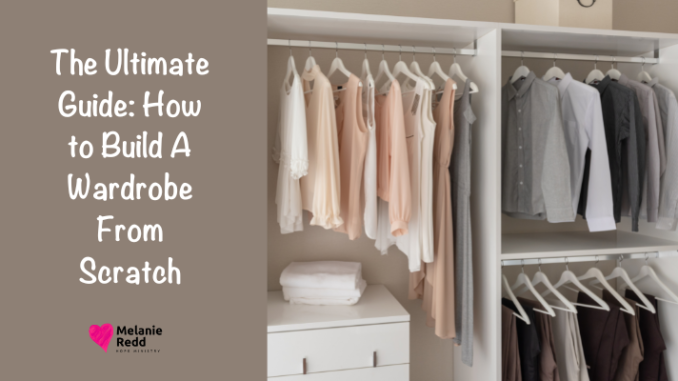 ---
The Ultimate Guide: How to Build A Wardrobe From Scratch
When most people think of fashion, they think of high-end brands and expensive clothing.
However, you don't have to spend a lot of money to build a stylish wardrobe.
In fact, you can create a whole new wardrobe from scratch by following some simple steps.
This guide will walk you through the process of building a wardrobe that will make you look and feel your best. Let's get started!
---
1) Start with the basics to build a wardrobe from scratch.
Every wardrobe needs a few key pieces that can be dressed up or down to create multiple looks.
Begin by purchasing staple items such as jeans, khakis, a dress shirt, and a blazer.
Choose classic colors and silhouettes so these items will last for years to come.
---
2) Add accessories.
Accessories
are an important part of any wardrobe since they help tie different looks together.
Invest in quality pieces like scarves, belts, jewelry, and hats that you can mix and match with your clothing items for maximum versatility.
---
3) Incorporate color to build a wardrobe from scratch.
A wardrobe without color can look bland and uninspired.
To make your outfits stand out, add some colorful pieces such as printed tops, brightly colored shoes, and patterned scarves.
These pieces will add interest to your look while still maintaining a classic feel.
---
4) Think seasonally. 
Your wardrobe should be adaptable to different seasons throughout the year.
Choose items that can transition easily from one season to the next such as lightweight sweaters or cardigans in pastel hues for spring and summer and heavier fabrics like wool or corduroy when it gets colder outside.
---
5) Consider trends carefully to build a wardrobe from scratch.
Trends come and go quickly, which makes it difficult to invest in them without regretting your purchase later on.
To stay current with fashion without breaking the bank, choose one or two trendy pieces each season that you can incorporate into basic outfits for an updated look.
---
6) Underwear and socks.
Don't forget the undergarments! A well-rounded wardrobe includes plenty of comfortable and stylish options for underwear, bras, and socks.
You can
shop for bras online
to find the perfect fit and style for your body type.
---
7) Invest in care items to build a wardrobe from scratch.
To ensure that your wardrobe lasts for years to come, invest in quality pieces and always take good care of them.
Purchase gentle laundry detergent and fabric softener, as well as a clothing steamer, to keep clothes looking fresh and wrinkle-free.
---
8) Don't forget about your kids.
Kids' wardrobes
need just as much attention as adults. Invest in quality pieces that are comfortable, durable, and age-appropriate.
Stick to classic colors like navy and khaki for basic staple items.
---
9) Have fun with it!
Creating a wardrobe from scratch can be a fun and rewarding experience.
Try out different styles, colors, and textures to find what looks best on you.
With the right pieces and accessories, you can create an endless array of unique outfits that reflect your personal style.
---
10) Stay organized to build a wardrobe from scratch.
The key to maintaining a successful wardrobe is
staying organized
.
Hang clothes in your closet that are grouped by type and color for easy access when getting dressed.
Store out-of-season items in storage bins or other containers so they stay looking fresh until you need them again.
---
11) Upcycle your clothes.
Upcycling is a great way to save money and give your wardrobe a fresh new look.
Instead of getting rid of outdated clothes, try giving them a second life by adding trim or embellishments, changing the buttons, or dyeing the fabric.
---
12) Sell your old clothes.
If you find yourself with clothing items that you no longer wear, consider
selling them online
or at a consignment shop.
This is a great way to make some extra cash while also decluttering your wardrobe.
---
13) Don't be afraid to ask for help to build a wardrobe from scratch.
If you're feeling overwhelmed by the task of creating a wardrobe from scratch, don't be afraid to seek help.
Consider asking a friend or family member who has an eye for fashion to give you some pointers or enlist the assistance of a professional stylist.
---
Final Thoughts
Building a wardrobe from scratch doesn't have to be daunting. With a little bit of planning and creativity, you can create an impressive selection of timeless pieces that will last for years to come.
Don't forget- the goal is to create something that best reflects your personal style! By following these tips, you can build a wardrobe that puts forth your unique sense of fashion without breaking the bank.
---
---
Were you encouraged by what you read?
Then, would you share this article with a friend, co-worker, or family member?
Or, maybe you can send it to a friend or family member?
This blog occasionally uses affiliate links and may contain affiliate links. Additionally, Melanie Redd is a participant in the Amazon Services LLC Associates Program. This is an affiliate advertising program designed to provide a means for sites to earn advertising fees. These are earned by advertising and linking to amazon.com. Also, for more on my disclosure policy, click HERE.
© Melanie Redd and Hope Ministry, 2022. Unauthorized use and/or duplication of this material without express and written permission from this blog's author and/or owner is strictly prohibited. Further, excerpts and links may be used, provided that full and clear credit is given to Melanie Redd and Hope Ministry, LLC. Please give appropriate and specific directions to the original content.
---