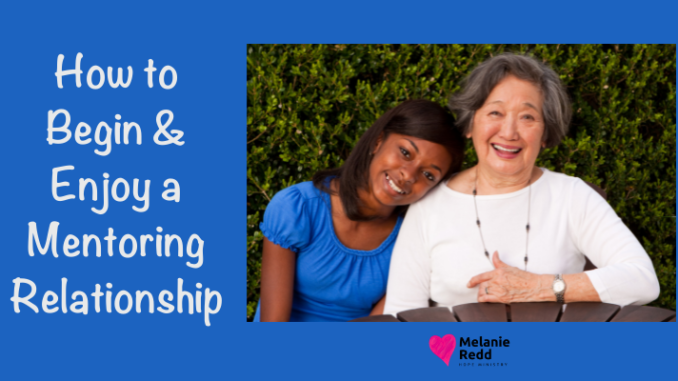 ---
I was 19.
He was 75.
I was a freshman at Baylor University, and he was a professor teaching in his final year at the school.
Dr. George Stokes was the "voice" of Baylor football and my speech teacher when I entered college.
He was seasoned, wise, charismatic, and one of the best teachers I've ever known or had the privilege to sit under.
And, he took an interest in me at a very pivotal juncture in my life.
I felt called to ministry and to teach and speak to groups of people, but I was rather shy at the age of 19.
Dr. Stokes saw the potential in me and he challenged me to improve my speaking skills.
His earliest words to me still ring clearly in my mind, "Melanie, you can be really good at this, and I can show you how!"
Dr. Stokes was an incredible mentor to me in the area of public speaking, and I am forever in his debt.
---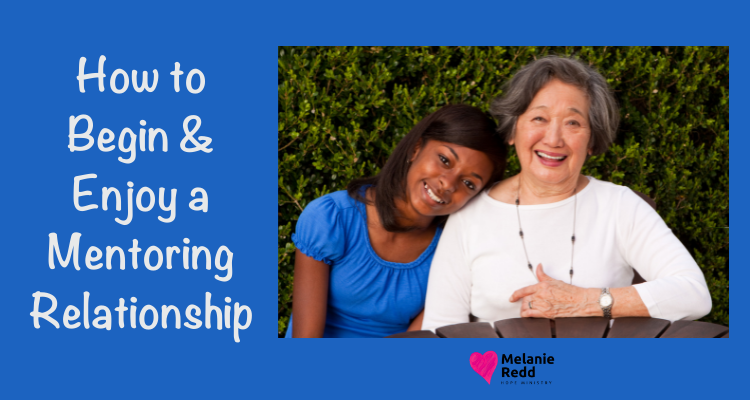 ---
How to Begin & Enjoy a Mentoring Relationship
---
---
Mentors…
Mentoring…
These are hot button words in our world right now.
But, what is mentoring really?

Why is mentoring such a powerful thing?

Where do you find mentors?

How do you begin a mentoring relationship?
---
---
What is mentoring

?
The dictionary defines a mentor as, "

a

wise

and

trusted

counselor

or

teacher or 

an

influential

senior

sponsor

or

supporter." (dictionary.com)
Words similar to mentor include guide, trainer, teacher, coach, advisor, instructor, older friend, tutor, counselor, aide, and helper.
Mentoring explained in the most simple terms is a more experienced person helping a less experienced person to gain more experience.
You can have a mentor to help you to grow as a Christian. Mentors can also help you to learn a skill, understand a concept, or gain knowledge.
Mentors can be found at work, at church, at the gym, and in so many other areas.
However, why do we need them? Why do they matter?
---
---
Why is mentoring such a powerful thing

?
Mentoring is powerful because it is personal instruction, typically done one on one.
There is nothing sweeter than to have another person invest in your life because they choose to do so.
Mentors encourage you, inspire you, push you, pull you, affirm you, and motivate you.
---
---
In fact, mentoring is a biblical concept.
In Titus 2, older men are encouraged to train the younger men and older women are told to train the younger women.
"These older women must train the younger women to love their husbands and their children,

to live wisely and be pure, to work in their homes, to do good, and to be submissive to their husbands. Then they will not bring shame on the word of God."
(Titus 2:4-5, NLT)
---
---
Where do you find mentors

?
Mentors can be found everywhere.
There are positive, encouraging people around us all.
---
---
You may not have even realized who is right around you and how much you can benefit from knowing these people.
Your mentor may be older and wiser or younger and wiser.  Age is not near as important as character.
More than likely, God has placed some amazing people in your circles. They are nearby and available if you know who and what to look for.
So, how do you discover a mentor?
---
---
How do you begin a mentoring relationship

?
To find a person to mentor you, I've got some suggestions.
And, I always think it works best if the one who wants to be mentored seeks out and chooses their own mentor.
Typically, it doesn't work well for us to go to a younger or less experienced person and ask, "Can I mentor you? Or, would you like to be mentored?"
Here are some steps you can take to discover a great mentor:
---
---
1} Pray and ask God to give you at least one godly, positive mentor in your life.
You can always have more than one, but I believe we all need at least one person pouring into us and speaking encouragement into our lives.
Put this request at the top of your prayer list!
---
---
---
2} Begin actively seeking a mentor.
Look around at work, at church, at the club, in your neighborhood, at school, or wherever you spend a great deal of time.
Who seems wise?
Who seems positive and compassionate?
Also, who seems to have great joy?
Who do you respect and admire?
Who seems to be interested in your life?
Or, who do you share some similar experiences with?
I have one young friend who actually walked around her church with a piece of paper in front of her Bible.
When she would observe an older woman dealing well with her children, she'd jot down that name. When she saw a happy marriage, she would write down that name.
From that list, God opened the door for her to have the most amazing group of mentors.
---
---
3} Invite that potential mentor to meet you for coffee or lunch.
You don't even have to tell that you are hunting for a mentor.
Instead, you might say something like, "Would you have time to grab coffee with me? I'd love to have the chance to get to know you better."
Then, get to know them to see if they might be a good mentor for you.
See if you have enough in common and relate well to each other. Ask lots of questions. Listen to how they respond. Determine if this is a person you'd like to hang out with on a regular basis.
Think of this as interviewing potential mentors!
(There is no harm in having 3-4 lunches or coffee dates to get to the best mentor.)
---
---
4} Once you KNOW you'd like to be mentored by a certain person, ask them to spend time with you on a regular basis.
Just go for it and stick it out there!
You can ask to meet once a month or once a week. It may feel awkward at first, but likely that other person will be greatly honored that you would ask them to mentor you.
Honestly, any time a woman has sought me out and asked me to mentor them, I've been blessed and so excited to be asked!
I've NEVER turned down a sincere request to mentor another friend.
I had one young woman call me about two years ago. She was also a pastor's wife in our area. She asked if we could get together for lunch. I really had no idea why she wanted to meet with me.
When I arrived, she had a long list of questions… a very long list!
As we were finishing up our lunch, she asked if we could do lunch once a month. I said, "Yes."
And, I've been enjoying time with this sister for two years now. In fact, she's become one of my closest friends. And, that's the other beauty and benefit of mentoring.
---
---
---
One other note

…
Some of you reading this may want to try a little concept I've heard referred to as "Reverse Mentoring."
Instead of looking for someone older and wiser than you, this type of mentoring is different. Look for someone younger than you who has a skill you don't possess.
For example, you might ask one of your grandchildren to teach you how to use Instagram.
Or, you might ask a younger friend at work or at church to show you how to use the Internet or your new cell phone.
You might invite a younger blogger or social media expert to teach you some new tricks.
You could ask a younger friend to teach you how to paint, do a certain craft, or learn some other skill.
Reverse Mentoring is extra sweet because it gives you the chance to humbly ask someone younger than you to show you how to do something you don't know how to do.
You will learn, you will grow, and you will have the chance to encourage someone else.
And, you may open the door for this younger person to ask you some questions about life, about the Lord, or about other matters of the heart. This could turn into a mutual mentoring relationship!
---
---
So, what do you think about mentoring

?
What experiences have you had?
I always enjoy hearing from you!
---
---
You can catch all of the friendship articles by linking to them below:
---
---
Then, would you share this article with a friend, co-worker, or family member?
Or, maybe you can send it to a friend or family member?
This blog occasionally uses affiliate links and may contain affiliate links. Additionally, Melanie Redd is a participant in the Amazon Services LLC Associates Program. This is an affiliate advertising program designed to provide a means for sites to earn advertising fees. These are earned by advertising and linking to amazon.com. Also, for more on my disclosure policy, click HERE.
© Melanie Redd and Hope Ministry, 2021. Unauthorized use and/or duplication of this material without express and written permission from this blog's author and/or owner is strictly prohibited. Further, excerpts and links may be used, provided that full and clear credit is given to Melanie Redd and Hope Ministry, LLC. Please give appropriate and specific directions to the original content.