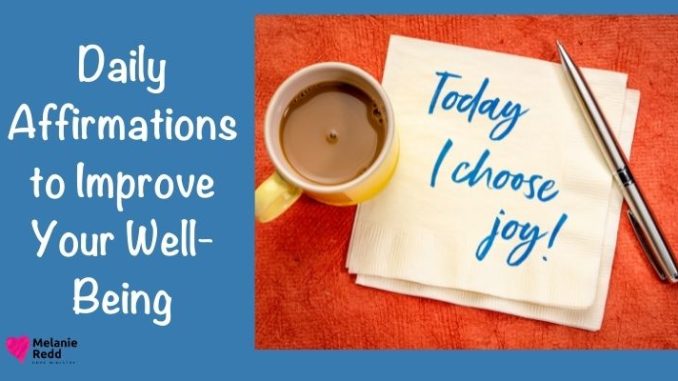 ---
Life is stressful.
Life is busy, too.
Many people are turning to daily affirmations to improve their overall well-being.
For this reason, let's consider the topic of affirmations.
---

---
Daily Affirmations to Improve Your Well-Being: Why Are They Important?
An affirmation is usually a sentence or positive and powerful phrases that have been grouped together to provide encouragement and prompt positive thinking.
Affirmations exist to provide motivation and renewal to people. Indeed, they tap into a person's conscious and unconscious mind to help them reach their potential.
Some view affirmations as having a cheerleader that is constantly cheering you on in your head. Indeed, this cheerleader will encourage you to believe in yourself.
Because we need daily motivation, it is important to fill our minds daily with inspiration and hope.
Similarly, it is said that if you want to truly nurture your plants and see them grow, you need to speak life into them and talk
positively to them. 
While we all have negative and doubtful thoughts every now and again. However, we do not have to fall into the trap of sadness and depression.
As we pay extra attention to the importance of affirmations, we can enjoy a better quality of life.
The benefits of affirmations are endless.
Inspirational words of affirmation can contribute to helping you to look at life through more positive lenses.
In addition, they can help you make positive changes in your life.
---
Daily Affirmations Can Improve Your Well-Being
Getting into the habit of repeating daily affirmations to yourself can take time. But, with practice and consistency, it can eventually become a way of life for you.
Many people have found daily affirmations to be powerful in their daily lives. 
So, whether your desire is to succeed at trading with Dollars and Euros on the forex market, or simply to get a promotion at work, affirmations can help. 
As you hear affirmations, you can change the way you think. Then, you can change the way you act.
---
Where do you find Daily Affirmations to Improve Your Well-Being?
To find hope and encouragement, there are so many places you can turn.
Here are a few:
YouTube videos
Websites
Sermons and Teaching
Social Media
When it comes to social media, it is important to be careful and mindful of the people you are following. Some people are not positive and will not encourage you.
Another easy option is downloading an app onto your smart device that will share pop-up affirmations on your screen.
Doing this will allow it to be the first thing you see when you reach out to your phone in the morning.
Also, if you enjoy podcasts, you may want to make a point of listening to a few each day that inspire you. You can listen in the car on your way to work or while running errands and cleaning at home.
Whatever works for you, there are various ways to ensure that you get access to daily affirmations for an improved life.
---
---
Then, would you share this article with a friend, co-worker, or family member?
Or, maybe you can send it to a friend or family member?
This blog occasionally uses affiliate links and may contain affiliate links. Additionally, Melanie Redd is a participant in the Amazon Services LLC Associates Program. This is an affiliate advertising program designed to provide a means for sites to earn advertising fees. These are earned by advertising and linking to amazon.com. Also, for more on my disclosure policy, click HERE.
© Melanie Redd and Hope Ministry, 2021. Unauthorized use and/or duplication of this material without express and written permission from this blog's author and/or owner is strictly prohibited. Further, excerpts and links may be used, provided that full and clear credit is given to Melanie Redd and Hope Ministry, LLC. Please give appropriate and specific directions to the original content.
---