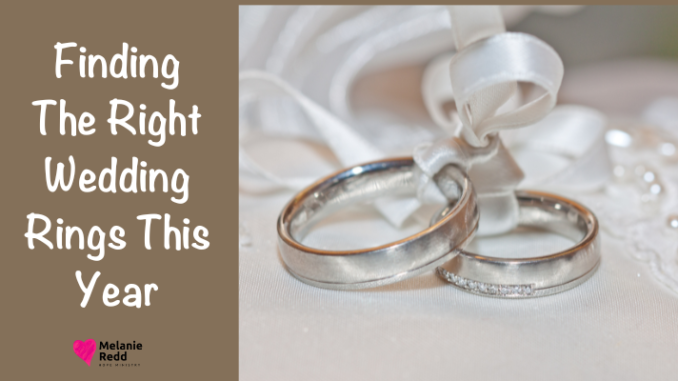 ---
Finding The Right Wedding Rings This Year
When it comes to wedding rings, much like weddings themselves, there's so much choice. Picking the right one can be difficult, especially when there might be multiple rings that the heart is set on.
For many, buying a wedding ring is something that is a first-time experience, and even those who've been married before can find it challenging to pick a ring.
With that being said, this brief guide will help understand what types of popular wedding rings there are and how to choose one that's right for the person getting married.
Also, there's a strong possibility that your wedding ring, from the simple pieces you wear every day to the ornate items you save for special occasions, might benefit from a nice cleaning.
Visit Ideaure to know more about this topic.
---
What are some of the most popular wedding ring types?
With wedding ring types, there are a few classics worth mentioning that never really go out of style. These include:
Solitaire

– A central gemstone is typically used for many

engagement rings

but can also be used in the case of wedding rings too.

Diamond band

– This type of wedding ring is usually made up of diamonds but can also be plain. It's a shape that's typically used for matching wedding bands too.

Halo

– As one might expect, halo rings are very much in the shape of a halo. Typically, they'll go up slightly towards where the stone would sit to create that halo effect.

Trilogy rings

– Trilogy rings feature three stones in the center of the ring. The main one is in the center, with two on either side.
There are also other factors to consider when it comes to the ring. Whether you choose
cubic zirconia vs diamond
, for example. The type of stone is also important to consider.
---
Three tips for finding the right ring
How does a person find the right ring in a sea of rings? Here are a few suggestions on how to find that diamond in the rough.
Shop around for inspiration
When going ring shopping, be sure to look everywhere. Don't just settle for one or two places. It's important to take a look at all of the options available and to browse as many online and in-store jewelers. This will give the person a more broad overview of what's available and from that, can whittle down all of the options to just a few.
Go shopping as a couple
When going shopping as a couple, it helps to make an informed decision that is likely going to be more accurate. When shopping alone, it may end up being a purchase that doesn't go well with the other partner's wedding band. If the couple goes together, they're more likely to gain success and pick two perfect wedding rings.
Have a budget in mind
Be sure to have a budget when it comes to wedding rings, just like anything else
when it comes to a wedding
. There are a lot of options and it can be easy to get swept into liking something that's out of the price range.
Look at the budget and then consider the options available from that. With these tips, it'll be easy enough to find a wedding ring this year.
---
---
Were you encouraged by what you read?
Then, would you share this article with a friend, co-worker, or family member?
Or, maybe you can send it to a friend or family member?
This blog occasionally uses affiliate links and may contain affiliate links. Additionally, Melanie Redd is a participant in the Amazon Services LLC Associates Program. This is an affiliate advertising program designed to provide a means for sites to earn advertising fees. These are earned by advertising and linking to amazon.com. Also, for more on my disclosure policy, click HERE.
© Melanie Redd and Hope Ministry, 2022. Unauthorized use and/or duplication of this material without express and written permission from this blog's author and/or owner is strictly prohibited. Further, excerpts and links may be used, provided that full and clear credit is given to Melanie Redd and Hope Ministry, LLC. Please give appropriate and specific directions to the original content.
---