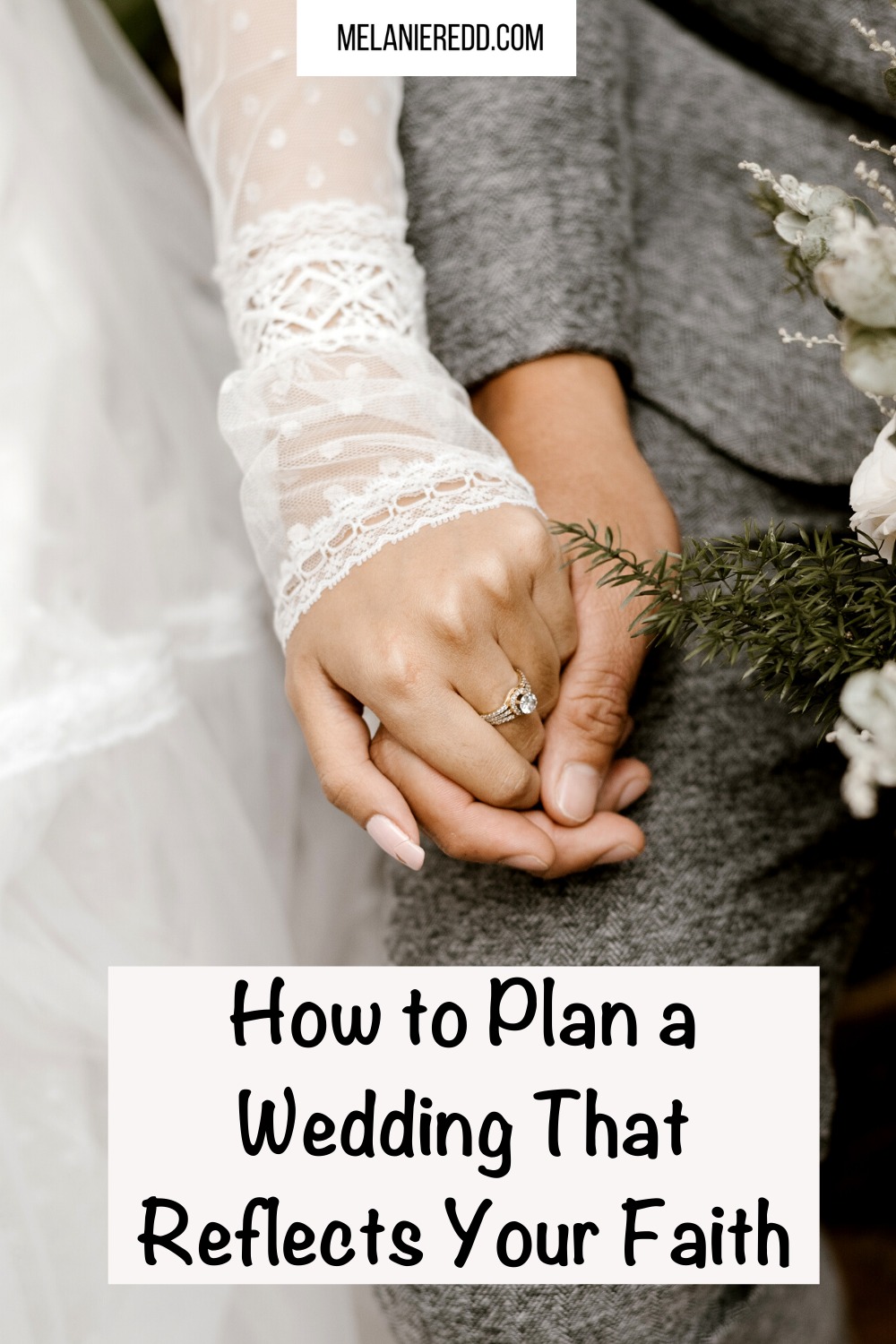 ---
To people of faith, a wedding is still, first and foremost, a spiritual experience.
Not only does your wedding connect you, for life, to the person you want to love and cherish.
Additionally, you and your intended will stand before God seeking His blessing on your union.
---
How to Plan a Wedding That Reflects Your Faith
If you desire to connect your love for God and your love for your future spouse, here are some practical ways you can merge the two.
---
First of all, make sure you're genuine in your commitment.
No one agrees to get married without expecting to fully commit to their spouse.
However, a lot of people do tend to rush into marriage without thinking things through. 
Make sure he is the man you want to marry by looking more closely at your values. Also, consider where you are alike and different.
This will apply to and benefit everything, from the life priorities you decide to pursue together as a great adventure, all the way down to the custom engagement rings you wear, reflective of both your personalities and tastes.
---
Secondly, choose a religious venue for the wedding.
There are so many options for wedding venues these days.
Fortunately, some websites can help you find the right wedding venue for your ceremony.
If you can't find a church or another religious venue, you can still have a pastor or minister officiate the service for you.
---
Third, get the pastor or minister involved.
If you are getting married in a church, then it is likely that at some point you will have to take the time to meet the religious official who is presiding over the wedding.
If this isn't the default practice of the church of your choice, then you may want to take the time to arrange that meeting by yourself.
Meeting a pastor, or priest before the wedding gives them the time to get to know you and to make sure that you are both committed to marriage before God, which fits the traditional Christian model of marriage.
---
Fourth, choose Bible verses that matter to you.
In modern weddings, these can include all manner of dedications, poems, and more.
Traditionally, however, they will involve Bible verses.
Your wedding officiator may be able to help you choose amongst some of the more popular wedding verses. 
However, you should take the time to do your research and reading and to look at some of the less regularly chosen wedding-perfect verses in the Bible.
---
Fifth, choose your vows with care as well.
You are likely going to remember your vows for the rest of your life. You don't necessarily have to write your own.
There are plenty of helpful guides on the net that can help you find the words that you might have trouble expressing on your own. We can't all be quite as inspired as to find our vows.
However, if you want to give it a try, there are guides on how to write your own, as well.
---
Sixth, incorporate your faith into your wedding theme.
You don't have to dedicate every tiny part of the wedding decor to your faith, but you can add meaningful touches as you plan.
For instance, when choosing wedding invitations, you can customize them. You may wish to include a line from one of the verses above, or from a prayer that means a lot to you.
Indeed, this will help you create gorgeous and meaningful invitations. Also, it communicates to your guests the kind of wedding that they can expect.
Most people will adjust their behavior accordingly when they know the wishes of the bride.
---
---
Seventh, add the traditions that are important to you.
You can incorporate traditions from your faith with the consent of your partner.
For instance, unity ceremonies have become a relatively popular form of traditional activity. These involve showing your faith and commitment to the relationship.
You may also want to have your parents gather around you during the ceremony for prayer and dedication.
---
---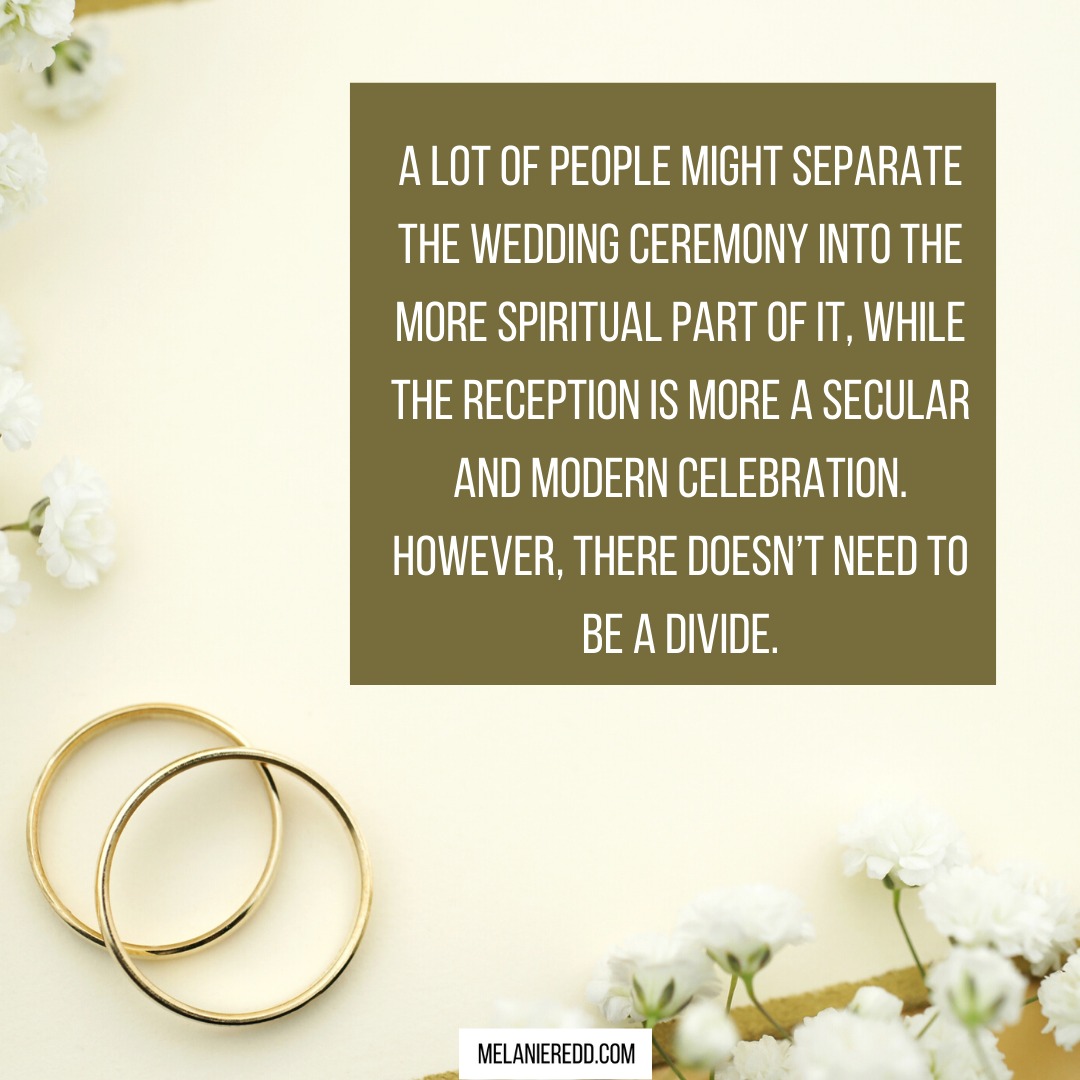 ---
Eighth, incorporate your faith into your reception.
A lot of people might separate the wedding ceremony into the more spiritual part of it, while the reception is more a secular and modern celebration.
However, there doesn't need to be a divide.
Even if your guests come from many different faiths, they should all be able to appreciate that you are willing to show your devotion to both your marriage and your faith in the reception.
For instance, you might choose to use light worship music during the dinner itself, even if you still have a wedding band playing more generally popular music later.
Similarly, you can ask your friends to join you in blessing the wedding or saying grace over the meal or have your parents do the same.
---
Ninth, ask your party to plan the pre-wedding rituals with care.
When it comes to things like the bridal shower and the bachelor's party, it's not uncommon to have some apprehension. After all, they have been known to get pretty wild.
To some people, this is all good clean fun.
But if you prefer to make sure that your wedding is treated with more dignity and a little more respect for your faith, try to encourage your friends to understand where you are coming from.
Hopefully, you have chosen your wedding party well enough to respect your wishes.
---
Tenth, choose a dress that suits your beliefs.
There are all manner of wedding dresses and the ways you can customize them can be truly impressive.
While you might want to look glitzy, glam, and gorgeous on your big day, you can also show your faith through how you present yourself.
The clean white of a wedding dress is meant to represent purity, physically.
White also represents the cleanliness of the heart and the purity and righteous nature of Christ.
As such, you may want to ensure you're representing your dress well. Indeed, think about how modest or how revealing you want it to be.
Similarly, a veil is supposed to represent not only the modesty of the bride but is also considered to be a symbol of the temple veil torn in two during the crucifixion.
---
Finally, have a faith-filled marriage.
As much of an important ceremony and day, it might be, the wedding is only one day. The marriage goes well beyond the wedding and should be lived with as much care.
To that end, try to consistently look for the keys to a successful marriage so that you can better keep your commitment to your spouse and your God.
Take inspiration from verses on how to serve as a spouse. Look to your local religious leader for counsel on your marriage. And, be sure to focus on open and honest communication with your spouse above all else.
With the tips above, you can help improve the feeling of faith and spirituality that you want to be the core of the wedding.
---
---
---
Were you encouraged by what you read?
Then, would you share this article with a friend, co-worker, or family member?
Or, maybe you can send it to a friend or family member?
This blog occasionally uses affiliate links and may contain affiliate links. Additionally, Melanie Redd is a participant in the Amazon Services LLC Associates Program. This is an affiliate advertising program designed to provide a means for sites to earn advertising fees. These are earned by advertising and linking to amazon.com. Also, for more on my disclosure policy, click HERE.
© Melanie Redd and Hope Ministry, 2023. Unauthorized use and/or duplication of this material without express and written permission from this blog's author and/or owner is strictly prohibited. Further, excerpts and links may be used, provided that full and clear credit is given to Melanie Redd and Hope Ministry, LLC. Please give appropriate and specific directions to the original content.
---