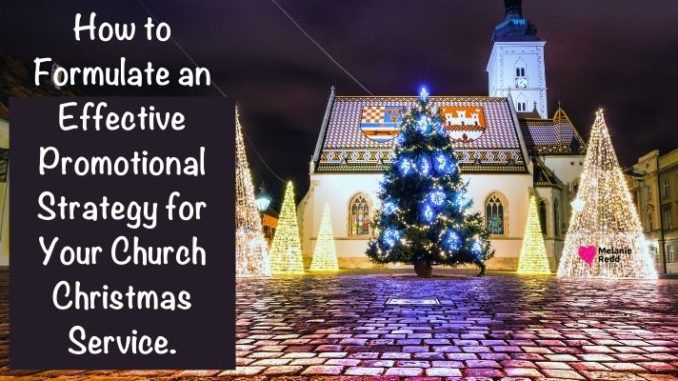 ---
Christmas is fast approaching, and if you're planning a special church service, now would be the right time to start marketing it.
One of the most effective ways to promote your church Christmas services is via online platforms. There is no doubt that it is undeniably an incredible tool for engagement and communication with your congregation. 
But, sometimes, seasonal marketing can be overwhelming and daunting. So make sure that you come up with a promotional plan for the Christmas season to streamline all necessary tasks and resources when in advance. 
Here is a breakdown for you to easily advertise your Christmas service and engage with your community digitally:
---
First, to formulate an effective promotional strategy for your church Christmas service, diversify your content.
Facebook, Instagram, TikTok, YouTube, and Twitter have only one thing in common – they are all social media platforms where you can find your target audiences. 
These and other digital platforms are not one-size-fits-all. You will want to ensure that everything from appearance to messaging remains authentic and realistic to your church while creating unique content for audiences on each platform. 
There is ample room for variety based on the channels you use and the type of content and information you aim to share with your audience.
---
Second, to formulate an effective promotional strategy for your church Christmas service, use videos.
Research has found that
 65% of people are visual learners
. This means they
need to see the content to retain it. In addition, visuals include a communication component that verbal and written methods don't: speed.
So, don't wait till the eleventh hour to create your Christmas graphics. Instead, get it done early so you can share consistent visuals beforehand across multiple communication channels.
Make quick and short clips of what is happening around you. And then make sure you share links to push followers to your site for longer videos.
---
Third, to formulate an effective promotional strategy for your church Christmas service, ask questions.
Digital platforms, mainly social media, are an excellent place for creating hype for the new things happening at the church, specifically your Christmas service! Get the community interested by spreading the word about your event. 
If you offer additional services, don't forget to mention them too!
Let your followers choose from the options for how they want to participate and provide them the necessary details early on to plan.
---
Fourth, to formulate an effective promotional strategy for your church Christmas service, embrace an aesthetic.
Social media is all about connection,
engagement
, and interaction, so the more you connect with your followers to share, comment, and like, the better off you will be. 
It's also vital to note that you want to avoid subjects that may lead to arguments or controversy. Instead, you can ask different questions that will start helpful and healthy conversations with your social media community. 
---
Fifth, to formulate an effective promotional strategy for your church Christmas service, narrate a story.
For the graphics and posters that you post on social media platforms, a uniform "look" demonstrates professionalism and cohesion.
In addition, it enables your audience to get familiar with your messaging leading up to the Christmas service. 
The more your audience sees and recognizes your images, the more it increases the possibility of them attending your Christmas service that you are promoting – irrespective of whether it is online or in-person!
You can also leverage a robust platform like PosterMyWall to enhance your marketing and promotional efforts. 
PosterMyWall is a feature-rich DIY design tool that empowers you to generate professional-quality videos, graphics, and marketing materials that you can use for your emails, prints, websites, social media, presentations, and more.
Once you've found your
Christmas templates
design, create all the different varieties and sizes of text to use them across multiple digital platforms. This will help you deliver a cohesive and sleek look. 
Here are some great ideas to implement updates particularly for your Christmas service and get your tactic in motion:
Upload a loop video on your Facebook that displays a Sunday experience 

Update your Church's Twitter and Facebook cover photo to a graphic that invites the visitors to participate

Launch Instagram campaigns to count down till Easter
---
Sixth, to formulate an effective promotional strategy for your church Christmas service, leverage email.
Do you have somebody in your church who was deeply impacted by the last year's Christmas service?
Narrate their story!
This can be a Sunday morning video interview, a blog post, or a podcast for your website, social media pages, and apps.
Being changed by the love of God is truly a great thing that can happen to someone during this time, and that is why we want people to join us at church.
Sharing real stories regarding that transformation is an effective way to connect with your audience on a personal level.
---
Seventh, to formulate an effective promotional strategy for your church Christmas service, be sure to follow up.
Churches underestimate email as a channel of communication. So don't just make do with the usual "weekly e-newsletter" that people might not even read. Instead, increase your email open rates by creating compelling campaigns around essential seasons. 
Begin planning your email campaigns ahead of Christmas to generate buzz with people. Send two emails every week and don't be unexciting. Your emails should be well thought out and well written with an intriguing subject line that makes the recipients click open rather than deleting it. 
Ask the most interesting staff members to generate content ideas and your copywriters to shape the words.
You can use powerful and free online
flyer maker
,
poster maker
,
and other tools that allow you to generate quality graphics without any artistic proficiency. 
The key to invite cards is to educate people on how to use them. 
Create videos explaining ways to make the most of their Christmas service card invitation. Make a brief video, post it, email it, and play it during the countdown before the service.
---
Don't forget to follow up!
You will have many guests attending your Christmas service, and it will be a joyful event. Just remember to bring authenticity and creativity to your service, and don't forget to create a well-thought-out strategy for children. 
And afterward, it is imperative to ensure that you follow up. 
Creating a follow-up roadmap that acknowledges and thanks your guests for spending their Christmas with you inspire them to return while helping you address any questions or concerns they may have. 
This will give your guests and attendants a reason to come back. As part of your Christmas service, ensure that you tell them about the current series that begins the upcoming weekend or a program that will pick back up once the holidays are over.
---
Closing Thoughts
While promoting your church Christmas services, keep the strategies mentioned above in mind to ensure that your event is a success. 
Think through these particulars to deliver a quality experience for families this Christmas. While the process can be intimidating, you are set up for success with the right strategies and tools.
Christmas is a great season to enhance growth. Hopefully, the tactics will help you promote your services effectively and differently. Keep leading with determination. Merry Christmas!
---
---
Were you encouraged by what you read?
Then, would you share this article with a friend, co-worker, or family member?
Or, maybe you can send it to a friend or family member?
This blog occasionally uses affiliate links and may contain affiliate links. Additionally, Melanie Redd is a participant in the Amazon Services LLC Associates Program. This is an affiliate advertising program designed to provide a means for sites to earn advertising fees. These are earned by advertising and linking to amazon.com. Also, for more on my disclosure policy, click HERE.
© Melanie Redd and Hope Ministry, 2021. Unauthorized use and/or duplication of this material without express and written permission from this blog's author and/or owner is strictly prohibited. Further, excerpts and links may be used, provided that full and clear credit is given to Melanie Redd and Hope Ministry, LLC. Please give appropriate and specific directions to the original content.
---