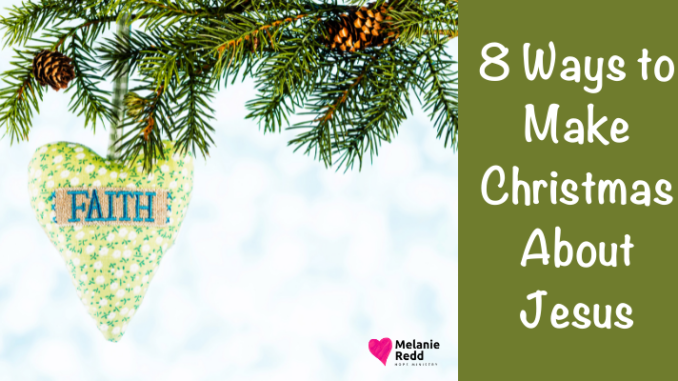 ---
"Jesus is the Reason for the Season."
We hear this everywhere, don't we?
Yet, so often, we rush our way through the holiday season with little thought about Jesus, the gift of His life, or the significance of His love.
The wise men responded in immediate worship to the King. Matthew 2:10-11 says, "When they saw the star, they were overjoyed.
On coming to the house, they saw the child with his mother Mary, and they bowed down and worshiped him. Then they opened their treasures and presented him with gifts of gold, frankincense, and myrrh."
We are called to "Ascribe to the Lord the glory due to his name; worship the LORD in the splendor of holiness," as it says in Psalm 29:2.
I don't mean to cover you with guilt or shame.
In fact, I hope to do the exact opposite!
---
---
8 Ways to Make Christmas About Jesus
The season is busy, fast, and fun!
So, set aside time now to develop meaningful traditions for the entire family.
---
---
Here are 8 Ways to Make Christmas About Jesus

:
---
1)

Choose to give one less gift to everyone in the family & put the extra money toward fulfilling a need

. 
Many companies offer the opportunity to fulfill a need in this way.
This type of tradition shows thoughtfulness, sacrifice, and love. Gospel love will flow through your family.
What a meaningful tradition!
---
2)

Write a Christmas letter instead of sending Christmas cards

(or include a letter with your card).
At the end of the letter, include a paragraph about the gospel, or a list of each family member's favorite Scripture passage.
Encouraging others to open the Bible and read about the Christmas story for themselves points them directly to Christ.
This will also allow a quiet reflection of your own heart as you prepare the letter to send to family and friends.
---
3)

Celebrate Jesus with an actual cake

.
Before eating it, have each family member pray out loud with thanksgiving to Jesus for the gift of his life and its meaning.
Oftentimes we bake a cake – I've heard of this tradition many times!
However, rarely do we take the time to think about the meaning of the cake before eating it.
Try it this year and encourage conversation among your little ones about Jesus' birthday and its meaning for our lives.
---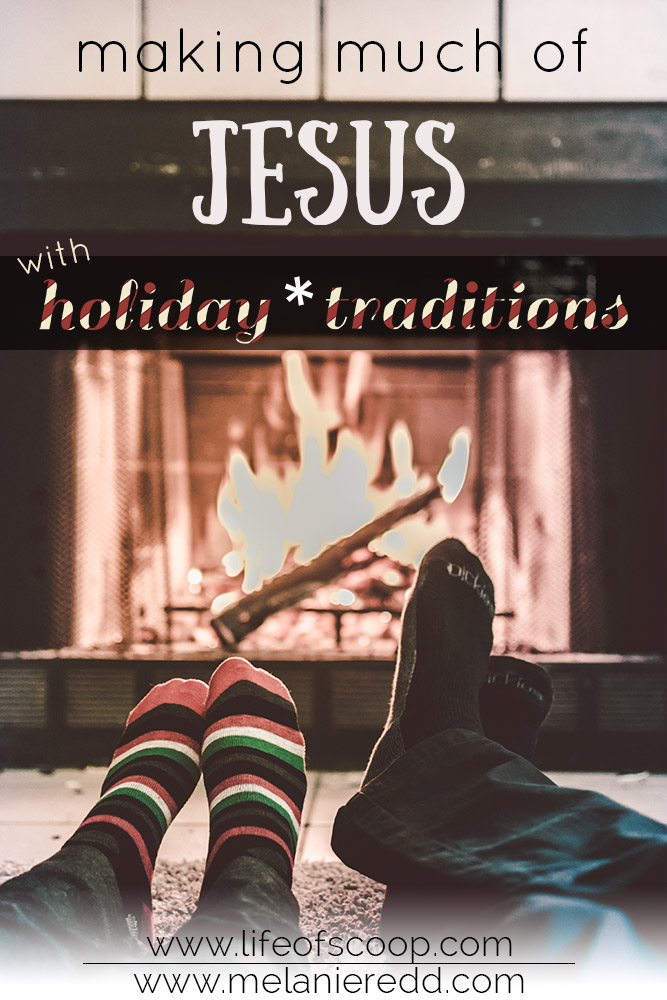 ---
4)

Play Christian Christmas music throughout the day

.
Let each family member pick a favorite that they turn up real loud for the whole house to hear.
Sing along in your head, or out loud.
Enjoy the day for what it is – a celebration of Jesus!
What better way than blasting praise music throughout a warm house that smells like cookies?
---
5)

Take a walk through your neighborhood several days before Christmas

. (Don't forget the hot cocoa!)
If you run into friends and neighbors, ask if you can pray for their holiday. Then, follow through as a family.
This allows others to be reminded of Jesus and his power during the holiday season.
It also models healthy prayer and fellowship to your children who might be watching.
---
---
6)

Several weeks before Christmas, add a special stocking to the fireplace

.
Give each family member $5-10 depending on your budget and let him or her buy fun goodies to put in the stocking.
Deliver the stocking to someone in need on Christmas Eve or Christmas Day.
This is a practical way to show kiddos the beauty of gift-giving – and the fun that it can be!
You might also add some handwritten Bible verses, or even a Bible, to the stocking.
---
7)

If you have a fireplace, make a Christmas Eve fire and sit around with hot cocoa

.
Share stories of God's faithfulness over the past year. Or, for younger children, read some stories from a children's Bible storybook.
Orient your mind to the true meaning of Christmas the night before with a cozy celebration of God's goodness.
Wake up with stories of His faithfulness fresh on your mind.
---
---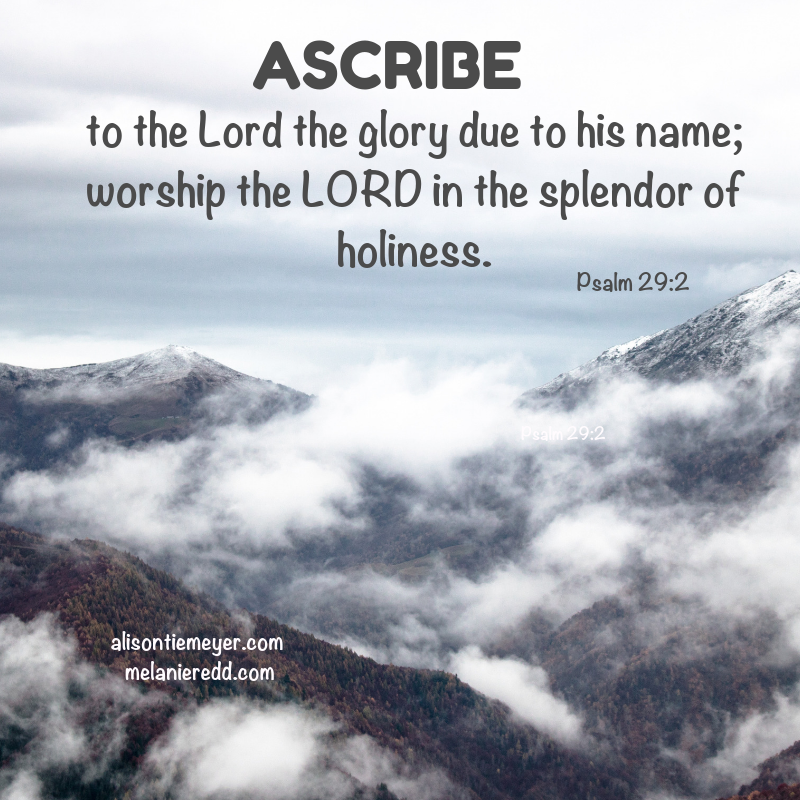 ---
8)

Before the stockings are opened or the gifts unwrapped before breakfast starts cooking or coffee is brewed before anything happens on Christmas morning – start the day with family prayer

. 
We're quick to the gifts and the breakfast traditions, but we don't seem to be as quick to pray or study the Bible.
Try something different this year and start with prayer. You could even look up some Scripture passages to include in your prayer that specifically praise Jesus for the gift of his life.
Dear readers, I am not saying that we must forego the secular traditions, or wait until noon to open the first gift.
Rather, I am suggesting that we do some small things to include Jesus in each part of our day. Our lives have purpose and meaning because of his gift of love on the cross. This means our holiday has great meaning, too.
---
---
Remind yourself of that in big and small ways this holiday, especially in the traditions you choose.
---
About the Author:
Alison Tiemeyer is a wife, mom, blogger, and Jesus-follower growing in grace and truth daily.
She loves coffee in the morning, experimenting in the kitchen, camping with her husband, playing with her children, and reading in a hammock just about anywhere.
---
Want more Christmas Hope?
---
---
Were you encouraged by what you read?
Then, would you share this article with a friend, co-worker, or family member?
Or, maybe you can send it to a friend or family member?
This blog occasionally uses affiliate links and may contain affiliate links. Additionally, Melanie Redd is a participant in the Amazon Services LLC Associates Program. This is an affiliate advertising program designed to provide a means for sites to earn advertising fees. These are earned by advertising and linking to amazon.com. Also, for more on my disclosure policy, click HERE.
© Melanie Redd and Hope Ministry, 2021. Unauthorized use and/or duplication of this material without express and written permission from this blog's author and/or owner is strictly prohibited. Further, excerpts and links may be used, provided that full and clear credit is given to Melanie Redd and Hope Ministry, LLC. Please give appropriate and specific directions to the original content.
---