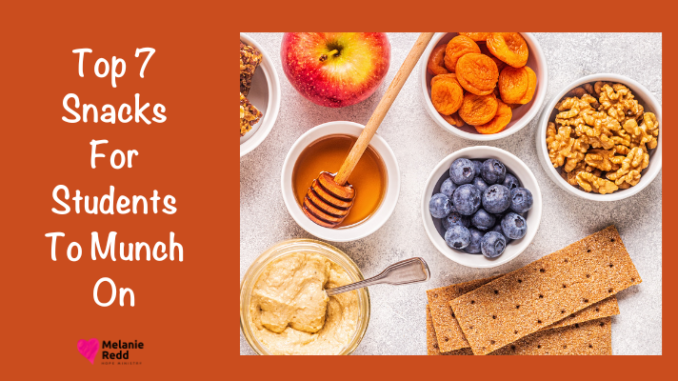 ---
Top 7 Snacks For Students To Munch On
It's that time of year again when the days get longer, and students everywhere are busy studying, writing papers, and attending classes.
With all the academic hustle and bustle, it can be easy to forget your snacking needs.
That's why we've compiled a list of our top seven snacks for students — tasty treats that will energize you during those long study sessions and keep you going during final exam season!
Keep reading for some delicious ideas on how to munch your way through school easily.
---
7 Snacks For Students To Munch On
As students continue their academic journeys, they must maintain a healthy and balanced diet, ensuring they have all the necessary nutrients to fuel their minds and bodies.
Snacking is common among students, as they often need quick and tasty bites to boost their energy levels during long study hours.
However, it is crucial to select snacks that are delicious and nutritious. Here are seven ideal snack options for students to munch on while studying:
---
Snacks For Students To Munch On –
Fresh fruits
Fresh fruits are a popular and healthy option for those seeking a rich diet.
Whether you're a student rushing to class, a busy professional, or a parent constantly on the go, fruits such as apples, berries, bananas, oranges, and grapes are easy to take with you and enjoy at any time.
Not only are they convenient, but they're also complete with essential vitamins and minerals that can help generate your immune system and promote overall wellness.
---
Greek yogurt
Greek yogurt is a delicious yet nutritious food that can be a perfect addition to any student's diet.
One of the most notable benefits of Greek yogurt is its high protein content, which is crucial for maintaining and repairing muscles in the body.
In addition, it can help keep students feeling full for extended periods. This makes it an excellent snack or meal option for those looking to manage their hunger throughout the day.
Moreover, Greek yogurt contains probiotics essential for maintaining a healthy gut. With so many benefits to offer, it's no wonder that Greek yogurt has become a staple in the diets of many health-conscious individuals.
---
Snacks For Students To Munch On –
Nuts
Nuts are a perfect snack for students who need a quick energy boost during study sessions.
Almonds, walnuts, and cashews provide a healthy shot of essential fatty acids, protein, and fiber to fuel the body and brain.
They provide the necessary energy and contain vitamins and minerals that promote a healthy eating habit. Moreover, you may munch CBD gummies with a handful of nuts for extra energy purposes.
However, it is essential to choose unsalted nuts as salted nuts can raise blood pressure due to increased sodium intake. With their variety of health benefits, it's easy to see why nuts are a great go-to snack for anyone looking to stay healthy and energized.
---
Hummus and vegetables
Do you want to avoid bland and unhealthy snacks that leave you unsatisfied?
Look no further than hummus and vegetables!
Hummus, a delectable dip made from chickpeas, sesame seeds, and olive oil, is a delicious treat, protein and fiber powerhouse.
Pair it with any vegetable of your choice, such as celery sticks, carrots, or cucumbers, and you have a healthy and filling snack that will give you the energy you need to power through your day.
Say goodbye to the vending machine and hello to this simple, tasty, and nutrient-rich snack, perfect for busy students on the go.
---
Oatmeal
Look no further than a warm bowl of oatmeal when finding the perfect snack to keep students full and focused throughout the school day. Packed with fiber and protein, the humble oat provides the energy to power through even the most extended lectures.
But that's not all – oatmeal is also a fantastic source of iron, crucial in ensuring the brain gets enough oxygen to function at its best. So the next time you require a midday pick-me-up, consider the power of a bowl of hearty oatmeal.
---
Snacks For Students To Munch On:
Edamame
Edamame is different from your typical snack.
You might have seen it as a side dish at your favorite sushi restaurant, but did you know it could also be the perfect snack to get you through a long day at school?
Unlike processed snacks high in sugar and carbs, edamame is a soybean-based snack with nutritional benefits. It's high in protein, which can help keep you feeling fuller for longer and regulate your blood sugar levels.
It's also a great source of fiber, iron, calcium, and vitamin C. Eating edamame as a snack between classes could be the perfect energy boost to fuel your brain and metabolism.
---
Dark chocolate
Indulging in a piece of tasty dark chocolate not only satisfies your sweet cravings but also boosts your health. This decadent treat is a powerhouse of antioxidants that fight off harmful free radicals and protect your cells from damage.
Additionally, dark chocolate might enhance cognitive function and improve memory, thanks to the presence of flavanols that enhance blood flow to the brain.
However, controlling your portions and consuming them in moderation is essential, as caffeine can cause jitters and disrupt your sleep.
So, the next time you crave something sweet, reward yourself with dark chocolate and its numerous benefits.
---
Why Is Snack Munching A Good Habit Among Students?
Munching on snacks has been a popular activity among students for a long time.
While snacking may have earned a bad reputation in the past, we can't ignore the positive benefits it can bring.
Snack munching can be an excellent way to keep your energy levels up throughout the day and help you focus on your studies. Research has shown that small, frequent meals can benefit the metabolism and keep us filled up without overeating.
Additionally, snacking can provide a break from the monotony of studying and offer a quick mental refresher. With all these benefits, it's no wonder that snack munching has become a good habit for students.
---
Bottom Line on
Snacks For Students To Munch On
As students continue to navigate their academic journeys, paying attention to their snacking habits is essential. They can fuel their bodies and minds for success by choosing nutritious and delicious snacks.
Whether fresh fruits or dark chocolate, these snacks are perfect for students to munch on during study sessions and exams.
So go ahead and snack away! However, remember that snacking should not replace regular meals.
---
---
Were you encouraged by what you read?
Then, would you share this article with a friend, co-worker, or family member?
Or, maybe you can send it to a friend or family member?
This blog occasionally uses affiliate links and may contain affiliate links. Additionally, Melanie Redd is a participant in the Amazon Services LLC Associates Program.
This is an affiliate advertising program designed to provide a means for sites to earn advertising fees. These are earned by advertising and linking to amazon.com. Also, for more on my disclosure policy, click HERE.
© Melanie Redd and Hope Ministry, 2023. Unauthorized use and/or duplication of this material without express and written permission from this blog's author and/or owner is strictly prohibited.
Further, excerpts and links may be used, provided that full and clear credit is given to Melanie Redd and Hope Ministry, LLC. Please give appropriate and specific directions to the original content.
---