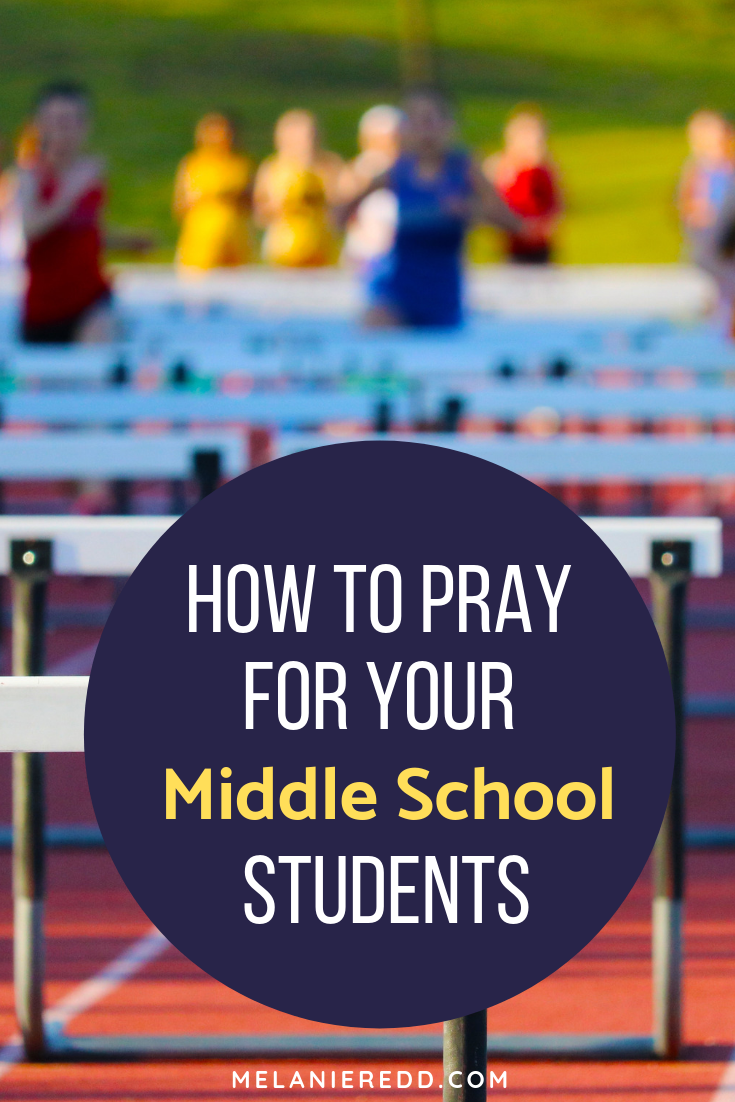 ---
Middle School.
It's not an easy season for kids.
It's not an easy season for parents either.
In fact, it can be one of the most challenging seasons for all families.
So, what can you do to make it a little easier?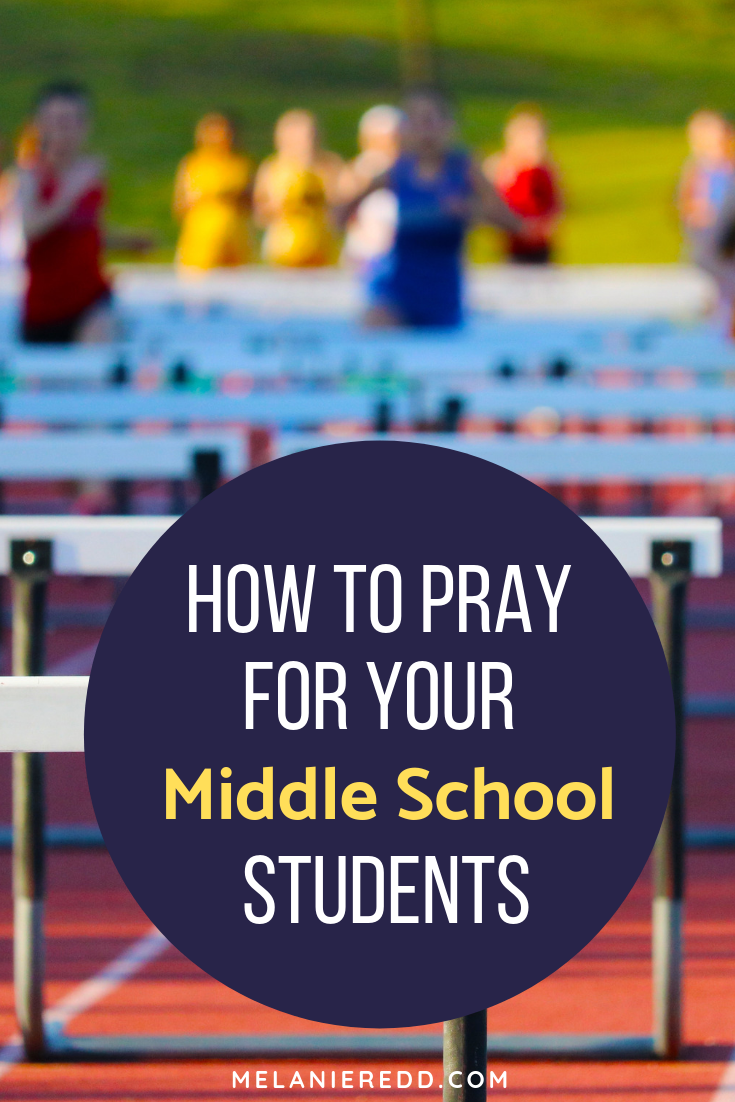 How to Pray for Your Middle School Students
One way you can survive–and even enjoy the 6th, 7th, and 8th grades with your kids–is to pray for them.
Soak them in prayer.
Talk to the Lord about them, and do it often.
It will not only make a powerful difference in their lives, but it will also fill your heart with peace.
Praying regularly for your middle school kids can make all the difference!
How should you pray?
Here are 7 ways to pray for your Middle School Students:
Pray for Their Purity
"Help _____ to know the guidelines laid out for him/her from the Master Jesus. God wants _____ to live a pure life. Keep _____ from sexual promiscuity. Help _____ to learn to appreciate and give dignity to their body, not abusing it, as is so common among those who know nothing of God."
(1 Thessalonians 4:3-5, MSG)
Ask God to protect your kids and to make them wise with the ways they use their bodies.
Invite God to give them dignity with their bodies.
Pray for Them to Be Courageous
"Encourage _____ to be strong and of good courage; help _____ to not be afraid, nor be dismayed, for the Lord your God is with _____ wherever he/she goes."
(Joshua 1:9, NKJV)
"Enable _____ to be on guard. Encourage _____ to stand firm in the faith. Let _____ be courageous and be strong."
(1 Corinthians 16:13, NLT)
Pray for your kids to be strong, bold, and courageous.
Ask God to encourage them to stand tall and stand firm.
Pray for Them to Grow Up & Mature
"May our sons flourish in their youth like well-nurtured plants. May our daughters be like graceful pillars, carved to beautify a palace."
(Psalm 144:12, NLT)
"Allow ____ to grow in the grace and knowledge of our Lord and Savior Jesus Christ. Encourage ____ to bring all glory to Him, both now and forever! Amen."
(2 Peter 3:18, NLT)
Pray for your middle school students to grow in grace and in the knowledge of our Lord and Savior Jesus Christ.
Also, invite God to grow them up and mature them.
---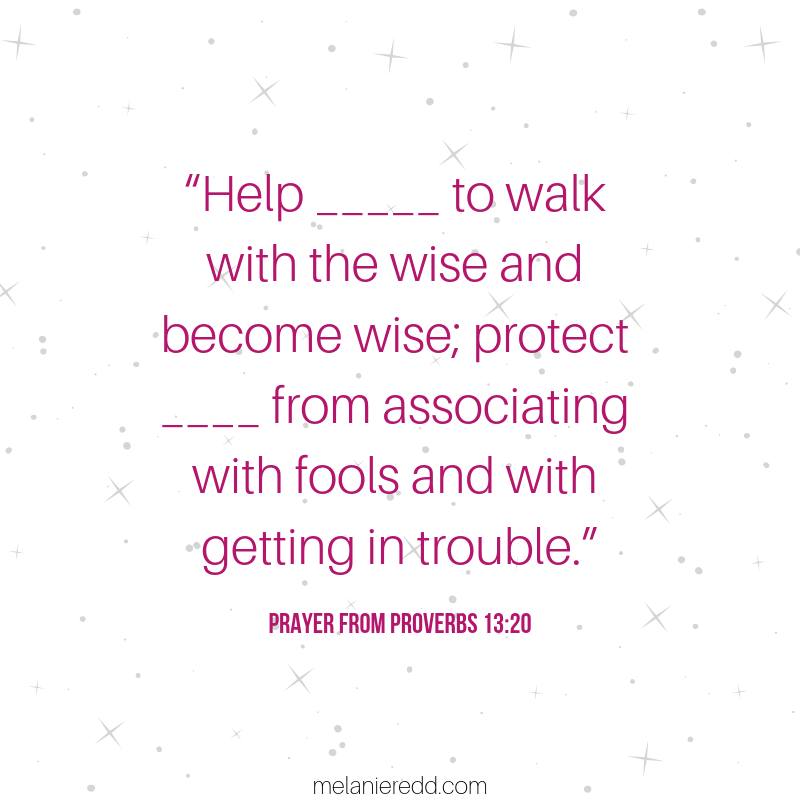 ---
Pray for Them to Have Godly Friends
"Help _____ to walk with the wise and become wise; protect ____ from associating with fools and with getting in trouble."
(Proverbs 13:20, NLT)
Ask God to give your kids at least one godly friend–one friend who will pull them up instead of pulling them down.
Pray for Their Protection and Safety
"Help _____ to remember that The Lord is for him/her. Help _____ to have no fear. Help them to not be afraid of what mere people can do to them."
(Psalm 118:6, NLT)
Ask God to protect your kids and to keep them safe no matter where they are, what they are doing, or who they are with.
Also, pray that they will not be fearful, timid, or afraid.
Pray for Mentors Who Will Wisely Invest into Their Lives
"Help us and other adults in their lives to direct _____ onto the right path. When _____ is older, help them not to leave the right path."
(Proverbs 22:6, NLT)
"Send some wise people into _____'s life that will sharpen and teach him/her. Allow the proverb to be true in _____'s life, "As iron sharpens iron, so a friend sharpens a friend."
(Proverbs 27:17, NLT)
Invite God to send teachers, coaches, pastors, and wise older friends into your kid's lives.
Ask Him to use other adults to lead and encourage them down the right paths for their lives.
Pray for Peace and Calm Hearts
"Now may the Lord of peace himself give _____ his peace at all times and in every situation. The Lord be with _____."
(2 Thessalonians 3:16, NLT)
"I pray that God, the source of hope, will fill ____ completely with joy and peace because _____ trusts in him. Then _____ will overflow with confident hope through the power of the Holy Spirit."
(Romans 15:13, NLT)
Invite God to speak peace over their hearts and minds.
Ask God to fill them with much joy and to teach them to trust Him with all of their hearts.
---
Here's a
FREE

printable for you to print out and post on the frig or somewhere in your home.
Just right click, save, and print!
---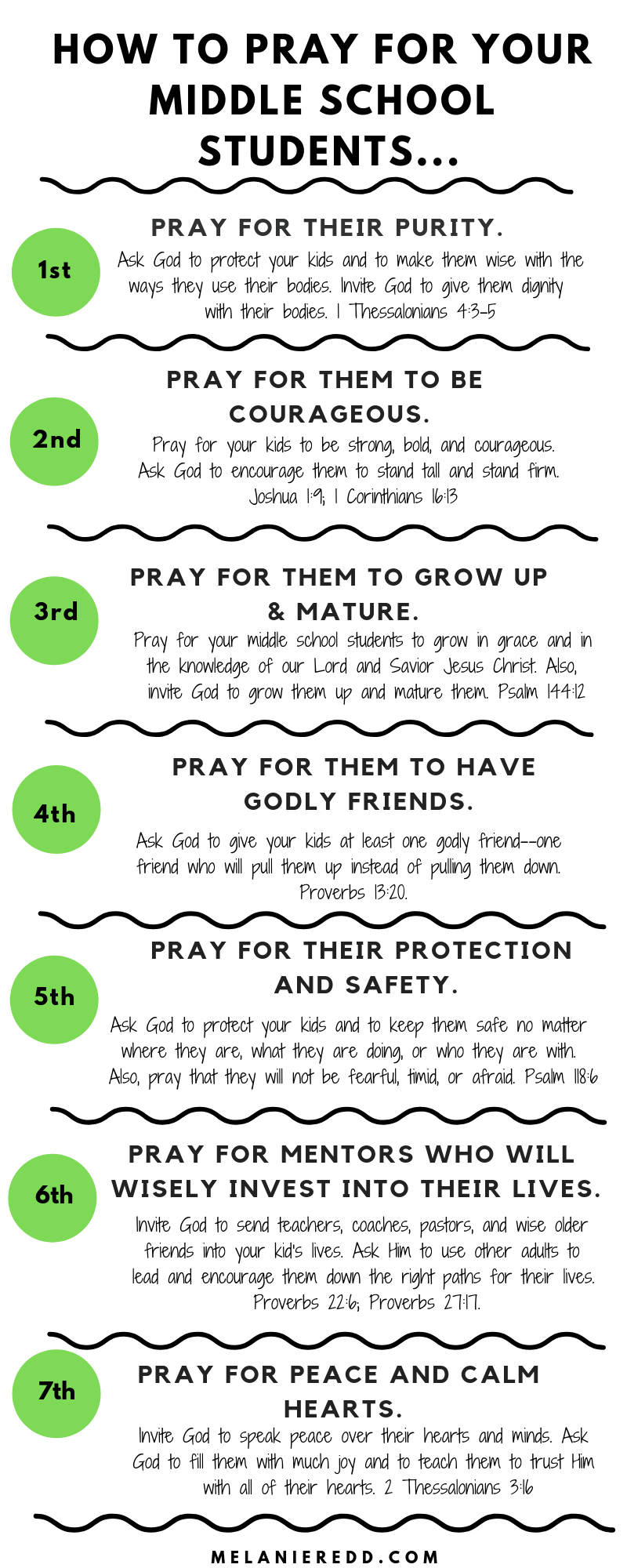 ---
---
Want to encourage your kids to love Jesus more?
Here are some wonderful new devotional books for teens of all ages – middle schoolers, high schoolers, and even young adults.

---
Could you use a little more parenting encouragement?
---
Were you blessed by what you read?
Then, would you share this article with a friend, co-worker, or family member?
Or, maybe you can send it to a friend or family member?
This blog occasionally uses affiliate links and may contain affiliate links. Additionally, Melanie Redd is a participant in the Amazon Services LLC Associates Program, an affiliate advertising program designed to provide a means for sites to earn advertising fees by advertising and linking to amazon.com. Also, for more on my disclosure policy, click HERE.
© Melanie Redd and Ministry of Hope, 2019. Unauthorized use and/or duplication of this material without express and written permission from this blog's author and/or owner are strictly prohibited. Further, excerpts and links may be used, provided that full and clear credit is given to Melanie Redd and Ministry of Hope with appropriate and specific direction to the original content.