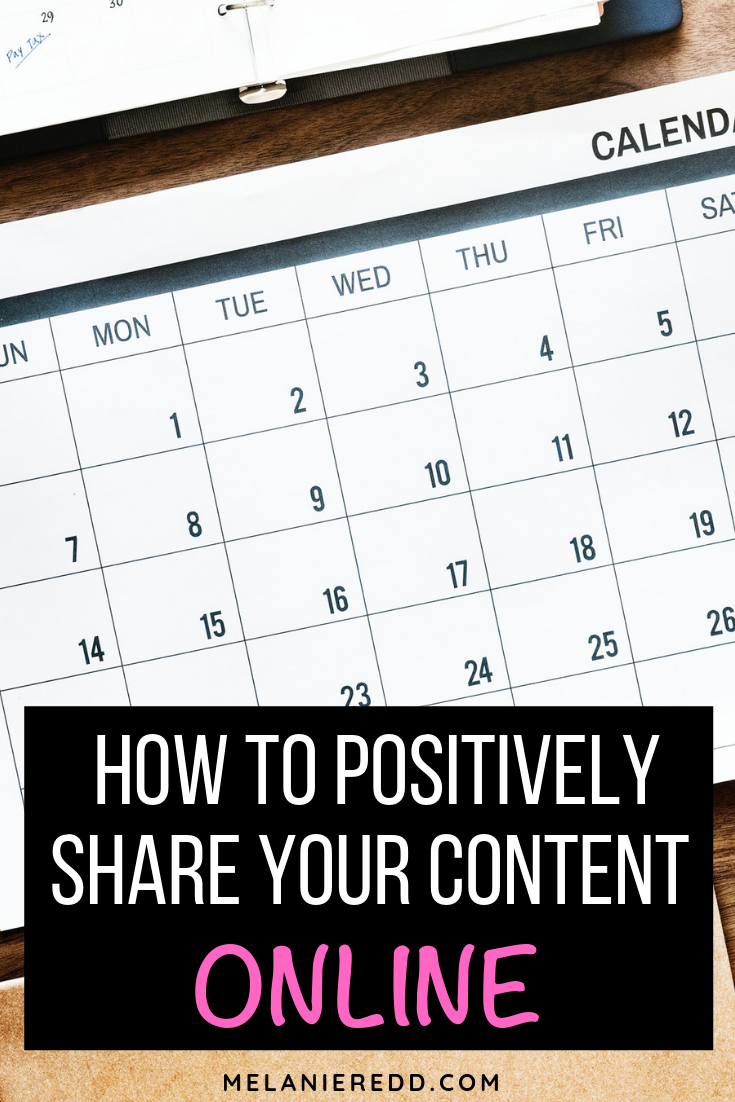 ---
Have you ever felt embarrassed to share your views?
Or, maybe you've been reluctant to post on social media?
Possibly you've felt that you had something good to share, but you didn't want to come across as one of those "crazy Christians".
If you have the heart to share positive content on social media, you can learn to do so.
In fact, I want to encourage you with some very practical ways to begin to get your own material out there for the online world to read and enjoy.

How to Positively Share Your Content Online
That's one of the reasons I've decided to blog about my experiences and put myself out there.
Our words, our articles, and our messages can make a difference in the lives of others!
Over the last four and a half years, there are some strategies I've put into place that have helped me to be a more confident blogger and social media encourager.
Here is how to positively share your content online:
The first way to share your content…
Realize that you have a unique voice and message that God can use to impact others.
You have something powerful to share–your story.
You are the only person who can share your particular life message!
Other people will appreciate what you have to say. Someone needs to hear your distinctive voice.
The second way to share your content…
When you are really impassioned about something try the "desk drawer" method.
Have you ever felt really passionate about a cause or a situation and wanted to vent about it online?
One way to avoid oversharing online is to try to write or type out the message offline first. Write it out. Type it out. Get it out.
Then, hold onto the draft for a few days.
Reflect and pray on the message carefully and prayerfully before sending it out into the cyber world. (In essence, you put your thoughts into the desk drawer.)
If you still want to send it or post it after taking the time to reflect, then go for it.
The third way to share your content…
Try sharing with Side-By-Side Video Podcasting.
It can be hard to give readers the complete story on your own – especially if it's a story you're nervous about sharing.
Powerful, inspirational stories and content deserve to be shared.
A split screen video is a powerful tool that advertisers use to create compelling ads. But we can repurpose it to feature multiple speakers in one video – even if they aren't in the same room.
Blend together two video feeds and let your story fully benefit from the powerful perspective that a conversation can add.
Find someone you trust. Pour a cup of tea and let the story flow.

The fourth way to share your content…
You can borrow wisdom from the Bible's best writers and use it as content.
Sometimes it's hard to know what to share online. We wonder what content to use.
Because there are more than sixty books in the complete biblical canon, it's a great resource to turn to.
These words of wisdom have been passed down from generation to generation. Each is written from a unique perspective, in a way that resonates with the people of their time.
If you're trying to figure out how to share your story or your content, take a page from the greatest book ever written.
You might choose to write as Moses did – providing a very literal translation of the events around him. Could you be any more literal than transcribing God's ten commandments into stone for his people to read and live by?
Or you could lean into the poetic language used to communicate God's intent towards his people.
Psalm 91:4 is a great example of this: "Like a bird protecting its young, God will cover you with His feathers, will protect you under His great wings; His faithfulness will form a shield around you, a rock-solid wall to protect you."
The fifth way to share your content…
You can draw strength from the knowledge that You are uniquely made in God's image.
When I find myself holding back or hesitant to post content, I remind myself that I am created in the image of God Himself.
I am made free by Christ's sacrifice. And I should not be afraid to use this freedom to spread the good news.
Correspondingly, you don't have to let fear hold you back from boldly sharing your story. You are created in God's image and freed by Christ's sacrifice as well. You can share the Good News as well.
From writing to podcasting and video production, technology has presented us with limitless possibilities for engaging in a more sophisticated form of evangelizing.
It has never been easier to reach the nations of the world from the comfort of our homes.
Truly, we can make a huge difference for the Kingdom of God by sharing our unique voices online.
---
---
Want more Encouragement?
---
---