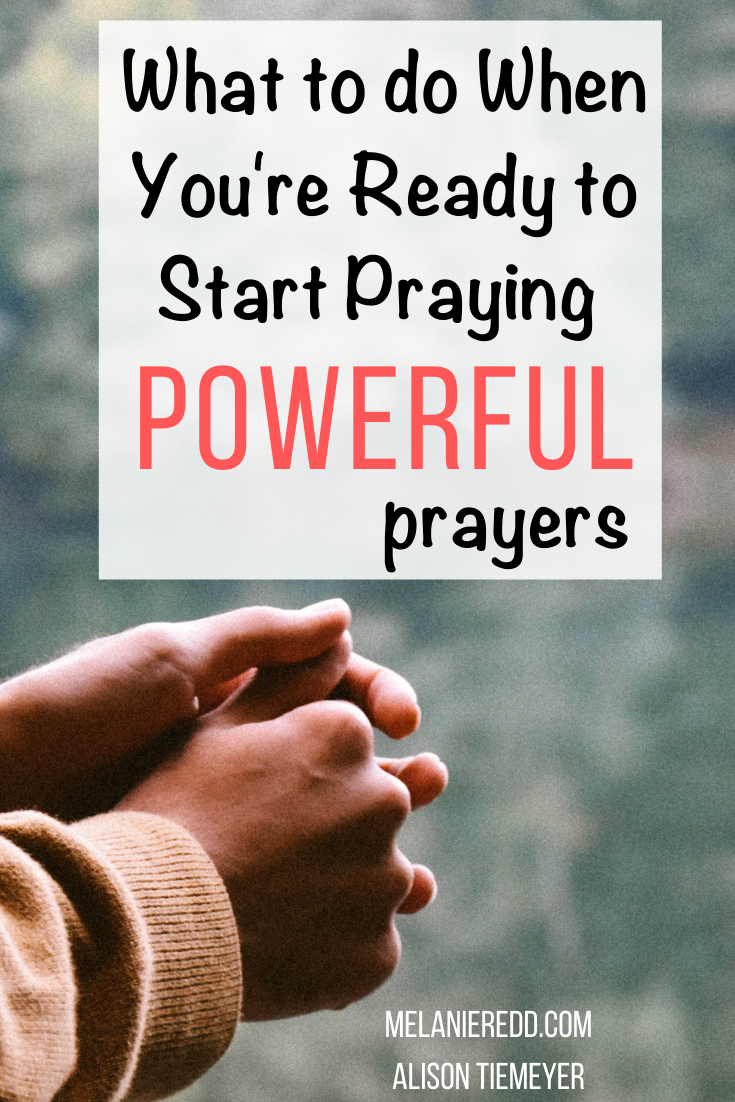 ---
There's something about prayer that gets people fired up.
Maybe it's the War Room movie.
Maybe it's the idea of creating a prayer room.
Or, maybe it's a deep desire of your heart to pray purposeful, meaningful prayers.
People get excited about the idea of prayer.
And let me tell you – it is a worthy thing to get excited about! We just must be careful that we're not enjoying the idea of prayer more than we're doing battle on our knees.
---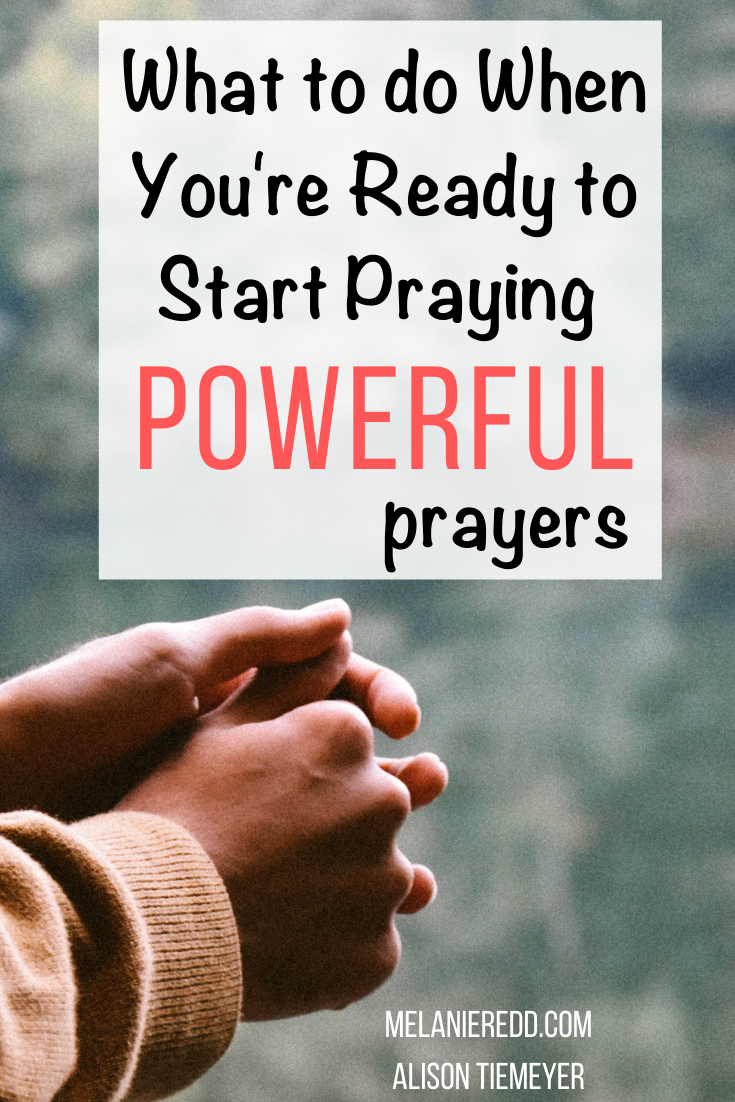 ---
What to do When You're Ready to Start Praying Powerful Prayers
The War Room movie is excellent and the intentionality of creating a prayer room is beautiful.
Now, let's take it a step further and work to pray bold, powerful prayers.
Prayers that we believe with our whole selves.
Prayers that storm the gates on behalf of brokenness.
And, prayers that change your heart and the hearts of those around you.
Prayers with lasting purpose.
Here's the thing… We live in a society of people who love the idea of prayer but have no clue where to start.
So, let me share with you some practical ways that you can begin praying powerful, bold prayers.
---
1.

Speak your belief as you pray

.

Do you believe that God will answer your prayer? Are you patiently waiting for that nudge, feeling, or still small voice?
Talk about this with God!
When you pray, expect mighty things.
When you pray, believe that God will work.
And when you pray, wait for the answer.
This could sound something like the following: "Lord, I believe that you are powerful, mighty, majestic, and perfect. I believe that you can work this situation out for your glory and my good. And, I believe that you will take action, answer my prayer, and direct my path. I believe, Father. Please help my unbelief."
---

---
2.

Be specific with your prayers and requests

.
It is true that God knows our prayers before we pray them and that the Lord intercedes on our behalf. However, this doesn't mean we shouldn't be specific.
Specific prayers require boldness.
And I think a lot of us are afraid to pray bold prayers.
"Heavenly Father, I ask that you show me what to do next" is so much safer than "Lord, I am unsure whether to say yes or no to this huge commitment. You know my life, my schedule, and my capacity. I ask that you would find someone else to complete this job if you do not want me to take action."
Be specific. Present your requests to God with detail.
---
3.

Invite others to pray with you

.
The Lord promises that where two or three are gathered, He will be there also.
What a sweet promise!
We need the Lord's presence, just like we need the wisdom, support, and guidance of others. Praying with trusted friends is a great way to hold ourselves accountable for praying with boldness.
Vulnerability opens the door for intentional conversation and growth. So I encourage you to share your burdens with those around you. Ask for help and pray with one another.
Be bold in prayer together.
---
4.

Fight against doubting and be vulnerable in prayer

.
I'll be the first to admit that sometimes it is hard to believe. Just this week God answered a huge prayer of mine with a gentle "no". Is it difficult to believe that the Lord's plan is best?
Absolutely. Can I struggle with this and still be a Christian? Definitely. Should I bring this doubting before the Lord in sweet prayer? Yes.
We must be taking our thoughts captive, praying the promises of God, and reminding ourselves of truth every day. We must be fighting against the reality of doubt, and bringing our doubts before the Lord with humble reliance.
When you are tempted to doubt God's ability to answer a prayer or act on your behalf, stop and pray at that moment.
"Lord, I am struggling with unbelief. I need your power, your promises, and your grace to hold me up. Truly, I do not want to doubt. I need you, Jesus."
---

---
5.

Remember previous prayers & God's faithfulness

.
How has God answered you in the past? Where in your life have you felt His presence and peace? What situations have worked out for God's glory and your good?
I suggest starting a prayer journal, that you can revisit often to remind yourself of God's faithfulness. For example, every time God answers a prayer, place a rock in the jar. You could even write on the rock with permanent marker adding the date of the answered prayer & how God showed Himself faithful.
Then, praise Him specifically. And praise Him often.
"God, thank you for answering my prayers. You are faithful even when I am faithless. And you chose to walk beside me through the difficulties – and the beautiful parts – of life. Thank you, God."
Let's become a people who don't just like the idea of prayer, but a people who genuinely present our requests and praises before the Lord in powerful belief!
Yes, watch the War Room movie.
Please, create a prayer room.
By all means, buy a prayer journal.
And then – even in the difficult moments of doubt – approach the throne with bold, powerful prayers.
God listens. He cares. He can't wait to talk to you.
Start today.
Begin by speaking your belief to Him.
---
About the Author:
Alison Tiemeyer is a wife and Jesus-follower growing in grace and truth daily.
She loves coffee in the morning, experimenting in the kitchen, camping with her husband, and reading in a hammock just about anywhere.
---
Want more on Praying Powerful Prayers?
---

---
---
Were you blessed by what you read?
Then, would you share this article with a friend, co-worker, or family member?
Or, maybe you can send it to a friend or family member?
This blog occasionally uses affiliate links and may contain affiliate links. Additionally, Melanie Redd is a participant in the Amazon Services LLC Associates Program, an affiliate advertising program designed to provide a means for sites to earn advertising fees by advertising and linking to amazon.com. Also, for more on my disclosure policy, click HERE.
© Melanie Redd and Ministry of Hope, 2019. Unauthorized use and/or duplication of this material without express and written permission from this blog's author and/or owner is strictly prohibited. Further, excerpts and links may be used, provided that full and clear credit is given to Melanie Redd and Ministry of Hope with appropriate and specific direction to the original content.
---