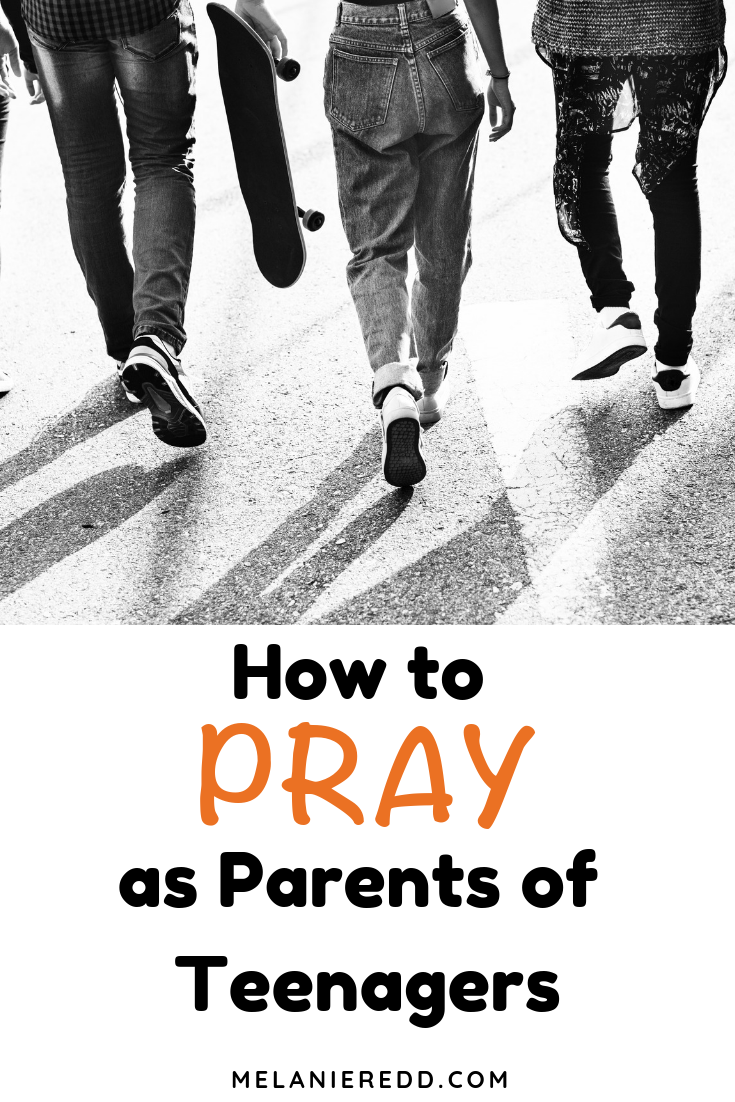 ---
Are you the parent or grandparent of a teenager?
Are you praying for them?
---

---
How to Pray as Parents of Teenagers
There may be nothing kinder, more loving, more generous, or more beneficial that you can do for them than to pray.
Pray for those teenagers that God has placed in your life.
Lift them to heaven.
They need your prayer support.
They need people praying for them who love them dearly.
How should you pray?
Here are some suggestions as to how to pray as the parents of teenagers:
First… Pray for Your Teens to be Surrounded by Wise Counselors.
Ask God to send men and women who will invest in their lives and give them wise counsel.
These can come in the form of teachers, coaches, mentors, older friends, neighbors, pastors, and youth leaders.
We have prayed this way and watched God send numerous wise men and women into the lives of our children. These folks have loved our kids, taught our kids, and given our kids such great advice and help along the way.
Here are two verses you can pray:
"Would you give _____ wise counselors, coaches, teachers, friends, and mentors? Help _____ to understand that without counsel, their plans fail. Give them the grace to listen and understand that with many advisers they succeed."
(Proverbs 15:22)
"Help _____ to understand that arrogant know-it-alls stir up discord. Give _____ to see that wise men and women listen to each other's counsel. Lead _____ to incredibly wise counsel."  
(Proverbs 13:10)
---
Second… Pray for Your Teens to Have a Heart for God
We can pray that our kids will be drawn to the Lord and to spiritual things.
We can ask God to "woo" them and "pull" them toward Himself.
Here are two verses you can pray:
"Allow ____ to have a heart for you as King David did. But God removed Saul and replaced him with David, a man about whom God said, 'I have found David son of Jesse, a man after my own heart. He will do everything I want him to do.' Encourage ____ to seek after You and to be willing to do everything you want him/her to do."    
(Acts 13:22)
"Give _____ a new heart, and put a new spirit in ____ _. Take out _____'s stony, stubborn heart and give _____ a tender, responsive heart."  
(Ezekiel 36:26)
---
Third… Pray for Protection and Peace for Your Teens
Never before have your children spent so much time away from you as they will in their teens years. They are driving, dating, working, going to school, and facing the world as never before. It can be a very challenging season for parents.
Your prayer life should grow exponentially at this stage!
Sometimes, the only thing you can do for your teenagers is to pray for them!
Here are two verses you can pray:
"Father, keep _____ from all harm and watches over _____'s life. Keep watch over _____ as he/she comes and goes, both now and forever."  
(Psalm 121:7-8)
"Don't let _____ be afraid, for you are with him/her. Don't let _____ be discouraged, for You are God. Strengthen _____ and help _____. Hold _____ up with my victorious right hand."  
(Isaiah 41:10)
---

---
Fourth

…

Pray for Your Teens to Seek Wisdom and Become Wise

!
As our kids mature, they are learning so much.
Why not pray for them to be more than intelligent?
Why not ask God to make them wise?
Here is a passage you can pray:
"Let not mercy and truth forsake _____: help ______ to bind them about his/her neck. Encourage _____ to write mercy and truth upon the table of his/her heart. Allow _____ to find favor and good understanding in the sight of God and man. Encourage _____ to trust in the Lord with all or his/her heart. Help _____ to not lean on his/her own understanding, but to acknowledge God. Clearly direct _____'s paths."  
(Proverbs 3:3-6)
---
Fifth… Pray for Your Teens to Have a Calm Heart & Rest Well at Night
There is a great deal of stress, drama, and anxiety in the teenage years. And, your kids will likely face these things.
You can pray for them to have a deep peace in the middle of the chaos – for calm hearts.
You can also pray that they will sleep well at night and wake up refreshed. They need good rest at this age!
Here are three verses you can pray:
"Lord, let _____'s soul find rest in God. Let _____'s hope comes from Him."
(Psalm 62:5)
"Allow _____ to return to a place of deep rest. Encourage _____ to know and understand that the Lord has been good to them."  
(Psalm 116:7)
"Allow _____ to lie down and sleep in peace. Remind _____ that You alone, Lord, make them dwell in safety."  
(Psalm 4:8)
---
Sixth… Pray for Your Teens to Have Loyal, Positive, Faithful Friends
When our daughter was beginning her senior year in high school, we asked God to send her a really great friend… someone she could really enjoy that last year with.
God sent the most precious friend in answer to our prayer. This young girl arrived at our high school as a senior. We believe God moved her to our town to become one of our daughter's best friends. They are still close although in different colleges.
Here are two verses you can pray:
"Father, send a friend to _____ who will be loyal. Give _____ a brother or sister to help in time of need."  
(Proverbs 17:17)
"Allow _____ to walk with the wise and become wise. Keep _____ from becoming the companion of fools who suffer harm."  
(Proverbs 13:20)
---
Finally… Pray for Favor on Your Teens
Ask God to bless your teenagers. Invite the Lord to show them favor.
Here is a wonderful verse you can pray for them:
"Lord, bless ____ and keep ____. Make Your face shine on ____, and be gracious to ____. Turn Your face toward _____, and give _____ peace."  
(Numbers 6:24-26)
*Here's a
FREE PRINTABLE

for you to save, print, and post on your frig or War Room Wall.
Just right click, save, and print: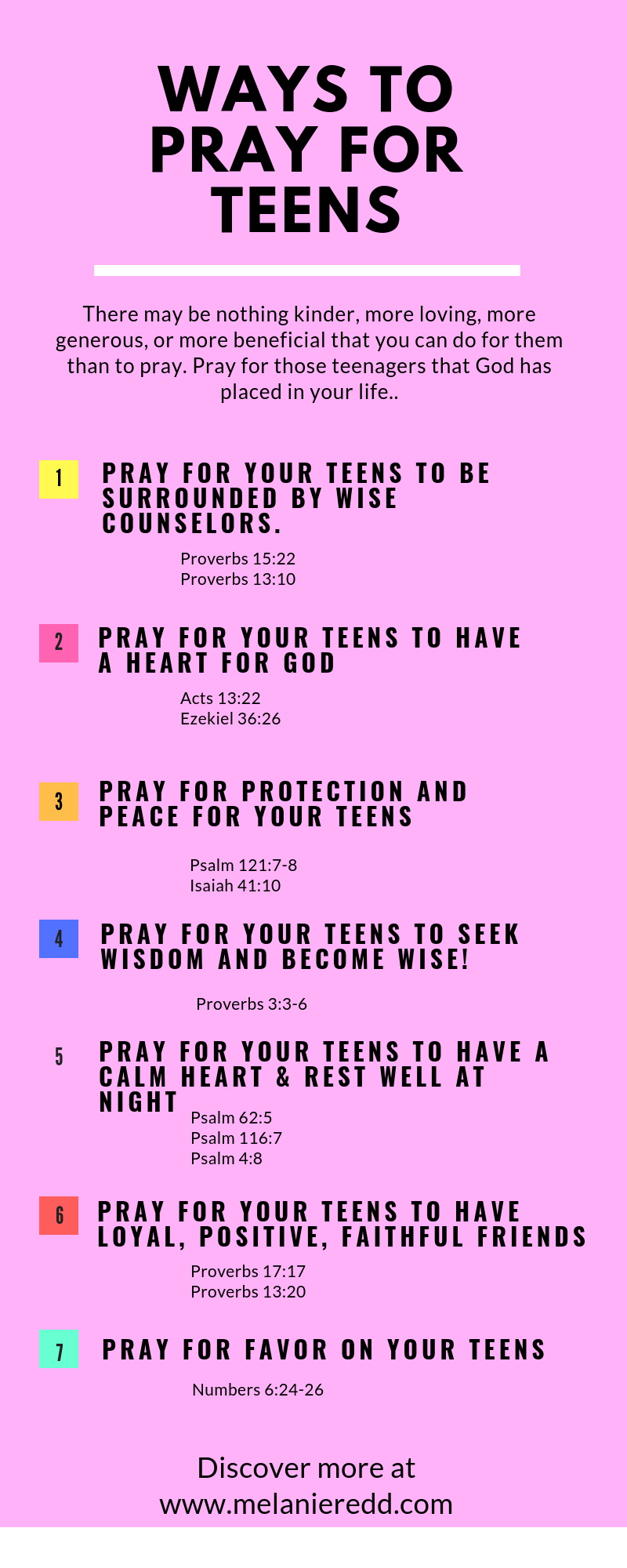 ---
So, what do you think?
~ How have you prayed for your teens?
~ What verses have you used?
~ How have you seen God answer your prayers for your children?
---
---
Click LIVE IN LIGHT to find out more on Amazon.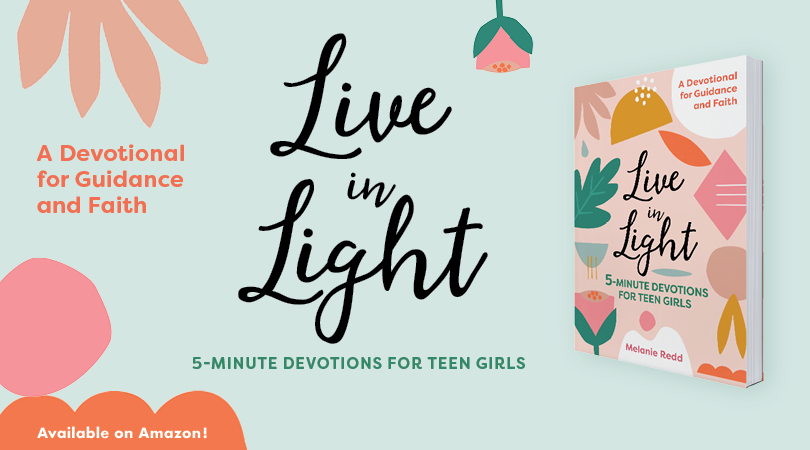 ---
Could you use more parenting advice?
---
Were you blessed by what you read?
Then, would you share this article with a friend, co-worker, or family member?
Or, maybe you can send it to a friend or family member?
This blog occasionally uses affiliate links and may contain affiliate links. Additionally, Melanie Redd is a participant in the Amazon Services LLC Associates Program, an affiliate advertising program designed to provide a means for sites to earn advertising fees by advertising and linking to amazon.com. Also, for more on my disclosure policy, click HERE.
© Melanie Redd and Ministry of Hope, 2019. Unauthorized use and/or duplication of this material without express and written permission from this blog's author and/or owner are strictly prohibited. Further, excerpts and links may be used, provided that full and clear credit is given to Melanie Redd and Ministry of Hope with appropriate and specific direction to the original content.